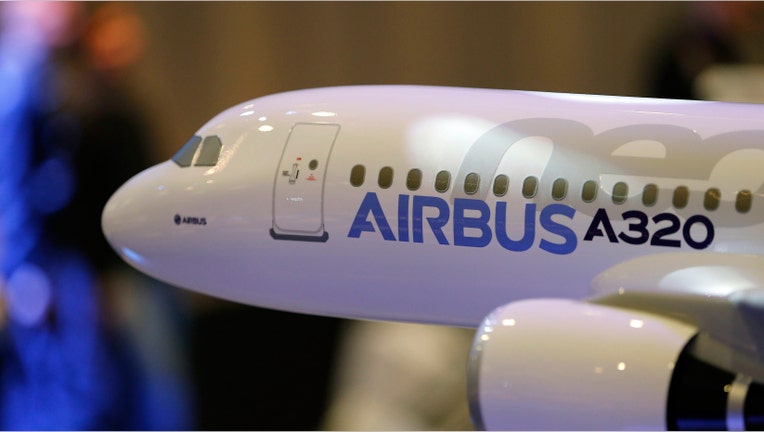 Airbus posted an industry record of 1,619 new airplane orders in 2013, pushing its backlog to almost nine years of production, and said it was examining the potential for a two-stage increase in production of its most popular jets.
The European planemaker reclaimed top spot in commercial orders from Boeing <BA.N> after repeatedly revising up its targets last year, but lost the delivery contest to its rival despite an internal record of 626 deliveries.
While booking more jets than ever in a year dominated by the launch of two new Boeing aircraft, Airbus revoked orders for its A380 and A350 jets from India's Kingfisher Airlines, which has not been flying since 2012 due to cash shortages.
After adjusting for cancellations, Airbus total net orders rose 80 percent from the previous year to 1,503 aircraft.
Boeing closed the year with 1,531 gross orders, 1,355 net orders and a record total of 648 deliveries. It remained the world's largest planemaker but lost the race for orders.
Airbus said it ended 2013 with an industry-wide record backlog of 5,559 aircraft worth $809 billion at list prices. Boeing's backlog stood at 5,080 aircraft.
Buoyed by growth in emerging markets and the replacement of old fleets in the United States, planemakers have been riding out the recession with ample orders, but are now shifting their attention towards producing the jets that they have sold.
Included in Airbus's end-year figures was an order for 100 smaller jets from an unidentified customer. That mirrors a recent surge of anonymous orders at Boeing, which sources say reflects busy activity in China, despite its economic slowdown.
"We cannot continue at this level (of orders), but what we are doing is continuing to increase production," said Airbus sales chief John Leahy.
Airbus produces 42 medium-haul A320 jets a month and Boeing recently announced plans to leapfrog its European rival by hiking Boeing 737 output from 38 a month to 47 by 2017. Both firms are upgrading these popular models to help save fuel.
Airbus said it saw enough demand in the market to increase production of the new A320neo model, once it has completed a transition to 42 a month in 2018. Depending on demand, it could boost output of the existing A320ceo even earlier than that.
"We still have some homework but we believe there is some potential to go higher than rate 42; there is an upside and we are studying it for the (A320) ceo," Airbus Chief Executive Fabrice Bregier told reporters.
"Then when we have moved to the (A320)neo we know that we will ramp up again. Whatever we do or don't do now, we know that we will ramp up again. We will go higher than rate 42 (per month) in 2018, 2019 and following years."
A350 ON TRACK
He did not say what production rate could be chosen or when it could be announced. Suppliers say they are being encouraged to think ahead to production rates as high as 52 per month.
Airbus has been hinting at possible production increases in recent months but Bregier's comments give the strongest indication yet that it stands ready to fire up output of the A320, which is a key source of cash for other projects.
The company had previously drawn back from plans to raise output to 44 a month, saying the supply chain was not ready.
Leahy said the market could ultimately bear over 50 A320neo jets a month and as many as 14 A350 aircraft a month.
Airbus plans to produce 10 A350s a month by end-2018.
It said development of the carbon-composite wide-body A350 jet, designed to compete with Boeing's 787 Dreamliner and the Boeing 777 mini-jumbo, remained on track but challenging.
Certification trials will start in two months, Bregier said. Airbus plans to deliver the first A350 by end-year.
"Risks on the A350 program are lowering every day but the challenges are also changing," Bregier said.
Airbus dropped its usual practice of predicting overall orders for the coming year, but Leahy said he expected they would at least keep pace with deliveries.
He did however commit to selling 30 A380s this year, after stagnant sales of the world's largest passenger jet picked up in 2013 thanks to a surprise 50-plane order from biggest buyer Emirates. Net orders for the plane stood at 42.
Airbus has a tentative order for 20 A380s from Doric Lease Corp, which Leahy said he expected to be signed in the first quarter.
Bregier said the company expected to deliver "close to 30" A380s a year in the next three years. He reaffirmed a target of breaking even on the A380 in 2015, which assumes 30 deliveries.
That may help the planemaking subsidiary of Airbus Group, recently renamed from EADS, meet its key financial target of roughly doubling its margins to 10 percent by 2015.
"If we deliver the A350 without hiccups and get control of ramp-up and costs, we will have largely achieved the target; the last element was A380 breakeven," Bregier said.