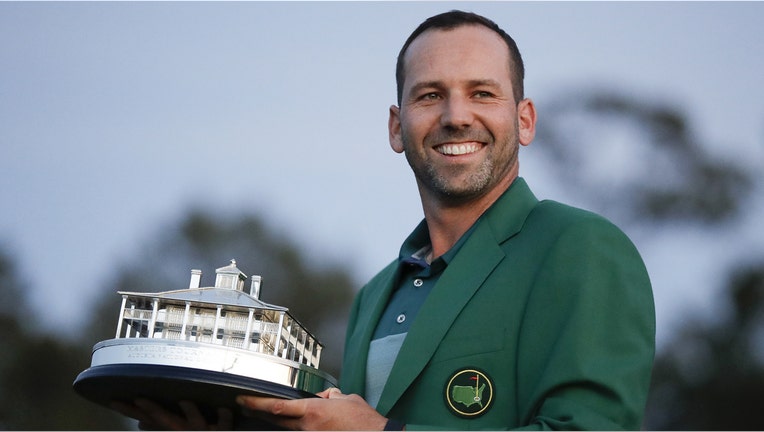 Sergio Garcia's long-awaited win at the 2017 Masters Tournament in Augusta, Georgia on Sunday is worth much more than a stack of prize money, a sports endorsement expert told FOX Business.
The 37-year-old Spaniard defeated Justin Rose in a sudden-death playoff to win the Masters' green jacket for his first-ever major tournament victory out of 74 tries. The dramatic triumph wiped away Garcia's penchant for late fumbles at golf's biggest events, as well as his reputation as the richest golfer without a major win.
With Sunday's high-profile win, Garcia should attract renewed attention from companies looking to partner with a champion, according to Bob Dorfman, executive creative director at Baker Street Advertising in San Francisco.
"With Garcia already a popular and likable international brand, his first major win – in spectacular fashion – could give his off-course earnings a significant boost," Dorfman told FOX Business, adding that newfound windfall could total "as much as $3M a year in current sponsor bonuses and increases, new ad deals, appearance fees, and the like."
Off the course, Garcia takes in an estimated $8.5 million annually, according to Golf Digest's yearly ranking. That figure puts Garcia on par with contemporaries like Dustin Johnson ($7.1 million), Rickie Fowler ($9.1 million) and Jason Day ($10.75 million), but well behind superstars like Jordan Spieth ($24 million), Rory McIlroy ($32 million), Phil Mickelson ($33.5 million) and Tiger Woods ($34.6 million).
Garcia earned a $1.98 million at Augusta National – the richest prize in Masters history. His $46.26 million in career on-course earnings ranks 6th all-time, ahead of active stars like Rose, Johnson and McIlroy.
Garcia's personal website lists endorsement deals with several well-known companies, including Adidas, TaylorMade, Credit Suisse and BMW.
That Garcia's first major win came at the Masters, arguably golf's most prestigious event, only enhances his appeal to brands, according to Tamara Jacobs, senior vice president at Ketchum Sports & Entertainment.
"A win at a major is big for any golfer, but the green jacket tends to stand out," Jacobs said. "This will certainly add to his marketability for brands, both those he is currently working with as well as others that see golf as a great opportunity to reach their audiences.  He has a certain flair about him that has always appealed, the Masters win will make him that much more desirable for brands."