Wilson Buys Louisville Slugger Brand for $70M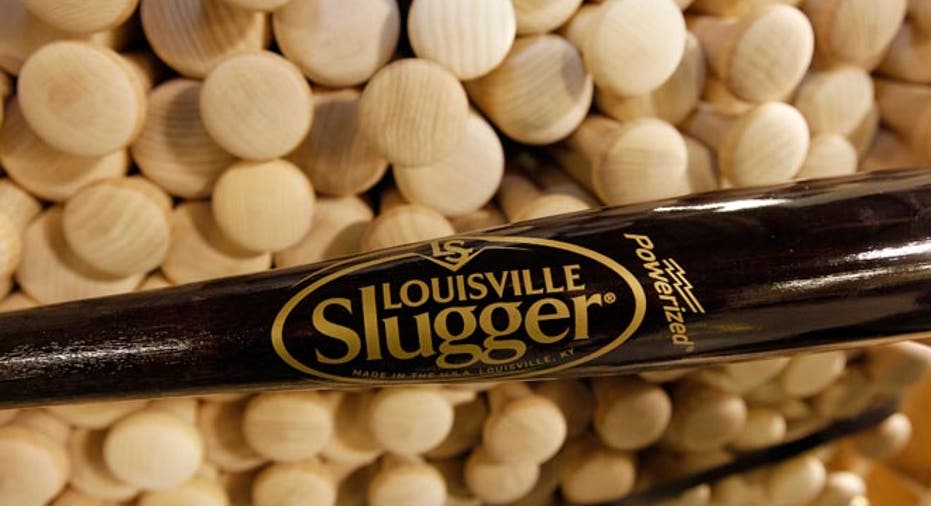 Wilson Sporting Goods is stepping up to the plate to buy Louisville Slugger for $70 million in cash, bringing together two iconic baseball brands.
Wilson agreed on Monday to purchase brand, sales and innovation rights to the 131-year-old bat maker. Under the deal, parent company Hillerich & Bradsby will continue to manufacture Louisville Slugger bats at its downtown Louisville factory.
H&B will also remain the owner of Louisville Slugger's museum and gift shop. The company's Bionic Gloves and Powerbilt brands aren't part of the deal with Wilson.
"The decision to sell the Louisville Slugger brand was a difficult and serious one to make," H&B Chief Executive John A. Hillerich IV said in a statement. "The Hillerich family, and those closest to the brand, firmly believes that a new business model is necessary to realize the enormous potential of this brand in the future."
Louisville Slugger, which booked approximately $75 million in revenue last year, has struggled to keep up with larger competitors. The company also dealt with a costly recall in 2013. Louisville Slugger recalled its entire line of OneX aluminum softball bats after it discovered a defect that caused the handle to snap off.
According to H&B's website, 60% of all MLB players use Louisville Slugger bats. Louisville Slugger is the official bat of Major League Baseball, while Wilson is the official glove brand.
Louisville Slugger also makes Minor League Baseball, amateur player and souvenir wood bats, as well as baseball gloves and equipment bags.
Wilson, which is owned by Finland-based Amer Sports, said the acquisition will accelerate research efforts and product development. The sports-equipment giant plans to market and sell Louisville Slugger products as a standalone brand. Wilson's baseball and softball brands also include DeMarini and ATEC.
"Growing our baseball and softball business globally is a key business strategy, and H&B has created one of the most recognizable baseball brands in the world," Mike Dowse, president of Wilson, said.
Wilson has a much bigger footprint than just baseball. The Chicago-based company, which was founded in 1914, sells equipment for football, basketball, golf and tennis. Wilson is the official basketball provider for the NCAA championships.