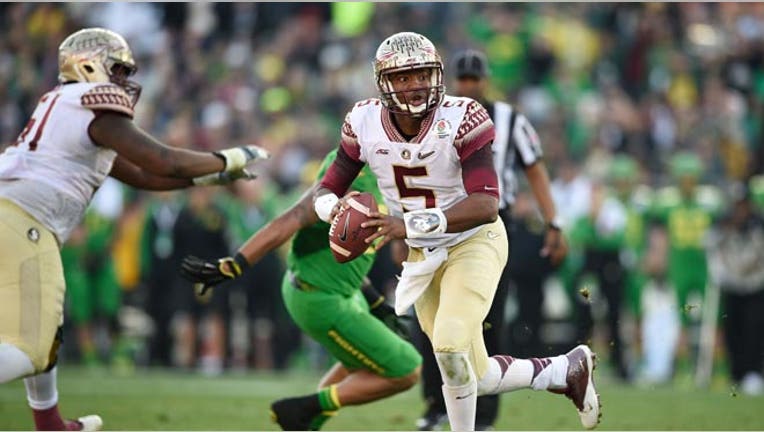 With the first pick in the 2015 NFL Draft, the Tampa Bay Buccaneers are expected to select Jameis Winston. Yet the controversial Florida State quarterback may have a hard time landing the customary endorsement deals that go to football's rising stars.
Winston is arguably the best quarterback on the board. In the 2013 season, Winston won the Heisman Trophy and beat Auburn for the BCS National Championship. His only collegiate loss came against Oregon in last season's College Football Playoff semifinals.
Based on football talent alone, it's clear why team executives would be eager to make Winston a top draft pick.
The only thing holding him back is a reputation for off-the-field issues. Before landing major endorsement deals, Winston will need to build trust with potential sponsors and his future team.
"Endorsements are not some divine right," longtime sports agent Leigh Steinberg, who runs Steinberg Sports & Entertainment, told FOXBusiness.com. "It won't matter for things like football cards or autograph signings, but major product endorsers will probably take a wait-and-see attitude."
Sponsorships represent a multimillion-dollar opportunity for top draft picks. Quarterback Andrew Luck, the No. 1 pick in 2012, had deals with Nike (NYSE:NKE), Electronic Arts (NYSE:EA) and PepsiCo's (NYSE:PEP) Gatorade by the time he took the field for his rookie season with the Indianapolis Colts.
Washington Redskins signal caller Robert Griffin III, who was selected right after Luck, was signed by Subway, Gatorade, EA and Adidas.
Winston's Troubles
Winston does have one major sponsor already on board. Nike quickly added Winston, along with Oregon quarterback Marcus Mariota, to its slate of athletes.
The deal was announced earlier this month, a day after a civil lawsuit accusing Winston of sexual assault was filed. Nike emphasized that Winston has stated his innocence regarding the allegation.
No charges were filed in the sexual assault case, and Florida State said there wasn't enough evidence to determine if Winston violated school policy. Winston's lawyer, David Cornwell, called the lawsuit a "stunt".
Winston also received a citation last year for stealing crab legs from a grocery store. Later, he was suspended one game for yelling obscenities in a student cafeteria at Florida State.
Still, the Buccaneers are seen as the odds-on favorite to select Winston. In his latest mock draft for FOX Sports, NFL analyst Peter Schrager projects Winston will go first in the draft and Mariota will go to the Tennessee Titans--or another team if a trade develops--as the second pick.
Ramsey Poston, a crisis management expert and president of Tuckahoe Strategies, said Winston will need to improve his reputation no matter where he's selected in the draft Thursday night.
"A lot of sponsors will wait and see whether they want Winston representing their product, and then how much they are willing to pay," Poston added.
'Character Draft'
Steinberg believes sponsorships should be left on the table until players establish themselves on and off the field. More will be expected of this year's draft picks, given the rash of incidents involving NFL players like Aaron Hernandez, Ray Rice, Adrian Peterson and Greg Hardy.
"The NFL is on elevated alert," Steinberg said. "2015 will clearly be the character draft. Scrutinization is higher than ever before."
Steinberg, who has represented eight former No. 1 picks like Troy Aikman, has advised clients to delay high-profile endorsements. Many of his past clients also donated portions of their signing bonuses to charities and schools.
Johnny Manziel, who voluntarily entered rehab during the offseason, learned the perils of jumping into the spotlight too early. He dropped to the Cleveland Browns at No. 22 in last year's draft, but before the season was underway, Manziel was featured in a Snickers commercial.
AWOL in Chicago
In another twist this year, both Winston and Mariota don't plan on attending the draft in Chicago, opting to watch the draft at home with their families. The last No. 1 pick who skipped the festivities was Steinberg client Dan Wilkinson in 1994.
Some pundits characterized the decision as an attempt to avoid embarrassment if Winston drops to a later pick. Steinberg doesn't see it that way, saying the draft should be a joyous occasion for young athletes, no matter if they're chosen first or not.
Television cameras were glued to Aaron Rodgers during the 2005 draft, as the quarterback fell to the Green Bay Packers with the 24th pick. The rest is history, of course. Rodgers became a Pro Bowl player with a Super Bowl ring.
"People don't realize draft time is not real-time. Every minute seems like an hour, and every hour seems like infinity. Drip, drip, drip...it's like water torture," Steinberg said.
Even though he'll be missing in Chicago, Winston will likely be interviewed by ESPN after he's selected.
"Draft day provides a great opportunity to look to the future and move away from college scandals," Poston said. "Winston is going to have to live up to No. 1 or any other pick. He has the dual responsibility of doing it with his arm and his actions."
At any pick in the first round, Winston's in line to receive a guaranteed contract and signing bonus each worth millions of dollars.
Houston Texans linebacker Jadeveon Clowney, last year's No. 1 overall pick, signed a four-year, $22.3 million contract coupled with a $14.5 million signing bonus. The first quarterback selected in the 2014 draft, Blake Bortles of the Jacksonville Jaguars, agreed to a four-year, $20.6 million deal with a $13.3 million bonus.