Will The NFL Return To Los Angeles In 2016?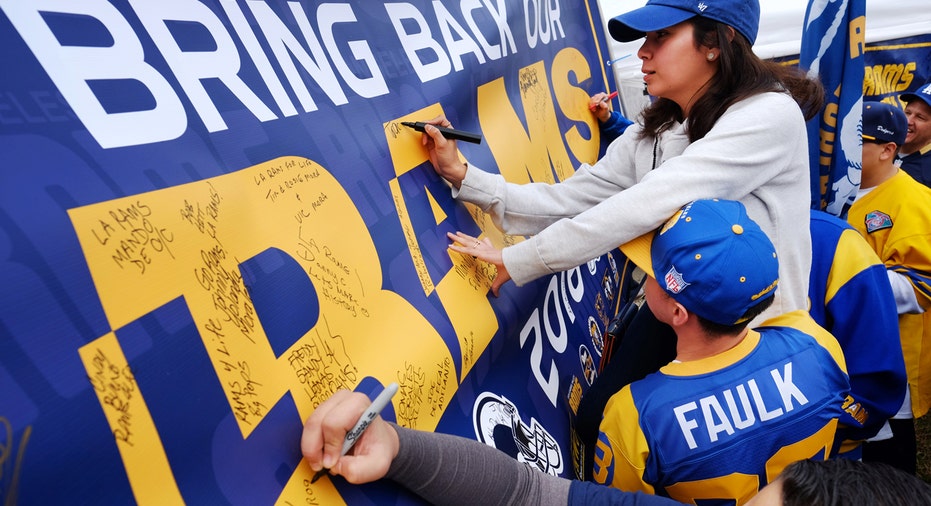 The NFL's 32 team owners are meeting in Houston, Texas on Tuesday to assess stadium proposals for Los Angeles and, possibly, to determine whether the St. Louis Rams, Oakland Raiders or San Diego Chargers will relocate to the country's second-largest media market next season.
The stakes are clear for the three franchises in the running for a permanent home in Los Angeles. Executives from all three teams are unhappy with their current stadiums and with local city and state officials' plans to replace those arenas. NFL Commissioner Roger Goodell called Oakland, St. Louis and San Diego's stadium proposals "unsatisfactory and inadequate" in a 48-report distributed to all 32 teams last Saturday, the Los Angeles Times reported. Los Angeles represents a fresh start, with a new stadium and unprecedented public exposure.
The franchises can expect to receive a healthy boost to their bottom lines through lucrative stadium naming rights deals, local sponsorships and the sale of personal seat licenses and luxury suites after relocating to the City of Angels. The value of a Los Angeles-based franchise would inevitably be higher than the value of a team based in a smaller market like Oakland or St. Louis.
But the NFL, which purportedly earns around $10 billion in revenue each season, will only approve relocation if the owners decide a particular project would benefit the league as a whole. Projects require a thumps-up from 24 of the NFL's 32 owners, and any team that decides to move would have to pay a relocation fee of hundreds of millions of dollars.
"The reason behind the NFL's handwringing over the So Cal market is the fact that it well knows that failure is not an option. Balancing the revenue upside to the league and the team(s), as well as ensuring long-term fan and community support is essential," said David Carter, a sports business expert and executive director of the University of Southern California's Marshall Sports Business Institute. "On top of this, successfully resolving fluid situations in other/abandoned cities is vital to protect the league's reputation and future business development opportunities. Because there are so many moving parts and plenty of politics and gamesmanship involved, the eventual solution may prove more complicated than originally anticipated."
Raiders and Chargers officials jointly support a two-team, $1.78 billion stadium plan in Carson, California. Dean Spanos, the Chargers' CEO and president, said the franchise draws 25% of its business from the greater Los Angeles area and warns that the presence of another NFL team in Los Angeles would do significant damage to his team's financial prospects.
The Carson project would be funded entirely with private money. Bob Iger, chief executive as Disney (NYSE:DIS), is leading the project. He will deliver a presentation on the stadium plan to the NFL's owners in Houston.
Rams owner Stan Kroenke is pushing for a one-team, $1.8 billion NFL stadium in Inglewood, California that would serve as a centerpiece of a revitalized development at Hollywood Park. Kroenke asserts the city of St. Louis can't support an NFL franchise on a long-term basis. He has also expressed a willingness to welcome a second NFL team to the project if his fellow NFL owners grant approval.
The NFL could also vote to allow the Raiders or the Chargers to join the Rams in Inglewood or for a combination of two of the three teams in Carson. League officials have stressed that no option is outside the realm of possibility. The NFL's Committee on Los Angeles Opportunities, which includes prominent figures like New England Patriots owner Robert Kraft and Dallas Cowboys owner Jerry Jones, recommended the Carson project to the league's other owners on Tuesday, reports said.
While industry insiders expect the NFL to make a decision on Los Angeles by Tuesday or Wednesday, there's no guarantee the league will hold a vote in that timeframe. The Houston meetings have a fluid schedule, so owners could decide to delay their determination.