Will Paychecks Get Fatter? Economists Think So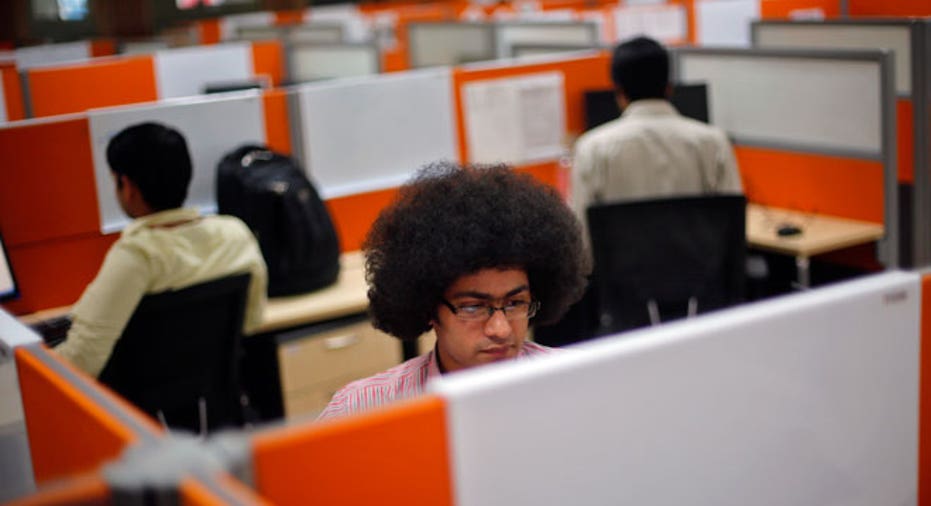 It's time to start feeling optimistic about the job market, and one reason is that Americans' paychecks could start getting fatter soon, according to the latest Bankrate Economic Indicator survey of top U.S. economists. The experts expect an increased pace of hiring and an unemployment rate below 6% one year from now, plus they look for the improving jobs situation to translate to a pickup in wage growth.
At the same time, the more than two dozen economists who responded to the third-quarter survey see risks to the U.S. posed by turmoil overseas.
Even while the overwhelming majority of the group looks for an interest rate hike in 2015, about half the economists fear the Federal Reserve is already behind the curve in guarding against potential inflation.
What we Found
Unemployment: On average, the panelists predict that the unemployment rate will slip to 5.7% a year from now. In our last survey, conducted three months ago, the economists saw joblessness slipping to 6% 12 months down the road. The Labor Department most recently pegged the unemployment rate at 6.2%, in July.
Hiring: The economists, on average, expect payrolls to expand by a monthly average of nearly 219,000 jobs over the next 12 months. That's slightly above the pace seen over the course of the past year and in July, when payrolls grew by 209,000 jobs.
Wages: An overwhelming number of the economists -- 23 out of 26 -- answered "yes" when asked if they think we'll see acceleration in U.S. wage growth over the next 12 months.
Labor force: Not much change is expected in labor force participation, which is the number of people working or looking for work. The panelists, on average, see the participation rate rising to 63% 12 months from now. That's compared with the 62.9% participation that the government reported for July. Labor force participation is being watched closely, in part, because it has dropped to the lowest level in decades.
Economic growth: The group, on average, sees gross domestic product expanding at an annual rate of 2.95% one year from now. That's above what the Federal Reserve essentially considers "normal," but it's down slightly from our second-quarter survey, when the panel members looked for growth of 3.05% 12 months out.
Federal Reserve: If the economists have it right, you can look for the Federal Reserve to start raising interest rates again in June 2015. That was the average estimate and also the most common response. The earliest estimate was September 2014 while the latest guess was June 2016. We also asked, "Are you concerned that the Federal Reserve might be falling behind the interest rate curve, given recent economic and inflation reports?" Most (14) said "no," but 12 of the 26 economists answered "yes," indicating their concern.
Global tensions: We asked whether the crises in Ukraine and the Middle East would likely have an adverse effect on the global or U.S. economy. Seventeen economists answered "yes," while the remaining nine said "no."
What They Said:
"Wages have finally started to show some upward movement, which is a trend that should continue as long as job creation keeps improving and unemployment continues falling. Labor shortages are already driving up wages in areas of the country enjoying the fruits of energy and construction revivals."
-- John Challenger, CEO, Challenger, Gray and Christmas
"Looking beyond headline unemployment reveals soft spots in the labor market indicating ongoing slack that will rein in any acceleration of wage growth."
-- Sean Snaith, director, University of Central Florida Institute for Economic Competitiveness
"Increases in wage growth are needed and shouldn't be called wage inflation. If accompanied by productivity gains, faster wage growth reflects higher real incomes, not inflation."
-- Robert McTeer, former president, Federal Reserve Bank of Dallas
"Is the Fed falling behind the curve? Yes! They have definitely laid the groundwork for an outbreak of inflation if and when the economy's growth rate picks up."
-- William Ford, former president, Federal Reserve Bank of Atlanta
"Is the Fed's approach a concern? No. Economic growth has been inconsistent, running low, on average. The labor market is weaker than the unemployment rate suggests, given the low participation rate and high rates of under-employed persons. Inflation has been running low in response to slow growth and low labor demand."
-- David Crowe, chief economist, National Association of Home Builders
"Both international crises (in the Middle East and Ukraine) are headwinds, but I don't expect that they will derail expansion."
-- Charles Calomiris, Henry Kaufman Professor of Financial Institutions, Columbia University
"Increasing uncertainty of the scale caused by these two regions will dampen economic growth prospects on the global economy. The U.S. will feel it, but not as strongly as Europe."
-- Amy Crews Cutts, chief economist, Equifax
What it All Means for You
How should you use the results of Bankrate's survey? Here's advice from Greg McBride, CFA, chief financial analyst at Bankrate.com:
Any acceleration in wage growth, as forecast by the panelists, will be warmly received by workers around the country. Use any boost in pay as an opportunity to raise your retirement savings contributions, pad your emergency fund and shed higher-cost consumer debt.
If the Fed will indeed start raising rates next year, take defensive action now by paying down variable-rate credit card debt and refinancing away from adjustable mortgages and home equity lines. Savers should stick with more liquid accounts, such as savings and money market accounts, rather than certificates of deposit.
Whether or not the Fed is behind the curve on inflation and interest rates, revisit how your portfolio is positioned. Rebalance by selling off bonds that have performed well but would be hammered by inflation. Reallocate to things that will do better if inflation resurfaces, such as precious metals and real estate investment trusts.
Safeguard your bond investments against both inflation and rising rates by favoring short-term over long-term, inflation-indexed over nominal bonds, and floating-rate over fixed-rate bonds.
The continued, though modest, pace of economic growth isn't expected to be held back too much by geopolitical events around the globe. Investors should maintain their regular pace of contributions and avoid trying to time the market in anticipation of a downturn that is not guaranteed to occur.
(Bankrate's third-quarter 2014 survey of economists was conducted online Aug. 4-15. Survey requests were emailed to more than 50 economists nationwide, and responses were submitted voluntarily via a website. Responding were: Dean Baker, co-director, Center for Economic and Policy Research; Jared Bernstein, senior fellow, Center on Budget and Policy Priorities, and former chief economist to Vice President Joe Biden; Scott Brown, chief economist, Raymond James; Robert Brusca, chief economist, FAO Economics; Charles Calomiris, Henry Kaufman Professor of Financial Institutions, Columbia University; John Canally, economic strategist, LPL Financial; John Challenger, CEO, Challenger, Gray and Christmas; David Crowe, chief economist, National Association of Home Builders; Amy Crews Cutts, chief economist, Equifax; Neil Dutta, head of U.S. economics, Renaissance Macro Research; William Ford, Weatherford Chair of Finance, Middle Tennessee State University, and former president, Federal Reserve Bank of Atlanta; Alan MacEachin, corporate economist, Navy Federal Credit Union; Ward McCarthy, chief financial economist, Jefferies and Co.; Robert McTeer, distinguished fellow, National Center for Policy Analysis, and former president, Federal Reserve Bank of Dallas; Peter Morici, professor, University of Maryland Robert H. Smith School of Business; Joel Naroff, president, Naroff Economic Advisors; David Nice, economist, Mesirow Financial; Jim O'Sullivan, chief U.S. economist, High Frequency Economics; Lynn Reaser, chief economist, Point Loma Nazarene University; Jeff Rosen, chief economist, Briefing.com; Harvey Rosenblum, adjunct professor of finance, Southern Methodist University, and former director of research, Federal Reserve Bank of Dallas; Sean Snaith, director, University of Central Florida Institute for Economic Competitiveness; Philip Swagel, professor of international economic policy, University of Maryland School of Public Policy; David Wyss, adjunct professor of economics, Brown University; Lawrence Yun, chief economist, National Association of Realtors; Mark Zandi, chief economist, Moody's Analytics.)
Copyright 2014, Bankrate Inc.