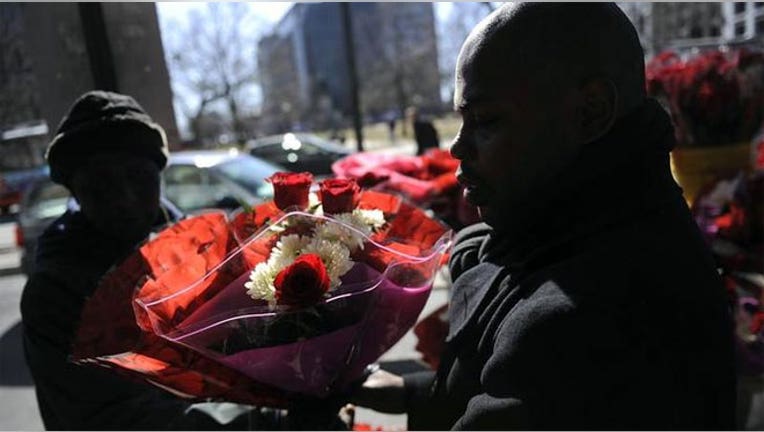 Old Man Winter has certainly thrown a wrench into both travel plans and gift deliveries this Valentine's Day.
Pax, the massive winter storm that dumped up to a foot of snow in some parts of the country, forced a record numbers of cancelled flights since Wednesday night, forcing thousands of travelers to alter their travel plans for the holiday weekend.
FlightAware reports 13,000 flight cancellations since Wednesday due to the weather, other report put the number as high as 14,000. This has been the worst week for flight cancellations of 2014, and Thursday was the worst day of the year for cancellations with 7,000 alone, due to snow, wind, hail and ice, according to FlightAware.
But the bad weather isn't souring retail spending projections for the holiday. The National Retail Federation reports $17.3 billion will be spent this Valentine's Day, with the average person is spending $133.91 on flowers, candy and dinner, up just $3 from the $130.97 spent by lovers last year.
However, the harsh winter conditions could make delivering flowers and gifts hard.
UPS says it monitoring the weather, but has not announced just how much the storm will impact its deliveries.
"All of the UPS delivery centers are operating today and we have dispatched our drivers, but there are some communities where road conditions remain hazardous and we can't safely provide service, so that may include some Valentine's Day deliveries. We are making every attempt to complete Valentine's holiday deliveries," says Susan Rosenberg, UPS spokesperson.
In a statement, FedEx told FOX Business it is continuing to closely monitor the winter storms moving across the country. "As always, our top priority is the safety of our team members, as well as providing the highest level of service to our customers. We have over 40 years of experience in handling every type of weather situation, and we have detailed contingency plans in place to help mitigate weather delays," a spokesperson said.