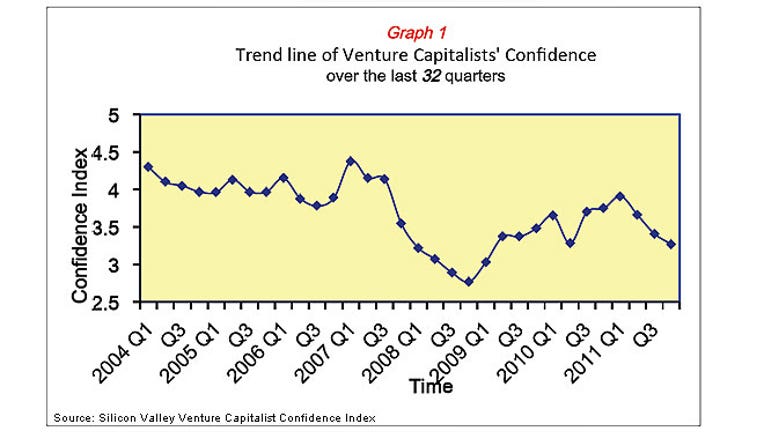 The buzz on Wall Street generated by the talk of Facebook's mega IPO doesn't appear to be instilling much confidence among venture capitalists in Silicon Valley.
Spooked by uncertainty in the global economy, volatility in the stock market and gridlock in Washington, sentiment at VC firms sagged at the end of 2011, according to a new report.
The deterioration of confidence stands in contrast with a slew of high-profile public debuts by Internet companies like LinkedIn (NASDAQ:NYSE) and generally improving economic prospects in the U.S.
According to the newly-released Silicon Valley Venture Capitalist Confidence Index, confidence dipped in the fourth quarter to 3.27 on a 5-point scale -- the third-straight quarterly decline.
Worried about the macro question marks, Venture capitalists have expressed concern that either the M&A or IPO markets won't be healthy enough to allow them to sell off their investments in young companies that are now ready for the big time.
"For a couple of years the IPO market was virtually dead. It hasn't come back robust enough to allow this long queue of venture firms to exit profitably," said Mark Cannice, a professor at the University of San Francisco and author of the report.
IPOs of venture-backed firms did increase last quarter from the third quarter, but activity was still below the levels of a year before, the report said.
At the same time, a number of the Internet companies that did go public ran into trouble.
Skepticism about its financial metrics and a leaked memo created daily turbulence for Groupon (NASDAQ:GRPN), whose shares are still hovering around their $20 IPO price.
Likewise, online game maker Zynga (NASDAQ:ZNGA) went public with a loud dud late last year as its shares quickly broke below their IPO price just hours after beginning to trade.
"A little wind may have left the sails after some of the big name IPOs failed to live up to the overblown expectations. VC fundraising challenges are likely to start having a negative trickledown effect," Tom Rodgers of Advanced Technology Ventures said in the survey.
That mixed track record is putting even more pressure on Facebook, which is expected to become the largest Internet IPO on record. Unlike some of the recent Internet companies that stumbled, Facebook has a well-developed business model and an estimated $4 billion in annual revenue, which may pave the way for a valuation of up to $100 billion.
"This could be a game changer," said Cannice. "Does it open the floodgate for more IPOs to come out? Or does it soak up all the demand for retail investment in social media? I don't know the answer to that yet."
No matter how Facebook performs after its IPO, the offering should bring "significant" liquidity to a slew of venture firms and angel investors, freeing up cash to invest in the next generation of potential start-ups, Cannice said.
That should help Silicon Valley as the overall hesitancy in the industry has caused funding in the critical seed stage to dry up.