Will College Football Playoff's New Year's Eve Gamble Pay Off?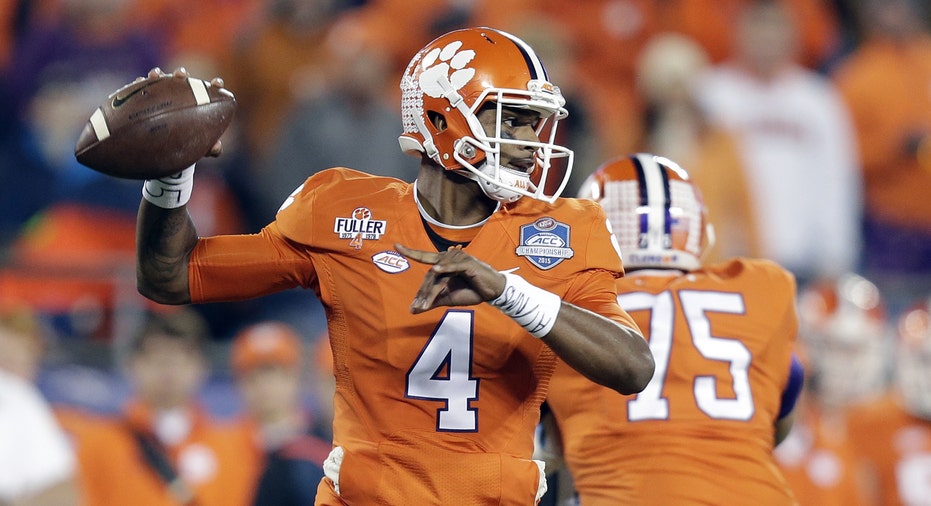 The scheduling of the NCAA College Football Playoff Semifinals on New Year's Eve left more than a few sports fans scratching their heads on Thursday. The games will unfold while many would-be viewers are still stuck in the office or busy with champagne toasts.
The 2nd annual College Football Playoff kicks off at 4 p.m. ET on Thursday, when the Oklahoma Sooners face the Clemson Tigers in the Capital One Orange Bowl. At 8 p.m. ET, the Michigan State Spartans will challenge the Alabama Crimson Tide in the Goodyear Cotton Bowl Classic. Both games will air on ESPN, which signed a 12-year, multibillion-dollar deal to host the College Football Playoffs in 2012.
Pitting the fledgling College Football Playoff against New Year's Eve traditions that are so deeply engrained in American culture is a "risky," move, according to Keith Strudler, director of Marist College's Center for Sports Communication.
"The College Football Playoff is building an identity. They have decided that identity can be built around the New Year's Eve tradition. I don't think that's necessarily the way to go," said Strudler. "I do think they really overstepped a little bit on this."
The inaugural College Football Playoff was a rousing success one year ago, as the NCAA ditched its traditional bowl game setup in favor of a more conventional tournament structure. The semifinal matchups each drew more than 28 million viewers, while more than 33 million people tuned in to watch the Ohio State Buckeyes defeat the Oregon Ducks in the national championship game, according to Nielsen. At the time, that audience was the largest in the history of cable television.
Last year's games took place on New Year's Day, a federal holiday, when most people are off from work. This year, event executives touted the move to New Year's Eve as a way for college football to establish a new annual tradition, similar to the NFL's programming on Thanksgiving or the NBA's slate of games on Christmas.
"We're establishing a new tradition," College Football Playoff Executive Director Bill Hancock said, according to Yahoo Sports. "We're going to change the paradigm of New Year's Eve."
For all its popularity, the College Football Playoff is still at an early stage in its development. Officials have little in the way of data that could predict how the change will impact the event's viewership.
"If I were them, I would be much more comfortable at least establishing a few good years of dedicated data on this before I started to make it a national holiday," Strudler said.
Experts expect this year's schedule to have a negative impact on the television audience for both games, especially among younger viewers more likely to head out to a bar than watch TV at home.
"I'm anticipating that viewership is going to be slightly down. No one really knows how far. But also, we can't necessarily say that 'A' caused 'B'." The matchups are appealing this year, but slightly less so than last year," said Andy Billings, director of the University of Alabama's sports communication program.
The decision to hold the semifinals on New Year's Eve was a "necessary compromise" between college football officials and conference executives in charge of the Rose Bowl and Sugar Bowl – two events that have always been held on New Year's Day, Billings said. The NCAA needs the approval – and participation – of its major conferences to make a four-team playoff possible.
"If ratings come in and they're substantially lower, they'll obviously want to revisit that structure, and then they'll have some evidence. Right now, we don't evidence one way or the other as far as the impact of placing them on New Year's Eve," Billings said.
The loss of a few million viewers to New Year's Eve revelry, even among the key 18-to-39 demographic, won't dissuade advertisers from buying up blocks of airtime, Billings added. The College Football Playoff is still a massive event with a devoted following, and that's unlikely to change.
"Sports are just about the last DVR-proof programming. Whether they're watching them at bars or watching them at New Year's Eve parties, no one is skipping the commercials. They're watching it live. Even if the ratings are 10% lower, that's still likely to make it the top-rated program of anything on this week," Billings said. "I think that value for the advertisers stays relatively flat."