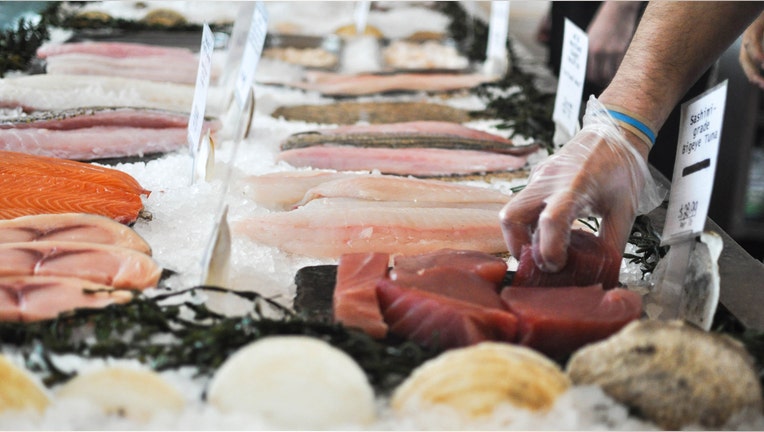 Do you always pay a little extra for that wild-caught salmon? Well, according to a new study, it may not be as "wild" as you think, especially, if you consume it in the off-season.
A new study by Oceana, an international conservancy group, revealed that 43% of wild-caught salmon was mislabeled. They collected 82 salmon samples from restaurants and grocery stores and confirmed the results through DNA testing. Nearly 69% of the samples turned out to be farmed Atlantic salmon being sold as wild-caught.
"Americans might love salmon, but as our study reveals, they may be falling victim to a bait and switch," said Beth Lowell, Senior Campaign Director at Oceana.
"When consumers opt for wild-caught U.S. salmon, they don't expect to get a farmed or lower-value product of questionable origins. This type of seafood fraud can have serious ecological and economic consequences. Not only are consumers getting ripped off, but responsible U.S. fishermen are being cheated when fraudulent products lower the price for their hard-won catch."
Dr. Kimberly Warner, who authored the report and is a senior scientist at Oceana, says the problem isn't that there's not enough wild-caught salmon to go around -- it's because most of it is exported.
"U.S. fishermen catch enough salmon to satisfy 80% of our domestic demand, 70% of that catch is then exported instead of going directly to American grocery stores and restaurants," she adds.
"It's anyone's guess how much of our wild domestic salmon makes its way back to the U.S. after being processed abroad. Without traceability, it is nearly impossible to follow the fish from the farm or fishing boat to the dinner plate. What we end up eating is mostly cheaper, imported farmed salmon, sometimes masquerading as U.S. wild-caught fish."
Warner says farmed salmon can be associated with negative environmental impacts due to inefficient feeding practices, fish feces and the misuse of antibiotics and pesticides. Oceana found mislabeling in Virginia, Washington, D.C., Chicago and New York. Samples were collected in 2013-2014 during the winter, when wild salmon is considered out-of-season.
Their data concluded that consumers were five times more likely to be misled in restaurants than grocery stores and that fish lovers were less likely to be misled in large grocery stores because they require additional information about seafood.
"The federal government should provide consumers with assurances that the seafood they purchase is safe, legally caught and honestly labeled," said Lowell.
Since 2011, Oceana has worked to stop seafood fraud in the United States and has performed previous investigations of fish, shrimp and crab cakes in retail markets and restaurants to demonstrate that traceability requirements are needed for all seafood in the U.S.
On average, one-third of the seafood examined in their studies were mislabeled and the product listed on the label or menu was different than what the buyer actually received, which was often a less desirable or lower-priced species.
"Traceability needs to be required for all seafood to ensure important information about which species it is, whether it was farmed or wild caught and how and where it was caught follows all seafood from boat (or farm) to plate," adds Lowell.
Last year, the White House established the Presidential Task Force on Combating Illegal, Unreported and Unregulated (IUU) Fishing and Seafood Fraud. Oceana is now calling on the Obama administration to follow through on its commitment to tackle these important issues.
In the meantime, Oceana urges consumers to ask questions and buy fresh seafood whenever possible.
"You are less likely to be duped if you are buying wild-caught salmon when it is in-season (May-Nov.), particularly in restaurants," says Warner. "Check the price, too. If the price is too good to be true, it probably is."