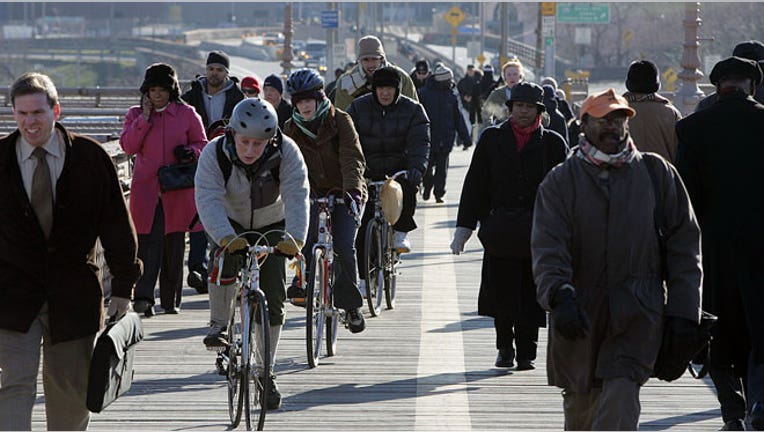 With gas prices still squeezing consumers' wallets and our nation's obesity levels at unhealthy levels, biking has been gaining momentum as an alternative mode of transportation.
May is National Bike Month and Friday, May 18 was National Bike to Work Day. According to the League of American Cyclists, "National Bike Month is an opportunity to celebrate the unique power of the bicycle and the many reasons we ride."
The latest American Community Survey conducted by the U.S. Census Bureau reports that less than 1% of Americans bike to work on a regular basis. Although small, this represents 40% growth in commuter biking since 2000.
Even car commuter bastions like Los Angeles are getting in on the act. Just last year traffic-heavy Los Angeles approved a 30-year plan to build 1,350 miles of bike-friendly pathways around the city to encourage cycling as an alternate means of transportation.
Bacardi U.S.A recently launched an innovative twist on the bike-to-work concept. In support of Ride Your Bike to Work Day, the spirits producer and distributor launched a bike share program at their Coral Gables, Fla., headquarters last week. Spearheaded by their 42BELOW vodka team, the program provides access to bicycles to get around the local community. Each bike is outfitted with a helmet, lock and cargo basket for those quick errands or to-go orders. According to Billy Melnyk, senior brand manager for 42BELOW Vodka, the idea of commuting to work on a bike isn't all that practical for most people. However, biking around the local community offers a great opportunity for those looking to get a little exercise and at the same time reduce their carbon footprint.
Bacardi is not alone with offering workers access to bikes. Google (NASDAQ:GOOG) has bike stations scattered around its campus. But Bacardi's initiative isn't about getting to and from meetings on campus…it's about getting out into the community.
Studies show that nearly 40% of car trips are less than two miles, and many of these trips are short hops for lunch or to run a quick errand. Not only do these quick trips mean using fuel and dealing with parking, it keeps drivers focused only at the matter at hand and they miss out on the goings on around the community.
Melnyk says the bike share program is a great way to get team members out of the office and engaged with the local community, as well as other benefits including:
Getting Exercise. Office life can be pretty sedentary, so having the option of popping on a bike for a quick lunch run not only gets you up and moving it also gives you the opportunity to get a little sun and fresh air. Melnyk notes that sometimes he and his team will bike to a local park for a brainstorming session just to get a change of scenery.
Helping Mother Nature. Good corporate social responsibility always starts locally. Short car trips around town can use a lot of fuel and increase the wear and tear on your car. Biking reduces the amount of emissions, but can also reduce the mechanic's bill.
The bikes in the Bacardi U.S.A bike share program were all built from recycled frames and the number plates that identify each bike are recycled license plates. These are simple, yet sensible solutions that reduce both impact and cost while providing a quality experience.
Creating a Community. When driving a car, you are a enclosed in a giant sea of cars. On a bike, you are more engaged in your surroundings. Melnyk points out that being on a bike "allows you to see what's around you" and get a real feel for what's going on in your community.
Biking certainly isn't for everyone, but it is accessible to most people. The question you should really ask yourself is: What can my organization do to provide a better overall experience for our employees while engaging the local community?
Michael "Dr. Woody" Woodward, PhD is a CEC certified executive coach trained in organizational psychology. Dr. Woody is author of The YOU Plan: A 5-step Guide to Taking Charge of Your Career in the New Economy and is the founder of Human Capital Integrated (HCI), a firm focused on management and leadership development. Dr. Woody also sits on the advisory board of the Florida International University Center for Leadership.Follow Dr. Woody on Twitter and Facebook