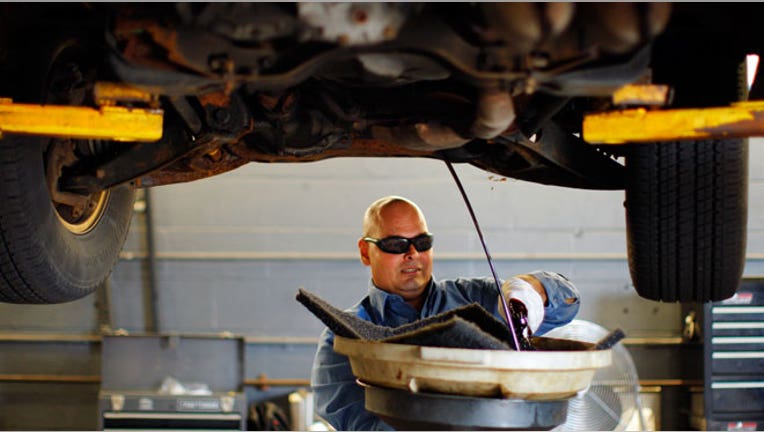 When your car's dashboard lights start glowing, they're trying to tell you something, but many drivers aren't getting the message.
Drivers are most likely to be ignorant of what tire pressure, brake system and electrical warning lights mean, according to a new Insurance.com survey.  Almost 20 percent are unaware of what the low-fuel and temperature icons signify, results show.
Insurance.com commissioned a survey of 2,000 drivers, asking them to match the correct definition to 10 common warning light icons.
Here are the percentages of drivers who could not identify the following automobile warning lights:
Tire pressure warning - 49 percent
Brake system warning - 46 percent
Cruise control activated - 42 percent
Fog beams activated - 40 percent
Electrical problem warning - 24 percent
Low fuel warning - 17 percent
Engine temperature warning - 17 percent
Child safety lock activated - 11 percent
Front air bag needs service - 10 percent
Open door warning - 7 percent
Men vs. women on warning light know-how
Survey results show that, overall, drivers aren't super confident about their warning light knowledge.  Thirty-seven percent said they feel "very confident" they would know what a dashboard light means without looking it up in a car owner manual. Nearly half (49 percent) said they "might know," and 12 percent said they "probably wouldn't know."
When confidence level results are broken down by gender, men felt more confident than women:
Very confident
Men: 47 percent. Women: 28 percent.
Might know
Men: 28 percent. Women: 56 percent.
Probably wouldn't know
Men: 9 percent. Women: 15 percent.
Despite confusion over what warning lights mean, the majority of drivers surveyed seem happy with having a lot of lights. Eighty-two percent said they don't think their car has too many.
Traffic ahead
Insurance.com's survey also asked respondents about their preferences for warning lights for some theoretical situations. If  they existed, here's how many people would want the extra light:
Traffic congestion ahead; choose alternate route: 24 percent
Tire tread below 2/32 depth, legal limit for safe driving: 19 percent
Speed trap ahead : 15 percent
Mouse or foreign object in engine: 10 percent
Time to rest, you've been driving too many hours without a break:  8 percent
Heavy load -- driver and passengers exceed recommended safe car weight limit: 7 percent
Noise level alert -- noise level in car has exceeded safe level for driving: 6 percent
Blood pressure too high for relaxed driving: 5 percent
Safe to eat -- notifies you that road conditions are safe for eating while driving: 3 percent
There's a McDonald's within a half mile: 3 percent
More information, please
See what happens, below, when Kristin Wong asks people if they can identify warning lights. (We threw in some fake ones, too, for fun.)