Why Slow iPhone 8 Sales May Be Good for Apple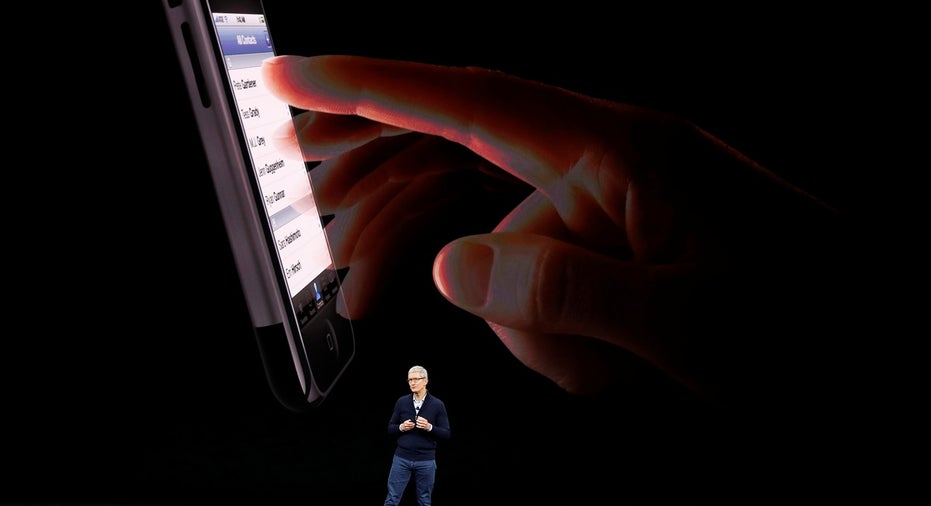 When new iPhones hit the market, they usually fly off the shelves. But with the two models that began selling Friday, there are signs demand is tepid -- and some analysts say that could be a good thing for Apple Inc.
The paradox arises from Apple's unusual lineup this year. It includes the iPhone 8 and 8 Plus that arrived Friday, plus the far pricier, more advanced iPhone X scheduled to arrive six weeks later, which many Apple investors expect to be this year's blockbuster.
The upshot is that any sluggishness in iPhone 8 sales could signal more appetite for the iPhone X, said Katy Huberty, an analyst with Morgan Stanley. "From a financial standpoint, that's the best outcome," she said, because the more expensive, higher-margin model would boost revenue and profits.
The trio of phones has created confusion for some longtime customers. Jeremy Kirkland, a 32-year old marketer from Brooklyn, N.Y., woke at 2:45 a.m. on Sept. 15 -- when Apple started allowing preorders -- to buy an iPhone 8 Plus. But he canceled his order on Tuesday after reading a critical review of the device. He now plans to wait for the iPhone X.
"This will be the first year that a new phone will be out, and I won't have it, and I'll have to be OK with that," Mr. Kirkland said.
Lines were short at the Apple Store in Beijing's Sanlitun district, where the new iPhone 8s went on sale Friday morning. Several of those picking up the new handset said they didn't think the iPhone X would be worth the wait.
"The new features of the iPhone X are fresh, but not attractive enough for me to hold the feeling that I have to own it whatsoever," said Yang Zheng, a 30-year-old working in the education industry who paid $1,200 for his iPhone 8 Plus (that phone starts at $799 in the U.S. but costs more in China because of a value-added tax).
Much of Apple's performance over the next year will be determined by iPhone demand in China. Sales there have slumped over the past six quarters as rising competition from local, low-price manufacturers eroded Apple's market share.
Still, Apple has its fans here. Some of the customers Friday took photos and videos of the new phones going on sale.
In France, Florian Burnat said he buys a new iPhone every year. The 33-year-old lawyer opted for the iPhone 8, picking it up at the Apple store next to the Louvre museum in Paris. "I didn't go for the iPhone X because it is just too expensive," Mr. Burnat said. "I'd rather just wait for the new features to appear in other models."
Strong sales of all three new models would be the best scenario for Apple. And there are risks in banking too much on the iPhone X. That model -- which boasts facial-recognition technology and a larger, edge-to-edge display -- was beset by production problems this summer, and it is unclear how many phones will be available when it ships Nov. 3.
Anticipation for the new iPhones recently sent Apple's stock to record highs. Analysts are projecting a record 245 million iPhones will be sold in fiscal 2018, a 13% increase from the 217 million expected for the current fiscal year, which ends Sept. 30. Morgan Stanley expects the iPhone X to account for 45% of sales by unit and the iPhone 8 and 8 Plus to make up 47% of sales, with the rest coming from older, cheaper models.
The iPhone 8 is an unusual product for Apple. It typically releases only one flagship phone annually, along with a larger Plus version, and it bills those as the best handsets it has ever made. Critics have said the 8 and 8 Plus have only minor improvements over the iPhone 7 launched last year, including wireless charging -- plus a higher U.S. starting price of $699 for the iPhone 8 and $799 for the 8 Plus.
Meanwhile, Apple touted the iPhone X -- which sells for $999 to $1,149 in the U.S. -- as the smartphone of the future, leaving other models in limbo.
"The iPhone 8 and 8 Plus are in a weird situation," said Neil Cybart, who runs Above Avalon, a site dedicated to Apple analysis. "It's not clear who the target market is for those two phones."
New iPhones often sell out early, but iPhone 8 preorders on Thursday in the U.S. offered delivery in one-to-three days, indicating either less demand for the iPhone 8 or more supply, said Mr. Cybart.
Apple declined to comment. The company in August estimated revenue of $49 billion to $52 billion for this September quarter, a projection that included the iPhone 8 but excluded the iPhone X. Apple rarely misses its estimates, though Robert Cihra, an analyst with Guggenheim Partners said: "If they missed because customers are waiting for a X, that would be a good miss."
Some analysts see the iPhone 8 and 8 Plus as a hedge by Apple to keep price-sensitive consumers who are unwilling to pay $1,000 for a phone or prefer unlocking devices with a fingerprint sensor over the facial-recognition system on the new iPhone X.
-- Podcast: Ready For Apple Watch Series 3? There's Just One (Big) Problem
Justin Pincus, a 30-year-old market researcher from San Francisco, joined about 80 people in line around 7 a.m. Friday at a San Francisco Apple store. He bought an iPhone 8 on an upgrade plan to replace an iPhone 6 that broke this month but said he might upgrade again in six months.
This way, he said, "I can upgrade to the X on my time frame if it's as cool as they say it is."
Venkat Kummerla, a 30-year-old software developer from San Francisco, showed up early to buy an Apple Watch Series 3 with cellular connectivity. He said he wasn't interested in the iPhone 8 but planned to order an iPhone X.
"The kind of features in the X interest me," said Mr. Kummerla, pointing to the true-depth camera and augmented reality capabilities offered on the iPhone X.
In Beijing, some visiting the Apple store agreed the iPhone 8 wasn't worth buying.
"It's normal. It's not all that different from the 7," said Duan Mengliang, a 25-year-old hotel worker.
He said he has no plans to buy any new phone in the near future, saying his iPhone 7 works just fine.
Yang Jie in Beijing contributed to this article.
Write to Tripp Mickle at Tripp.Mickle@wsj.com and Yoko Kubota at yoko.kubota@wsj.com
(END) Dow Jones Newswires
September 22, 2017 13:30 ET (17:30 GMT)