Why Don't Colleges Offer Personal Finances Classes?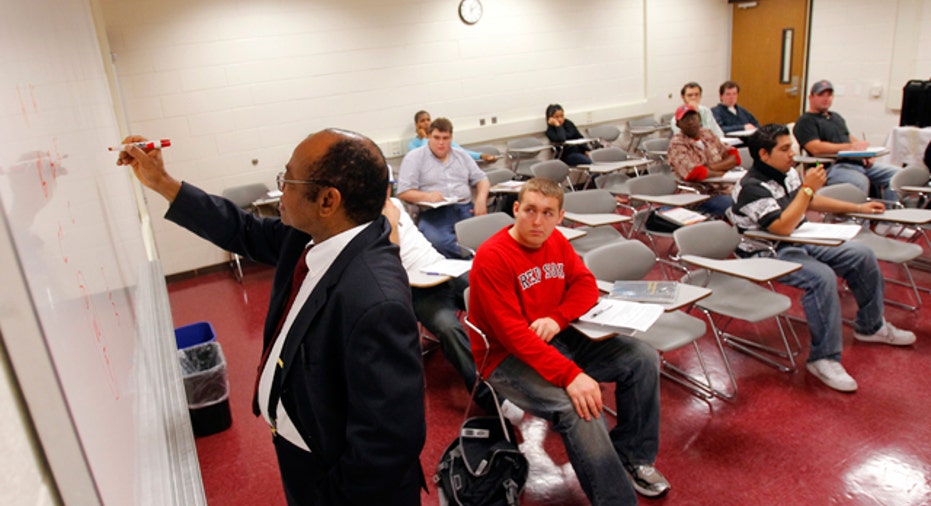 Growing up is tough enough without the worries of your financial future, so Money101  is here for you. E-mail us your questions and let us take off some of the pressure.
The Class of 2011 is not only entering a labor market with a 9.1% unemployment rate, it also has the distinction of being the most indebted class to graduate from college. Many recent grads will not have their financial lives in order by the time they enter the real world of paycheck stubs, APR rates, taxes and creating a household budget.
The push for colleges to offer and even require personal finance courses is growing stronger in the wake of the financial meltdown that exposed Americans tendencies to over borrow and under save.
According to a July 2010 study conducted by Higher One Holdings, Inc., almost 70% of students polled believed that their colleges should increase financial education programs and expand on those that teach students to be mindful with their money.
There are so many things that young people starting out are faced with when theyre out on their own and having to fend for themselves and being able to make a paycheck stretch, says Debbie Saccoccio, associate director for programs in finance at NYU School of Continuing and Professional Studies, which offers several personal finance courses. If we can get people to invest or think about their finances and their future from their first job, it actually helps them build their nest egg because they have more time.
In todays world where an education is viewed as an investment, why isnt personal financial education more valued?
Why dont more colleges offer them? 
Brian Jbara, academic advisor for Indiana Universitys Kelley School of Business, which offers a sophomore-level personal finance course, says that some college administrators feel its the parents or students role to instill positive financial values.
A lot of people dont see it as directly transferrable for that first job, he says. I think that it is expected to be done outside of the classroom most of the time.
Despite the fact that colleges may be trying to promote curriculum that involves more critical thinking than skills that students can learn on their own time, Jbara says he has seen a piqued interest from students who want to be financially self-sufficient.
In this economy especially, the minor and that course is very popular here I think partly for that reason, he says. Students do find it to be very useful.
Saccoccio echoes that sentiment, saying that the NYU-SCPS office has seen an increase in student inquiries about personal finance courses and that the office is more than willing to advise anyone who has an interest in pursuing any avenue within the school's finance department.
Thats how the personal finance [courses] really spun off because there were courses on the professional side where people really wanted to delve into it, but they didnt have experience to take a professional course, nor did they really want to get that level of content, she says.
Becoming Financially Literate 
With some grads starting off their professional lives with a staggering amount of debt, finding solid financial footing can come with a steep learning curve, says Jbara.
You see lots of credit card bill debt that people are accumulating because they dont understand the difference between the real value of money and its artificial value, where people are spending a lot more than what they have, says Jbara. If students have the education early on before they start making their own money, I think they have a much better understanding coming out of school on how best to start investing and saving.
In addition to being adequately prepared to handle their personal finances, the experts say students who take a personal finance course in college will come out ahead in gaining employment, whether they plan to work in the finance industry or not.
Education makes a person complete so that they really can comprehend things beyond day to day, says Gopal Vemuri, founder & CEO of JobpadHQ.com. By providing these financial courses, I think theyre making their students complete. Rather than just giving a technical course, they can help [a student] land the job.
Being financially literate will help students make sounds investments choiceswhether they do it themselves or hire a professional.
If you dont have that background, you can just accept what someone is saying but you dont really know if what theyre saying is accurate, says Saccoccio. Being more educated in that respect does give you more ownership and a higher level of acceptance of what your professional financial person is doing for you.
Spreading the Financial Word
At universities where personal finance classes are offered, the experts say that they are becoming quite popular. Saccoccio explains that the classes at NYU are garnering more interest through faculty feedback and positive student evaluations.
They really ask a lot of questions before, so when they actually take the course, theyre really feeling confident about this being the right course for them, she says.
In addition to an increase in student awareness, Saccoccio says that family members of students are approaching the department, determined to find out more about their own situations.
Weve got people who will take those courses and then find that its something they really like and maybe want to now pursue a certificate or a more professional certificate course, she says.
Although not every school offers personal finance courses, sites such as CashCourse.org offer free online personal finance courses for colleges nationwide to prevent students from making poor decisions that could hinder their financial futures.
Its a sense of responsibility, says Saccoccio. Taking more responsibility for your finances doesnt just help you on a personal level, it helps you on a professional level as well.