Why Do Fans Like Peyton Manning More Than Tom Brady?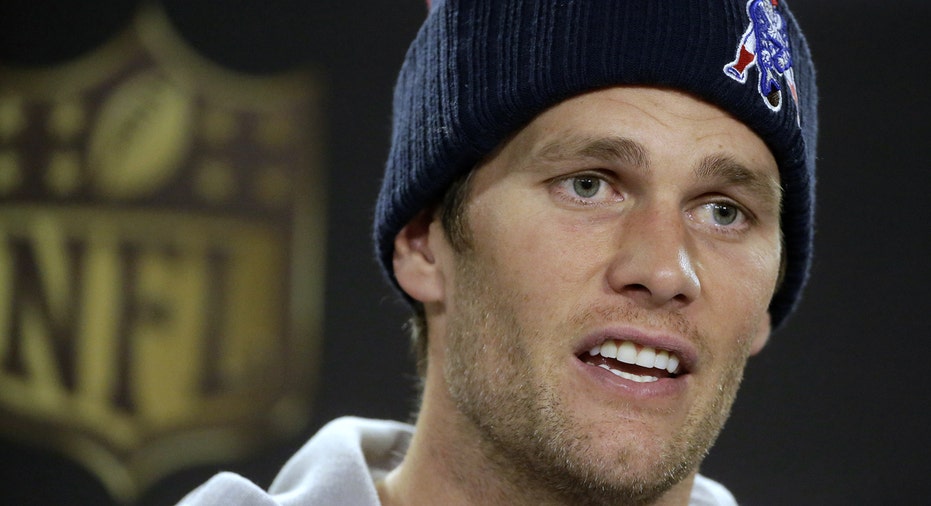 New England Patriots quarterback Tom Brady and Denver Broncos star Peyton Manning each overcame unprecedented individual scandals this season en route to their clash in Sunday's AFC Championship game, but only Manning appears to have emerged from his rare brush with criticism unscathed. Research suggests that Brady's reputation took a significant hit over the last year due to his role in the "Deflategate" saga, though experts are confident he will remain highly marketable once his playing days are over.
Brady was a central figure in the NFL's months-long investigation into whether Patriots officials knowingly deflated footballs used in last year's AFC Championship game to gain a competitive advantage over the Indianapolis Colts. Brady, who adamantly denied any wrongdoing from the start, was vindicated when his four-game suspension was overturned in federal court.
Separately, an Al Jazeera America special report alleged last December that Manning's wife received shipments of a performance-enhancing drug from an Indianapolis anti-aging clinic. The report, entitled "The Dark Side," triggered public suspicions that Manning used performance-enhancing drugs and prompted an NFL investigation. But Al Jazeera America's report crumbled in just a few weeks amid denials from implicated athletes and a retraction from the report's key source, Charlie Sly.
So why did a report that linked Manning to performance-enhancing drugs disappear in mere days, while accusations that Brady tampered in air pressure in a few footballs have lingered for months? Experts say the disparity has as much to do with the public's hatred of the Patriots as with its attitude toward Brady. New England has won four Super Bowls since 2002, but the franchise and its head coach, Bill Belichick, have been severely penalized twice during that span amid allegations of cheating.
"It's similar to the [New York Yankees] in a way, where you either love them or you hate them," said Matt Fleming, director of celebrity acquisition at the Marketing Arm, an international marketing agency. "I think that applies for Brady and the controversy that's regularly come up with them over their run of success. The stories, whether founded or unfounded, they tend to shed a negative light at times."
The Marketing Arm maintains the "Celebrity DBI" database, which polls consumers on eight categories to determine where worldwide celebrities rank in terms of marketability. Both Brady and Manning are known to more than 80 percent of consumers, placing them among the most well-known celebrities in the world, according to the firm's findings. But Manning tops Brady in nearly every other category.
More than 75 percent of consumers have a favorable view of Manning, which places him alongside the real-life "James Bond," actor Daniel Craig, in terms of likability. The Broncos quarterback ranks in the top 200 of more than 3,800 celebrities in terms of consumer trust, prowess as an endorser and overall influence.
Brady's ratings are far worse. He ranks 3,703 out of 3,840 celebrities in terms of likability. Just 58 percent of consumers have a favorable outlook on Brady, which places him on par with baseball pariah Roger Clemens. Manning ranks 140th in terms of consumer trust; Brady places 3,270th.
"The Deflategate thing kind of haunted Brady for a long time, and I'm not sure that the public sentiment ever really came to his side on that. It just kind of faded away. Outside of New England, I think, if you took a poll with football fans, they'd probably still think that he did it," said Gary Myers, a New York Daily News columnist and author of the 2015 book 'Brady Vs. Manning: The Untold Story of the Rivalry That Transformed the NFL.'
Yet the difference in consumer trust hasn't had a major impact on either player's personal brand – neither has lost a single sponsor. Manning earns about $12 million annually through endorsement deals with major companies like Nationwide Insurance and Papa John's Pizza (NASDAQ:PZZA), the latter of which came to his defense after Al Jazeera's report, as reported by FOXBusiness.com.
Brady earns about $6 million through deals with companies like Under Armor (NYSE:UA) and Tag Heuer watches. And while many football fans have grown tired of seeing him hoist the Lombardi Trophy, Brady enjoys rapid, borderline obsessive support from fans in the New England area.
Manning's and Brady's ability to maintain marketability through scandal mirrors that of the NFL, which draws a reported $10 billion in revenue annually while weathering public outrage related to the league's domestic violence record and questionable emphasis on player safety.
"Short of murdering somebody or killing dogs or something, you really don't see many guys have their personalities or character tarnished by anything," said Bob Dorfman, a sports marketing expert and executive creative director at Baker Street Advertising in San Francisco. "The game seems to rise above that, as long as you're successful and winning on the field."
Both Manning and Brady are in their late 30's and nearing the end of their football careers. Barring any new developments, their brushes with scandal won't derail their post-gridiron profitability. Manning has proven to be a natural in front of the camera, whether in commercials or in the broadcast booth.
Brady is rumored to be interested in becoming a football executive once his playing days are over, but that's just one of several potential paths that will be open to him. His perception among football fans will certainly improve once he stops beating their favorite teams on Sundays.
"I think once Brady retires and is removed a little bit from the NFL, people will start to appreciate his accomplishments more and the success that they've had," Fleming said.