Why Conor McGregor's meltdown could cost him in court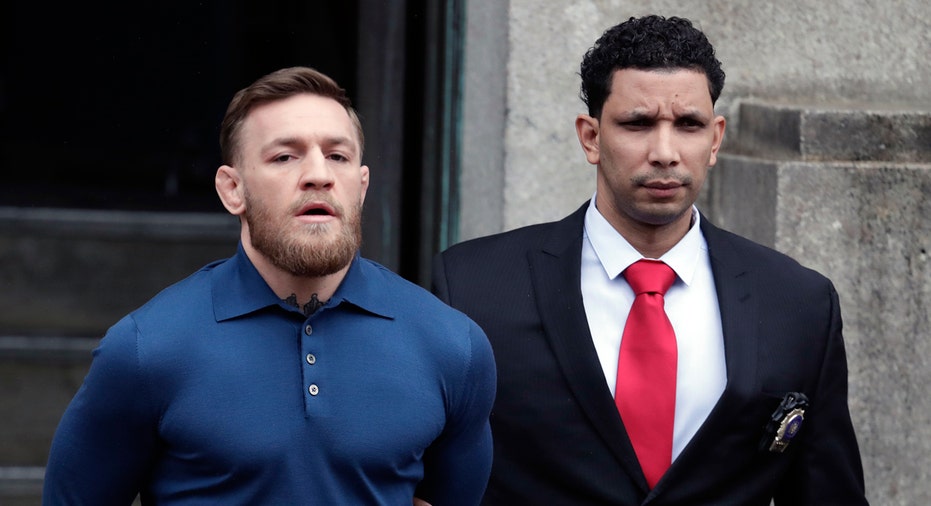 Ultimate Fighting Championship star Conor McGregor may have opened himself up to costly civil lawsuits this week after injuring multiple mixed-martial artists who were set for fight night paydays on Saturday.
McGregor's meltdown at a UFC 223 media event at the Barclays Center in Brooklyn, New York, led to the cancellation of two fights on the pay-per-view event's card. Lightweight Michael Chiesa was forced to withdraw for medical reasons after he suffered cuts to his face when McGregor threw a metal dolly through a bus window, while flyweight Ray Borg dropped out because of an eye injury caused by flying glass.
The 29-year-old Irishman was arrested and faces three counts of misdemeanor assault and a felony criminal mischief charge in connection with the incident. But criminal charges are only one concern for McGregor, according to combat sports attorney Erik Magraken, who told FOX Business there is a "good likelihood" that fighters will sue the superstar to recoup their lost paydays.
"He allegedly injured several fighters. These individuals can seek compensation not only for their personal injuries but also for the economic consequences from those injuries," said Magraken, an injury-claims lawyer at Canadian firm MacIsaac & Co. and author of the "Combat Sports Law" blog. "Some fighters were removed from the card, and their economic losses can include missed paydays and missed bonus opportunities. In addition to this, fighters are losing the exposure of competing on what should have been a very high-profile card."
Compensation for UFC bouts varies by fighter. Borg earned $100,000 for his most recent fight at UFC 216 last October, according to figures released by the Nevada Athletic Commission. Chiesa has earned between $30,000 and $60,000 in each of his last three fights. In addition, the UFC awards fight bonuses to top performers on each pay-per-view card.
McGregor is one of the highest-paid combat sports athletes in the world. He earned an estimated $100 million from last August's boxing match against Floyd Mayweather alone.
Chiesa filed a police report against McGregor on Thursday, TMZ Sports reported. McGregor was released from custody on Friday after he posted $50,000 bail. A judge ordered McGregor to stay away from Borg and Chiesa.
UFC President Dana White, who has been highly critical of McGregor's actions, acknowledged in an interview with TMZ Sports the possibility of civil lawsuits.
"People are gonna sue him," White said. He's gonna have a bunch of civil lawsuits."
In addition to lawsuits from fighters, the UFC could sue McGregor over lost potential proceeds from Saturday's pay-per-view event. The organization pulled a total of three fights from the card because of the incident, including one bout involving Artem Lobov, McGregor's teammate, who was involved in the altercation.
"It is not out of the question that the disruption to the card will result in reduced pay-per-view sales, and if that's the case Conor may find himself on the wrong end of a lawsuit from the UFC," Magraken said.