WHOOP There It Is: The New Way Olympians Are Training At Rio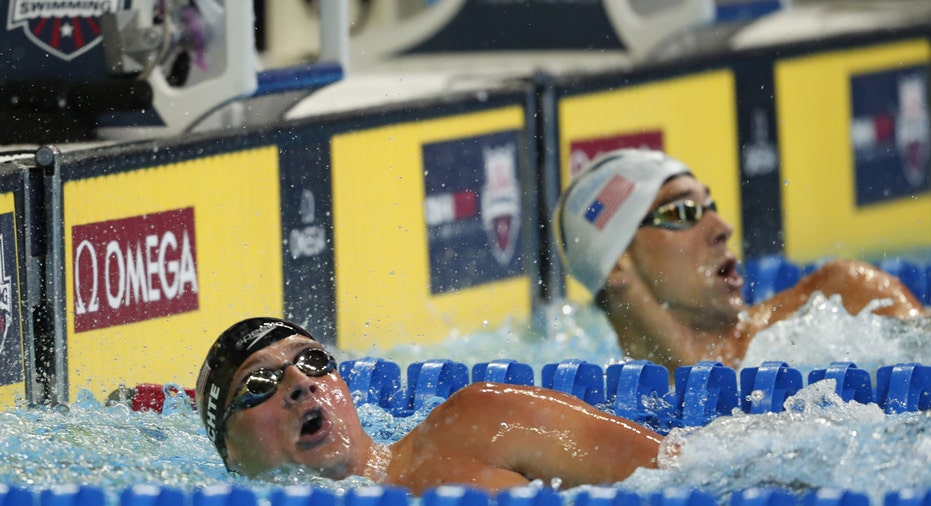 Team USA Basketball point guard Kyle Lowry and swimming star Ryan Lochte are among 20 Olympic athletes that used the wearable gadget WHOOP to improve their training regimens ahead of this month's games in Rio de Janeiro, Brazil.
Conceived in 2012 by former Harvard University squash team captain Will Ahmed, the WHOOP tech-enabled bracelet tracks data on the user's sleep patterns, heart rate and physical exertion during training. Within a few days, the device provides recommendations on everything from how much sleep the user should get to whether the strain they're placing on their bodies is outweighing their ability to recover, providing users with a blueprint of how to change their habits to improve performance.
Though initially developed for use by elite Olympic and professional athletes, Ahmed and his team are taking WHOOP to the public, just as some of its most prominent users compete in the 2016 Olympics. A $500 version of the WHOOP device and corresponding app is now available for pre-order, with shipments slated to begin in December.
"We realized there was an opportunity to expand our market to what we like to call the 'aspirational athlete,'" Will Ahmed, founder and CEO of WHOOP, told FOXBusiness.com. "So [we] think of that as the high school athlete who's balancing the stresses of their daily lives alongside exercise. [We] think of that as your fitness enthusiasts who go to the gym regularly."
Ahmed's company faces an uphill battle in its bid to reach fitness-minded techies. WHOOP will challenge entrenched companies like Fitbit (NYSE:FIT) and privately-owned Jawbone in the increasingly crowded $4 billion fitness wearable market. Earlier this year, Major League Baseball became the first professional sports league to approve wearable tech devices for in-game use, but they are still banned in the NBA, NFL and NHL.
WHOOP gained mainstream attention in April 2016 after former Cleveland Cavaliers guard Matthew Dellavedova wore the tech device during a game, which prompted league officials to reiterate the NBA's existing ban on wearables. NBA superstar LeBron James and swimmer Michael Phelps are just two world-class athletes who have used WHOOP since its creation.
WHOOP's focus on applying data analysis to common obstacles, such as how to manage grueling travel schedules and multiple daily workouts, has been instrumental in separating the product from those of WHOOP's competitors, Ahmed said. Conversations between athletes, trainers and doctors – who used WHOOP and recommended it to their peers – fueled the company's early growth.
"For us, building a product that was really focused on solving hard problems for elite athletes gave us a huge differentiation in the space," Ahmed said. "We were fortunate in that a lot of our growth has been organic and word of mouth. There wasn't really a marketing initiative. There weren't a lot of clever introductions."
On average, users slept 41 minutes more per night, lowered their resting heart rate, and reduced their caffeine intake by 86% and their alcohol intake before bed by 79%, according to a WHOOP-commissioned study of NCAA athletes that used the device. In addition, WHOOP purportedly contributed to a 60% drop in reported injuries among users.
As the Rio Olympics approached, some athletes altered their training habits as a direct result of feedback provided by WHOOP. In one instance, Team USA swimmer Connor Jaeger learned from the device that travel was having a negative impact on his post-workout recovery.
"Over the past year WHOOP has helped me understand how my body reacts to jet lag and how quickly it acclimates to new time zones," Jaeger said in a press release last month. "Because of what I learned via WHOOP, I flew into Omaha for Olympic Trials several days early to acclimate, swam my best time ever and will be headed to Rio next month."
Aside from marathon runners, high school athletes striving for college scholarships and other fitness-minded customers, Ahmed asserts that the publicly-available version of WHOOP has applications for office workers and working professionals interested in cutting down on bad habits.
"If you think about working professionals today, they struggle a lot with sleep. They struggle with how travel is affecting their bodies, they struggle with jet lag, they struggle with alcohol consumption, caffeine consumption," Ahmed said. "WHOOP is different in that we're able to actually tell individuals how much sleep they need before they go to bed."