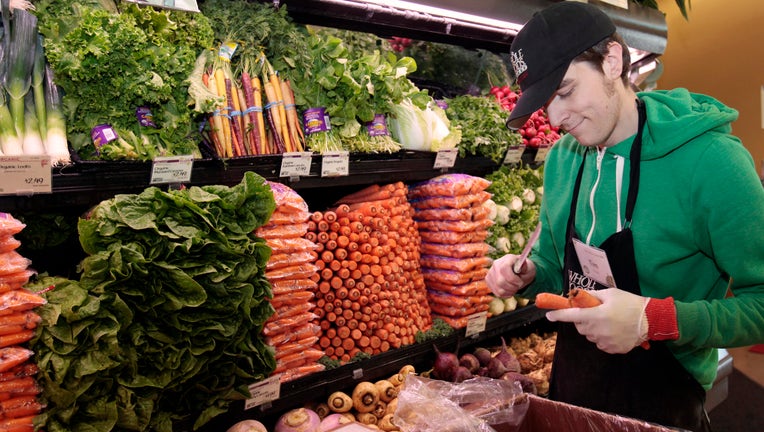 Whole Foods (NASDAQ:WFM) beat analyst expectations for its third-quarter earnings on Wednesday, posting earnings per share of 41 cents, exceeding estimates of 39 cents.
Quarterly revenue also beat expectations slightly, coming in at $3.4 billion, ahead of the estimated $3.39 billion in sales.
But the shares slipped in extended trading because Whole Foods' same-store sales came in short of analysts' forecasts.
Ahead of Wednesday's earnings report, shares for the Austin, Texas-based company had been hovering around their lowest level in two years, dropping about 35% this year. Whole Foods has been the number-two worst performer in the S&P 500.
The chain faces increasing pressure from competitors, including both mainstream grocery chains and smaller organic grocers. According to financial information company Sageworks, sales at private specialty food stores were up 6.3% in 2013, suggesting growing consumer interest for natural and organic food.
"Obviously people are becoming more health conscious and they're looking for specialty goods. Whether or not they're going to go to Whole Foods or smaller, more private independent stores is what remains to be seen," said Kevin Abbas, a Sageworks analyst. "What we see is the demand is there for specialty food stores -- the organic goods, the healthy items – but it's how they react to positioning themselves in that market versus the smaller stores that will be important."
But in spite of the stiff competition, grocery industry analyst David Livingston remains optimistic about Whole Foods' prospects. He says the stock had gotten ahead of the company and is now adjusting to a more realistic price.
"They've always done an excellent job and still are one of the highest sales per square foot operators," said Livingston. While sales may not be increasing as quickly as they have in the past, Livingston said Whole Foods is still growing sales faster than the industry average.
And unlike some analysts, who point to Whole Foods' pricey reputation as hurting the company, Livingston said the upscale connotation is a positive for Whole Foods, which has built a reputation for quality food.
"They don't go to shop there because they're cheap … A lot of people are serious about their food," said Livingston.
Whole Foods' stock was down about 8% in after-hours trading directly following the release of the earnings report.