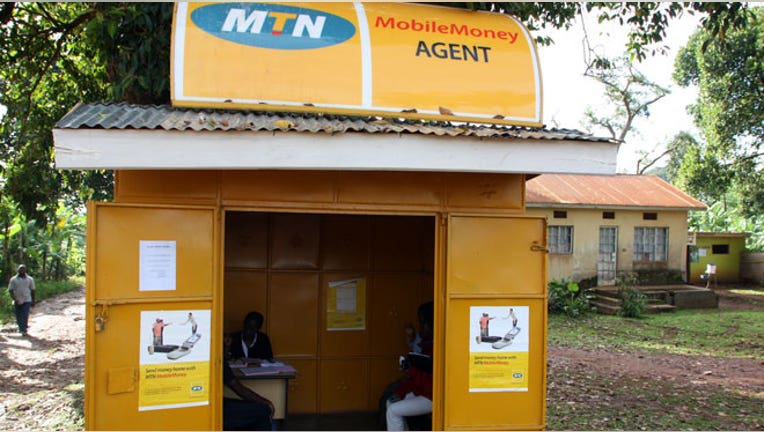 Players in the financial-services industry are traveling to the world's most cash-rich locales, scouring rural villages in an effort to tap an untouched market where some 2.4 billion people have yet to open a bank account.
While using plastic cards and online banking to pay bills is standard in the U.S., it's still a novel idea in some emerging economies. That has given birth to a new market of unbanked mobile phone users and attracted the world's biggest payment companies.
Visa (NYSE:V), American Express (NYSE:AXP) and MasterCard (NYSE:MA), along with their partners in the telecom sector, have started launching separate mobile payment platforms in an effort to entice cash-reliant villagers to trade in their wads of cash for electronic banking.
"Living a life day-to-day purely in a cash economy is fraught with risks, inconvenience and high expense … there's a screaming need of a better way to manage your money."
"I don't think there's any doubt that there's a tectonic shift in technology here, a leapfrog opportunity," said Gordon Cooper, Visa's head of emerging market solutions. "We are quite certain that the real opportunity lies in non-traditional growth."
While only about half of the world's households have bank accounts, seven out of 10 have a mobile handset. With a thousand new mobile subscribers coming on line every minute, mobile is the first technology to have more users in poor countries than rich countries, Cooper said.
Think tank CGAP, the Consultative Group to Assist the Poor, forecasts that 1.7 billion people will be unbanked with access to mobile phones in 2012, a growing gap that has sent financial and mobile payment companies flocking to the world's most remote regions.
The hope is that villagers living far from brick-and-mortar banks will use this technology, which is compatible with even the most basic-feature phones, to pay bills, make person-to-person payments and buy goods at stores that don't have traditional point-of-sale systems.
After all, adding customers outside their core markets translates to higher transaction volumes, which, in turn, boosts transaction fees and gives a bump to total revenue.
"Any success we have moving them from cash to electronics is a good story for us," said Sal Karakaplan, a senior business leader in MasterCard's mobile payments group.
The Digital Highway
The concept of mobile finance in emerging markets has ramped up over the last year and has started to intertwine with the long-term revenue targets and corporate strategies of Western mobile payment companies.
Visa, which has various projects underway around the world, says its heightened interest in emerging markets reflects a long-term goal of deriving half of its revenue from markets outside the U.S. by 2015.
In 2011, about 46% of its $9.2 billion revenue came from emerging markets. Last quarter, international transactions climbed 16% year-over-year.
Activists have for years been trying to plug the world's poorest into the financial system, most commonly through microfinance, which is a type of small-scale lending program that often provides loans to impoverished entrepreneurs.
But the recent participation by mobile payment and telecom giants has started to weave smaller-scale efforts into one large movement.
Sahba Sobhani, program manager of the United Nations Development Programme, described microfinance as a "bunch of little roads," compared with larger-scale mobile payment technology, which he said acts more like a "digital highway" in advancing financial inclusion.
"After decades, or centuries, of just not being able to serve lower income consumers in emerging markets, we can actually devise not only a profitable, sustainable business model but also bring a meaningful social economic impact by basically plugging millions of people into the global economy," Cooper said.
San Francisco-based Visa acquired Fundamo, a South African-based mobile financial services company, for $110 million in cash last June. It has partnered with mobile technology, microfinance and financial inclusion experts, including Women's World Banking, and has also launched a first-of-its-kind financial inclusion pilot in Rwanda that involves collaboration with local partners, including nine commercial banks, and the government.
MasterCard has been furthering its expansion in the space since first partnering in 2010 with Smart Hub, a subsidiary of Smart Communications, which is the biggest mobile network operator in the Philippines.
Last January, it teamed up with Telefonica to provide mobile financial services, including pre-paid companion cards that can be used at merchants that accept MasterCard cards and person-to-person payments, to Movistar's 87 million customers in 12 South American countries.
MasterCard, Airtel Africa and Standard Chartered Bank also launched a virtual wallet program in Kenya last year known as PayOnline that allows customers to make payments straight from their phone.
In February, it inked a fresh deal with SAP AG (NYSE:SAP) subsidiary Sybase 265, Comviva and Utiba Mobility to expand its so called "open-loop" mobile payments platform, or one that allows customers to exchange financial payments over various mobile service providers.
American Express, meanwhile, unveiled a mobile payments platform last March that it said would help compete with eBay's (NASDAQ:EBAY) PayPal in the U.S., but also allow it to enter emerging economies where cash is favored over the traditional credit card.
Plugging in the Masses
Sobhani, who focuses on U.N.'s growing inclusive markets initiative, said providing the poor access to financial services through mobile platforms is a "critical enabler."
That ranges from governments and relief programs providing and tracking direct aid to earthquake victims in Haiti to the ability of hooking rural farmers up to the grid in what led to the creation of Sub-Saharan Africa's first commodities exchange in Ethiopia.
"Right now, the financial inclusion space is one of the most promising areas," Sobhani said.
Of course, there are still many challenges, including getting people comfortable with trading in their life savings, which is often in the form of wads of cash stowed away in hiding spots in their home or yard, for digital currency. Cards can also bring unfamiliar transaction fees.
Yet, Sobhani and other experts say the demand is there. If it wasn't, major credit card operators would not be investing millions of dollars to try and develop it.
"Living a life day-to-day purely in a cash economy is fraught with risks, inconvenience and high expense … there's a screaming need of a better way to manage your money," Cooper said.
It's too soon to tell how the trend will stick, especially since every community has its own customs and ways of doing business. But financial companies are accelerating their entrance into these markets in an effort to beat the competition.
That's one reason why Visa is testing a multi-layer public/private partnership in Rwanda, where only 14% of the market is banked today. It hopes the collaboration will help push wide-scale adoption of mobile financial services in the Sub-Saharan country. If successful, the card operator says it will expand into bigger emerging markets.
"Visa is taking a blank sheet of paper and saying, 'we have a chance to reinvest our business,'" Cooper said. "We wanted to pick one place where we could prove the model, and as it turns out, prove a new way of doing business."
It's about converting cash to digital currency, and making mobile payment systems interoperable, he said.
As part of the project, Visa has connected ATMs, wired up the country's main airline with a mobile platform and started running training courses on financial literacy.