Who Has the Best Deals on Gift Cards?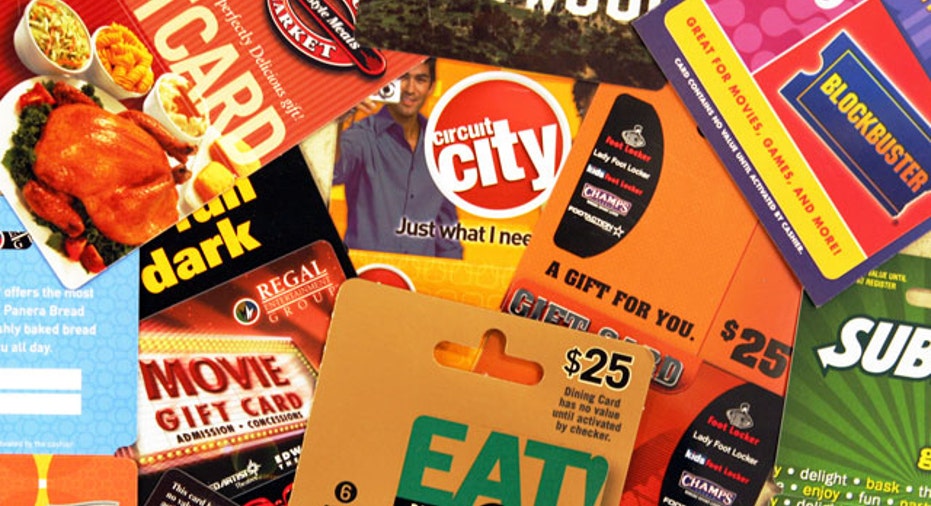 Looking for a good deal on gift cards this holiday season? You may want to stick with store gift cards instead of the all-purpose versions issued by banks and credit card companies.
A Bankrate.com survey found that store-branded gift cards are less likely to charge fees than cards that sport a Visa, MasterCard, American Express or Discover logo. That saves money for you and your gift recipient.
Of the 55 store-branded gift cards Bankrate examined on its 2012 Gift Card Survey, five featured a purchase fee. Staples charged $1.99 for a secure tracking fee, and a Toys R Us gift card costs $1.95 to buy. Shell, Chevron Texaco and Exxon all charged a processing or handling fee for gift cards bought online. There were no fees for cards purchased at gas stations.
None of the store-branded cards except Pilot Travel Center charged a dormancy or maintenance fee. Pilot Travel Center assesses a $1.20 monthly fee if the card has not been used for two years.
That can't be said for gift cards issued by banks and credit card companies with a Visa, MasterCard, American Express or Discover logo. All eight of these gift cards came with a purchase fee ranging from $2.95 to $6.95. The fee depended on the issuer and whether the card was bought online or at a bank branch. Six of those cards charged a dormancy or maintenance fee -- up to $3 a month -- if the card went unused for 12 months. The American Express gift card and the Fifth Third Bank MasterCard gift card were the only exceptions.
"The gift cards issued through specific retailers still offer the best terms at the lowest cost and is where consumers -- both the giver and the recipient -- will receive the best value," says Greg McBride, CFA, senior financial analyst at Bankrate Inc.
You see more fees from banks and credit card companies because they need to generate revenue for their gift card businesses. Retailers, in contrast, are less dependent on those fees since the money on the card will be used for goods and services at their stores, McBride says.
Bankrate's gift card survey also found that expiration dates are a rarity among gift cards. Only three of those surveyed -- the Fifth Third Bank MasterCard, KeyBank MasterCard and U.S. Bank Visa card -- had expiration dates. Federal rules require gift cards to stay open for at least five years.
The survey looked at 63 gift cards in total: eight bank and credit card company-issued gift cards and 55 other gift cards from chain restaurants, online stores, supermarkets, department stores, big-box stores, major airlines and gas stations.
The survey included cards from single retailers, brands or chains, known as closed-loop cards. It also looked at open-loop cards that feature a credit card payment network, such as Visa or American Express. For a complete listing of surveyed cards and Bankrate's findings, see our chart.
Adding More Cash
The biggest change in this year's survey from 2011 was with reloadable cards. Six retailers -- Bloomingdale's, Macy's, Saks Fifth Avenue, Brinker, Bed Bath & Beyond and iTunes -- no longer offer gift cards that can be reloaded with new funds. Three retailers -- Kohl's, CVS and Chevron Texaco -- added a reloadable feature to their gift cards.
In general, retailers that ring up a high volume of small-ticket transactions, such as Starbucks, benefit from reloadable gift cards, says Ben Jackson, senior analyst at Mercator Advisory Group. Their customers frequent their shops several times a week and spend small amounts each time. In that case, it makes sense for CVS and Chevron Texaco to add the reloadable feature, he says.
However, Jackson says, many consumers don't even realize they can reload funds on their gift cards -- especially cards from department stores.
"It will be interesting to see what happens with Kohl's," Jackson says, "if they eventually go the way of Bloomingdale's and Macy's and get rid of reloadable cards."
Mobile and E-Migration Slows
Last year, a host of gift card issuers debuted e-gift cards, where consumers buy the cards online and have them sent to a recipient's email. American Express, Best Buy, Gap, Overstock.com, Pizza Hut, Staples and Starbucks introduced virtual versions of their gift cards. Target and Starbucks last year also unveiled gift cards that are stored on smartphones.
This year, only Darden Restaurants (which owns Olive Garden and Red Lobster) and JetBlue Airways added e-cards, and JetBlue's e-card is only available during the holidays. Meijer grocery store did away with its e-card this year. In all, just more than half of gift card issuers in the survey offered e-cards, about the same as last year. None added a mobile card this year, although Home Depot provides an iPhone app that allows users to buy an e-card anytime, and Taco Bell introduced a mobile app to check gift card balances.
"Retailers have been somewhat cautious about adding mobile and e-gift cards for good reason," Jackson says. "No one wants to adopt the beta version."
He says the mobile wallet platform is still developing, and retailers are waiting to see what sticks. Additionally, electronic versions of gift cards can be pulled up on email on most smartphones, making them mobile. Still, Jackson predicts mobile and e-versions of gift cards will continue to grow because they are cheap to produce, and they capture last-minute holiday shoppers.
Mobile and e-cards contributed $1 billion in annual sales last year, according to Brian Riley, a senior research director at CEB TowerGroup. He expects that number to increase this year and beyond as mobile payments and banking make their way into the mainstream.
"Gift cards have always been the lazy man's way to give a gift," he says. "Electronic gift cards make it even easier for the lazy man."
Copyright 2012, Bankrate Inc.