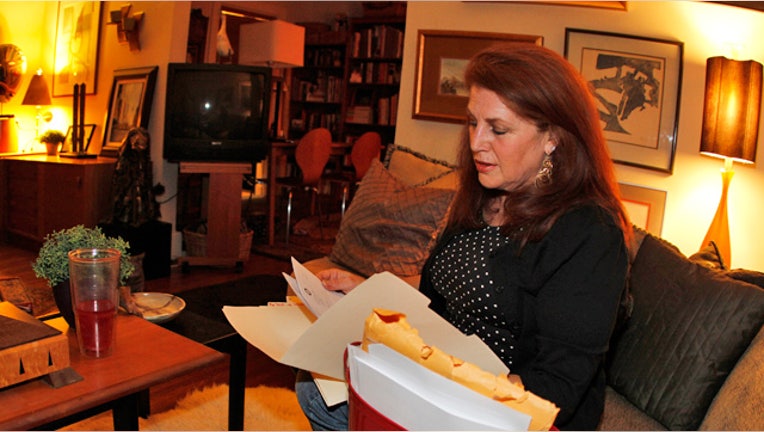 You're relaxing on a beach in the Caribbean or sitting at an important business meeting far from home. You're still daydreaming about your vacation or how well your presentation went at the conference when you arrive home to disaster. Perhaps a pipe has burst and flooded your home, or a burglar has broken in and stolen your laptop and new flat-screen TV, or birds have flown down the chimney and wreaked havoc on your furniture.
Whatever your misfortune involves, you should begin by photographing the damage and contacting your homeowners insurance company, says Joanna Moore, senior vice president of claims and chief claims officer at Mercury Insurance. (See: "Alphabet soup: 6 types of homeowners insurance and what they cover.")
"Don't discard things before your insurance carrier can inspect them," she says.
If your water heater leaks, causing a flood, let your insurer take a look to determine if something failed and the product is still under warranty.
Your insurer also is likely to cover emergency repair costs, such as drying out a soggy home or boarding up a broken front door, says Moore.
Depending on the nature of your disaster, it could be covered under the dwelling or personal property portions of your policy, or both. The dwelling portion would cover damage caused to your floor by a burst water pipe, while your personal property portion would typically cover your ruined furniture. (See: "New homeowner insurance basics.")
If your home is uninhabitable, the loss-of-use portion would cover the costs of things like temporary accommodations and clothing, she says.
Because most homeowner insurance policies have deductibles, you should compare the amount of the loss to your deductible before filing a claim, says Pete Moraga, spokesman for the Insurance Information Network of California.
"Every time you file a claim your insurer re-evaluates your insurability," Moraga says. A typical homeowner files a claim every 10 or 12 years. Filing two or three within a short period could "send up a red flag."
And because of the economy, many homeowners raised their deductible as a way to lower premiums, Moore says. If your deductible is $2,500 and your claim is $3,000 "you're better off taking care of it on your own."
Here are some common scenarios you might encounter, with advice from experts on how to handle them. (See: "Home insurance: Are you covered?")
Burst water pipe and water damage
Water damage accounts for nearly one-quarter of all homeowner insurance claims, and in 2007 the average claim was for $5,500, according to the Insurance Information Institute.
While your insurance will typically cover damage from burst pipes, an ounce of prevention is worth a pound of cure.
Because pressure can build up in pipes, Moraga recommends turning off the water before you leave home.
If you come home to a wet disaster, immediately call your insurance carrier, who can send someone to provide emergency service, such as pulling up the carpet and setting up fans and dehumidifiers to dry out your home, says Moore.
Burglary and homeowners insurance
More than 1.4 million residential burglaries were reported in 2010, and the average loss for residential and non-residential properties combined topped $2,100, according to the FBI.
You can take steps so you "don't leave an invitation for home burglars," Moraga says.
Simple steps like putting your lights on timers, having your mail and newspaper held, and parking your second car in the driveway can give the impression someone is home.
But some burglars won't be fooled. And items they commonly target -- such as electronics and jewelry -- may have insurance coverage limits. So that new TV may have cost you $4,000, but your homeowners policy may have a $2,000 cap for electronics.
If you own pricey items like artwork and collectibles, you might want to get an endorsement, which provides greater coverage for such valuables, Moraga says.
Electrical fire
Fires are harder to prevent because you don't want to turn off your power -- a dark home is a magnet for burglars, Moraga says.
But fire is a key concern. The Consumer Product Safety Commission recorded more than 364,000 residential fires in 2010, with losses totaling $6.63 billion.
Before you depart, unplug extension cords and appliances.
An alarm system can offer valuable protection, notifying your alarm company if smoke or heat is detected, Moore says.
Damage caused by rodents
Think your pet door or chimney is secure? In reality they might provide a route for birds, rodents or other critters into your home, where they can cause damage to your home or furniture.
That type of damage is unlikely to be covered by your homeowner insurance policy, Moore says. So if mice set up home in your new sofa, you'd be out of luck.
But if a raccoon gets into your attic, chews through wiring and sparks a fire, or a rat gnaws through the dishwasher water line and causes a flood, that damage would be covered.
The original article can be found at Insurance.com:While you were out: insurance claims that arise while you're away