Where's the Beef? Best Burgers for Your Buck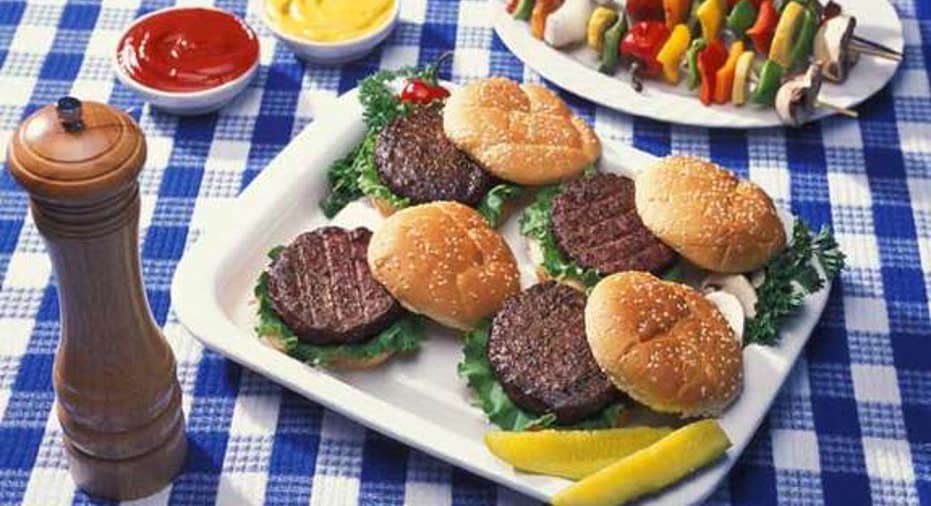 Our Friend, Patty
Summertime is for rituals such as piling in the car for a road trip and the inevitable stop for fast food, standing in line and staring up at a colorful menu with backlit promises of greasy fulfillment. It's for letting our shoulders gradually burn to a crisp while standing around the barbecue grill, discussing that game last night and the finer points of patty flipping.
One way or another, burgers will almost certainly be included. Nearly half of all Americans eat at least one burger per week -- up from 38% in 2009, according to Technomic, a food industry research and consulting firm.
"The value menu is certainly a big part of this increase in burger consumption," says Sara Monnette, director of consumer research at Technomic.
Though there will always be a market "lovin'" burgers for $1 to $3, there's a growing segment of consumers who are increasingly valuing premium ingredients and perceptions of quality over a cheaper bite.
"The specialty burger craze has driven growth in a way that is almost defiantly separate from pricing," Monnette says.
Prices for menu items are constantly in flux and can differ significantly based on location or special offers, but let's take a look at some of the largest burger makers' standard beef burgers in the country compared to that beauty you'll serve up in the backyard.
Burger: Big Mac
Price: About $4.20 (55 cents per ounce)
Nutritional facts: 550 calories, 29 grams of fat
Here's a fun game: Hop in your car, drive in any direction for 15 minutes and avoid spotting the golden arches. If you succeed, congratulations -- you've accomplished the seemingly unthinkable. You deserve a feather in your cap or a Big Mac in your gut.
With more than 14,000 locations in the U.S., McDonald's is the largest burger chain in the country. It is so ingrained in our collective American psyche that 96% of the country's school children recognize the face of its marketing guru, a clown named Ronald, according to "Fast Food Nation" by Eric Schlosser.
He's one efficient clown, as McDonald's says that they make an average of 75 hamburgers every second, or about 2.36 billion every year. That's a lot of all-beef patties, special sauce, lettuce, cheese, pickles and onions on sesame seed buns.
Burger: Dave's Hot 'N Juicy 1/4 pound single
Price: About $3.80 (43 cents per ounce)
Nutritional facts: 580 calories, 33 grams of fat
As a nod to arguably the most successful ginger in the fast food industry, Wendy's recently claimed the mantle as the second-largest burger restaurant, with $8.5 billion in U.S. sales in 2011 and about 5,900 domestic locations.
"Wendy's has spent the last couple of years releasing new menu items that fit in well with its brand platform and updating stores to make them more upscale," says Sam Oches, managing editor of QSR Magazine, a leading publication in the limited-service restaurant industry.
"They've also continued to offer a strong value and marketed their brand wisely."
One of those new items was a remake of its 42-year-old primary hamburger, introduced last fall as Dave's Hot 'N Juicy. The new burger includes a thicker patty and more cheese, which are almost always good ideas.
The company lists its meat as 100% beef without taste or color enhancers and really makes an effort to let you know about their premium, fresh ingredients.
Burger: Whopper
Price: About $3.90 (38 cents per ounce)
Nutritional facts: 670 calories, 39 grams of fat
It's good to be king, but not so great when it's only an ironic name.
Burger King was the one on the short end of the stick -- or the deflated, lopsided burger bun -- when Wendy's took over the No. 2 spot in the burger segment in 2011. Though a close third with $8.4 billion in 2011 U.S. sales, Burger King had about 1,300 more locations, a stale approach and a marketing campaign that made you want to call your loved ones instead of buy a burger.
"They were too focused on serving the 'young hungry male,'" Oches says. "Further, its creepy king mascot alienated customers and was a little too out there."
The ad agency was let go, as was the silent, staring stalker of a mascot. Oches says the company has further acted to make sweeping changes and stress innovation at all levels.
"I think within the next few years, they'll be back at No. 2," he says.
The company stresses the savory, flame-broiled flavor of the Whopper on its website.
Burger: Five Guys cheeseburger
Price: About $5.99 (56 cents per ounce)
Nutritional facts: 840 calories, 55 grams of fat
Burger: In-N-Out cheeseburger
Price: About $2.59 (27 cents per ounce)
Nutritional facts: 480 calories, 27 grams of fat
It might not be the exact equivalent of Tupac and Biggie, but there are often very strong opinions between customers when comparing In-N-Out and Five Guys, two family-owned joints from opposite coasts.
"Their strategies are similar in some ways," Oches says. "Both stick to their guns and offer a limited menu that rarely, if ever, changes. Both focus on food quality, and both thrive on word of mouth and intense customer devotion."
"Five Guys is most like the burger you would cook at home," says the company's spokeswoman Molly Catalano.
Only one of these two companies seems to pride itself on its burgers' relative exclusivity.
"In-N-Out famously grows at a slower-than-slow pace and all but refuses to leave its familiar West Coast stomping grounds," Oches says.
According to QSR and Technomic's most recent market reports, In-N-Out had added 13 new locations from 2009 to 2010 while Five Guys added a stunning 195 locations, and Catalano says that pace will continue for the foreseeable future.
Oches says In-N-Out's loyal customer base will allow it to grow and co-exist alongside Five Guys a la McDonald's and Wendy's, though fans of the former pair might argue the similarities end there.
What do you think? Which of the burgers we've listed is the best for the buck? Let us know.