When Your Car Falls Through the Ice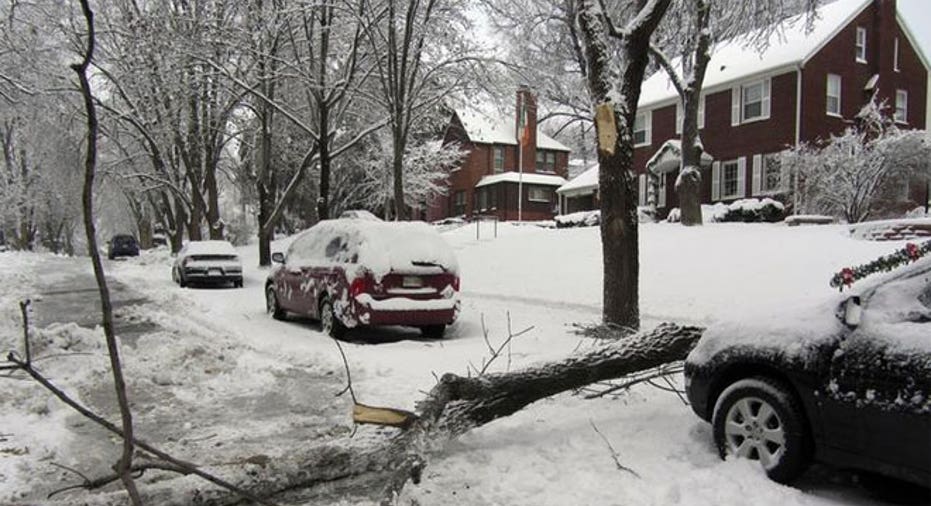 Which is worse, watching a 20-pound bass fall off your line or witnessing your 6,000-pound pickup crack through the ice and sink to the bottom of the lake?
While a diehard fisherman may mourn the fish that got away, the majority of us are going to be much more concerned about the missing truck.
Vehicles go through the ice more often than you would think, though no one keeps an official tally. But in states where ice fishing is big, dozens of vehicles go through the ice in a normal winter.
Minnesota tracks fatalities out on the ice. In 2013 all four deaths were the result of vehicles going through thin ice. Since they started keeping statistics in 1976, 49 deaths have involved vehicles that plunged through the ice.
In some cases, dozens of vehicles sink all at once. At a recent ice fishing tournament at Lake Winnebago in Wisconsin 36 ice fishers came back to find their vehicles through the ice. While most trucks were only up to their wheels in water, 18 ended up fully submerged.
Meanwhile, at the bottom of the lake
While you can always catch another fish, extracting your vehicle from the lake is going to be a lot more difficult and much more expensive.
Even if your car is worth less than the cost of retrieving it, you have to do so. Extracting your vehicle is your responsibility and required by law in most states.
Spokesperson Joanne Haas with the Wisconsin Department of Natural Resources says, "In Wisconsin, owners have 30 days to remove their vehicles from the water. We do work with the responsible parties if weather or unsafe ice conditions delay the retrieval." Most states have similar laws in place.
How do you get a three-ton car or truck off the lake floor, while not dumping the rescue vehicle into the water as well? Very carefully and very slowly.
The cost can range from $1,000 to $5,000 depending on the size of the vehicle and the depth at which it is sunk, according to Don Herman, owner of Sunk? Dive and Ice Service. In an average year Herman pulls roughly 30 to 45 objects out of the lake.
So how do you get the vehicle back on dry land?
"Every job is different," says Herman, "On average an extraction involves five or six guys and takes between four and eight hours." The extraction method depends on the conditions of the ice. Herman has a variety of methods and equipment at his disposal. "In one situation we had to cut a path through the ice for almost a half a mile and pull the vehicle out that way."
Every company has a different method, Clarence Turner, with Clarence Turner Towing in Nisswa, Minn., explained his process in a recent Minneapolis Star Tribune interview.
The ice thickness is tested with a chainsaw before the retrieval begins; it must be 13 inches thick.
A crane with a horseshoe pedestal (to evenly distribute the weight) and a winch is towed to the spot and a 12x12 foot hole is cut in the ice.
A scuba diver is hired to attach the cable to the vehicle.
The winch then pulls the vehicle straight up out of the water
Are you covered?
If the vehicle was completely submerged, it will most likely be totaled.
"The advanced electronics and hundreds of feet of wiring in modern vehicles would be destroyed which would result in the vehicle being totaled in almost all cases," says Scott Congiusti, assistant vice president, personal lines claims, with insurance brokerage Hub International, based in Berkeley Heights, N.J.
You are covered, provided you have comprehensive coverage on your insurance policy. "A customer who drove on the ice for the purpose of ice-fishing would be covered under comprehensive coverage if their car fell through the ice. The extraction of the vehicle would be also covered," confirms a Liberty Mutual Insurance spokesperson.
Comprehensive insurance covers damages to your vehicle that are the result of perils not related to a collision. In addition to sinking your vehicle to the bottom of a lake, covered perils include things such as theft, fire, falling objects and damage done by animals.
Comprehensive is not a required coverage in most states but if your vehicle is currently financed or leased, your bank will require this type of coverage.
However, there are situations where comprehensive would not cover the damages. Michael Barry, Vice President with the Insurance Information Institute explains, "If your insurer determined the original purpose of driving onto the ice was to have the car intentionally totaled, it would likely cite fraud and not pay the claim."
If you were out on the ice for a race you could also be out of luck. According to Barry, "Most auto insurers have exclusions in their policies indicating they will not pay out for damages arising out of a race."
If you are not carrying comprehensive, the entire cost of the extraction and repair/replacement of the vehicle will fall to you.
Penny Gusner, consumer analyst with CarInsurance.com, warns there can be exclusions with this type of claim. "Policies do vary and some have exclusions for off-road recreational activity which parking on ice to go ice fishing would fall under. If there is an exclusion your claim would be denied," says Gusner.
Tips for driving on ice
The Wisconsin and Minnesota Departments of Natural Resources offer the following tips for people who are considering driving or spending any time out on the ice:
Ice thickness guidelines for vehicles: 8 to 12 inches. For a car or small pickup, 12 to-15 inches for medium truck.
Look for clear ice. Clear ice is generally stronger than ice with air bubbles in it or with snow on it.
Watch out for pressure ridges or ice heaves. These can be dangerous due to thin ice and open water.
Remember that ice is never completely safe under any conditions.
Be prepared to leave the vehicle in a hurry. Roll windows down and discuss an emergency plan with passengers.
Contact local sport shops about ice conditions on lakes and rivers.
Wear a life jacket or float coat to help stay afloat and to conserve body heat.
Carry a spud bar to check ice thickness while traveling to new areas.
Do not travel in unfamiliar areas or at night.
The original article can be found at CarInsurance.com:When your car falls through the ice