What's Twinkies' Secret Ingredient?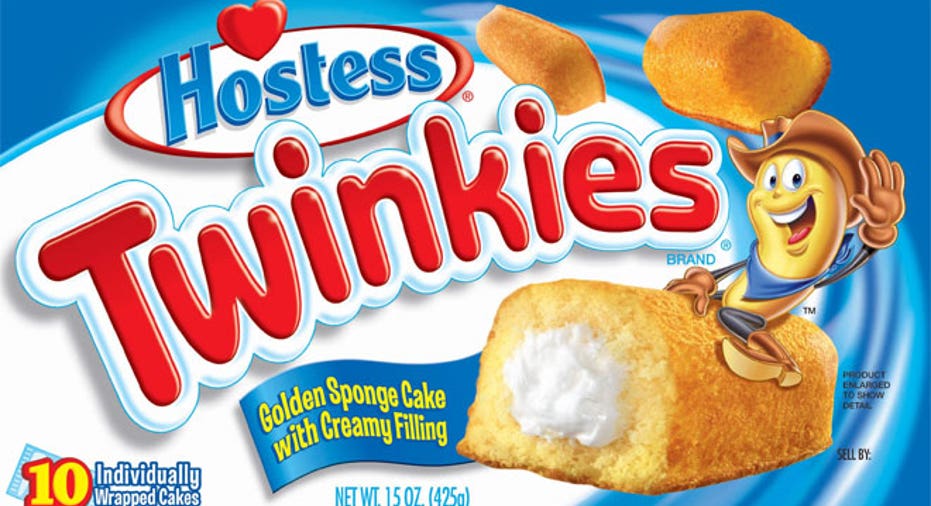 Twinkies' new owner announced Monday the cakes will continue to have an extended shelf life of 45 days -- up from the original 26 days -- when they return to stores next week. But Hostess isn't revealing the secret ingredient behind the longer shelf life.
While the change was made before Apollo Global Management and C. Dean Metropolous & Co. purchased the 83-year-old brand during Chapter 11 proceedings earlier this year, the "new" Twinkie recipe was only on shelves for a few weeks before the company went bankrupt. But the new owners are sticking with it.
Is this a case of TMI when it comes to marketing a product? Or, not enough?
Landor managing director Allen Adamson says the news seemed to come about almost accidentally, as the company was explaining its plans to change distribution and put Twinkies on more shelves.
"They were showing how they were changing the business model, but they weren't thinking through to the implication that if it can last on shelves for 45 days – is it still as good as it was?" says Adamson.
Is Honesty Always the Best Policy?
As consumers become increasingly health-conscious and aware of the ingredients in packaged foods, Adamson admits that Hostess's decision not to divulge the mystery ingredient or recipe change makes sense.
"But today, everyone sees everything – it's a world of total transparency," says Adamson.
"There's no more positioning. You need to be honest up and down, because sooner or later, the truth will come out, and it will be more damaging than just telling the facts as they are," he says.
But while Adamson says he firmly believes Hostess should just disclose the ingredient and close the door on the matter, he says a little bit of scandal regarding the healthfulness of the new Twinkie recipe won't really hurt the brand's chances of bouncing back after the July 15 relaunch.
"People already think of Twinkies as almost indestructible … if you found it at the bottom of your drawer, you might not care," says Adamson. "When you want a Twinkie, you're not looking at the nutritional levels."
He says Twinkie's best bet is to capitalize on the "retro nostalgia" people have for the sweet treat, and connect with old fans who are happy to see it back on the shelves.
"While the long term trends may not bode well for Twinkie, there's a big gap between people who say they want to eat healthy and [are] actually eating healthy. At 4 p.m. in the afternoon? Resistance is futile," says Adamson.