What's the Big Deal About Bitcoins?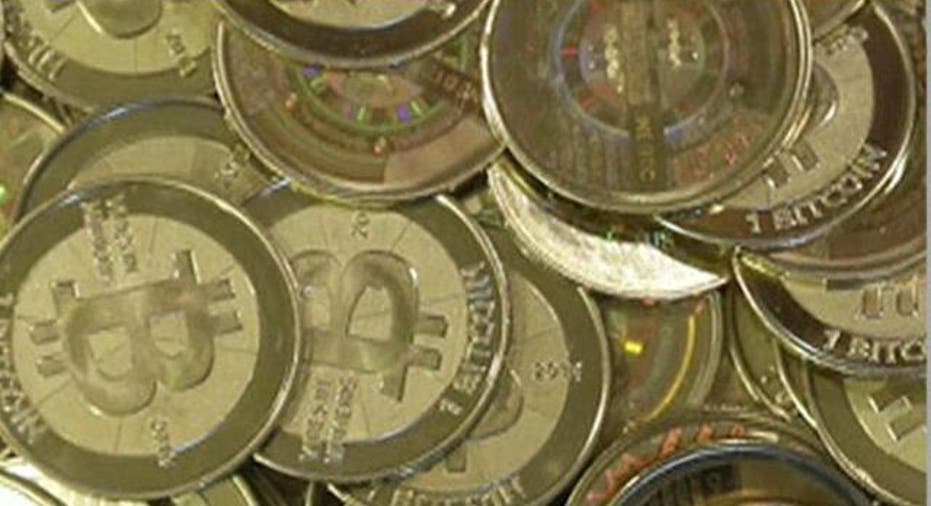 The frenzy over bitcoins has reached a fever pitch, along with their price, which hit a December high of $1,240 and a low of $522 in wild trading gyrations on one popular bitcoin exchange.
The rising interest in Bitcoin has translated into growing, if not widespread, use of the cryptocurrency. Bitcoin is a virtual currency that uses cryptography, or code, to complete financial transactions.
When the first bitcoin ATM opened in Vancouver, British Columbia, in late October, the story was covered globally, showing the rising interest in the digital currency. As reported in The Washington Post, 100,000 Canadian dollars' worth of bitcoins were exchanged in the first eight days.
The bitcoin ATM story mirrors a larger trend of people speculating in bitcoins and driving up the price while early investors cash in. Where is all this going?
The Winklevoss twins
According to Nicolas Colas, chief market strategist at ConvergEx Group, limited supply and the growing demand from China have fueled the bubble. BTC China is now the biggest bitcoin exchange by volume.
If you had bought 5,000 bitcoins for $27 as an early adopter in 2009 and held on to them, you would feel rather smug, having made a small fortune. But what are you likely to do with that money these days? The short answer is to hoard it, hoping it will keep appreciating.
If you are the one Norwegian man who did just that, you could cash them in and buy yourself an apartment, according to theguardian.com. While the story is alluring, it is no longer replicable. For starters, ordinary people would not be able to afford it at current prices unless they are one of the Winklevoss twins, who have watched their $11 million in bitcoins grow in value since their purchase was announced in April.
Like the Winklevosses, there are a growing number of businessmen who hope to bring Bitcoin into mainstream use by accepting the currency as payment for goods and services.
But Chris Cook, senior research fellow at University College London, says it is "disruptive in terms of its security and anonymity. It is also disruptive for the banking industry as a payment method."
However, Cook doubts that Bitcoin will eventually turn into a widespread currency. "Volatility is hard-wired into it, and that is not good for a currency. So long as it is treated as an investment, it will not be useful as a currency," he says. "It is revolutionary as a money-messaging system. But it's vulnerable at both ends."
But regulators signaled in November their willingness to accept Bitcoin as a legitimate payment option, even after the online marketplace Silk Road, where bitcoins were the primary form of payment, was shut down and its founder arrested after authorities accused Silk Road of being used to buy and sell drugs, weapons and pornography, according to The New York Times.
Bitcoin spending?
For businesses to thrive on Bitcoin, there should be an increasing number of consumers willing to spend their bitcoins.
Ranjan Roy, co-founder of Informerly, a media company in New York, who bought five bitcoins a little more than a year ago, says its use in person-to-person, cross-border transactions would make sense.
But like many others who bought bitcoins, Roy has no intention of spending them, precisely because they keep appreciating in value.
Jonathan Bechtel, CEO of Health Kismet, a health supplement company, was attracted to the idea of Bitcoin because "a decentralized form of money struck me as very powerful and potentially a platform-level technology."
He decided to accept bitcoins as payment for Kismet products, thinking it would bring him publicity and attract new customers while making him an early adopter. However, the results have been disappointing.
"I've had very few sales so far through Bitcoin," he wrote in an email. "In the long run, I'm not discouraged, but I was hoping adoption would have given me a bigger boost."
When John Mardlin, founder of Coin Forest, a daily-deal site like Groupon for bitcoiners only, launched the site in August, he was met with skepticism.
"People asked me why I was opening a business when people do not want to spend their bitcoins because they know it will be worth more in the future," Mardlin says.
Mardlin says he initially invested in bitcoins before the big rise in April and made a good profit, but he is holding the majority of his bitcoins. He says he does transact in bitcoins with his suppliers and pays his Web developers with the cryptocurrency, but grapples with the hold-or-spend issue.
Still, buying and selling bitcoins has become relatively easy, though there are certain risks involved. Computer scientists Tyler Moore of Southern Methodist University and Nicolas Christin of Carnegie Mellon University found that 45% of Bitcoin exchanges close, taking users' money with them. The ones that survive are susceptible to cyberattacks.
What's next for Bitcoin?
In a December newsletter, senior economist Francois Velde of the Federal Reserve Bank of Chicago debunked the notion of Bitcoin being anonymous.
"A dollar bill in my hand cannot be anywhere else at the same time, my ownership of it is undoubted," Velde wrote. But Bitcoin gives up something as it comes closer to typical currency -- anonymity. To generally validate a transaction, it must be traced back to the bitcoin spender.
"Although some of the enthusiasm for Bitcoin is driven by a distrust of state-issued currency, it is hard to imagine a world where the main currency is based on an extremely complex code understood by only a few and controlled by even fewer, without accountability, arbitration or recourse," Velde wrote.
Braden Perry, partner in Kennyhertz Perry law firm in Prairie Village, Kan., who has studied bitcoins, says he thinks that to make Bitcoin mainstream, it will have to be regulated.
"The question is by whom and how," he says.