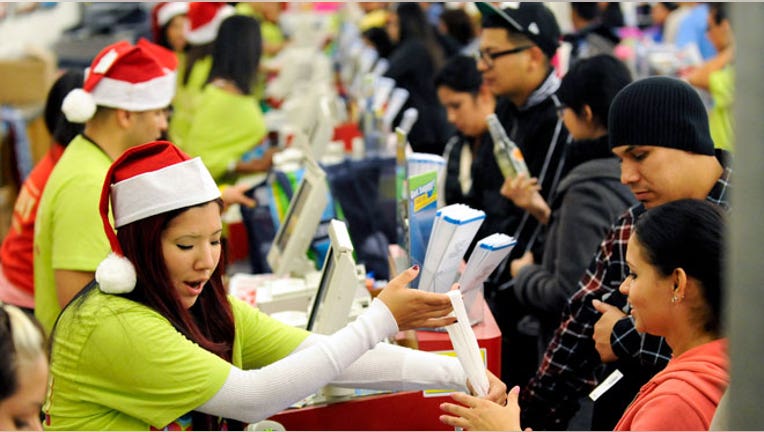 The holiday shopping season is the biggest sales quarter of the year for most retailers, and they are pulling out all the stops to lure budget-conscious shoppers into their doors.
Sales forecasts expect this year's shopping season to be slower than recent years as consumers worry about higher prices in 2014 and more potential uncertainty on Capitol Hill in the wake of the government shutdown.
A recent  Reuters-Ipsos poll reveals most Americans plan to spend less than they did during the 2012 holiday shopping season. However, retail sales for October came in above expectations with a 0.4%increase, according to the Census Bureau, exceeding the 0.1% increase expected.
One thing that consumers can count on this holiday season is long lines. The National Retail Federation forecasts that 140 million people will hit the stores Thanksgiving weekend, with the bulk of shoppers out on Friday.
So if you are looking to snag some good deals on Black Friday, here's a cheat sheet of some of the top deals:
Walmart
On Thursday, Nov. 28, starting at 6:00pm ET, the retailer is offering numerous deals, including:
iPad Mini: $299
VIZIO 60" Class Smart LED HDTV: $688
Xbox One system: $499
PS4 System: $399
Starting on 8:00pm ET, the retailer is also offering deals on:
Beats by Dr. Dre Solo Headphones: $114.95
VIZIO 70" Class Smart LED HDTV: $998
Emerson™ 50" Class LED HDTV: $288
On Friday, Nov. 29, starting at 8:00am, the retailer also will offer:
iPhone 5c: $45 (with contract)
iPhone 5s: $189 (with contract)
When customers buy a new iPhone 5c or 5s, they will also get a $75 Wal-Mart gift card
Best Buy
On Thursday, Nov. 28, starting at 6:00pm ET, the electronics retailer is offering:
13.3-inch Macbook Pro: $1099.99
Insignia 39-inch LED HDTV: $169.99
On Friday, Nov. 29, starting at 10:00am ET, deals include:
Save $150 on all Macbook Air Computers 
Microsoft Surface Tablet: $199.99
Fitbit: $129.99 plus a $20 Best Buy gift card
Target
The store opens on Thursday, Nov. 28 at 8:00pm and will be offering the following deals:
Element 50-inch 1080p LED HDTV: $299
iPad mini: $299 with Target $75 gift card
iPad: $479 with $100 Target gift card
Xbox 360 connect bundle: $189.99
Kitchen Aid Mixer: $199.99
Dyson DC24 Multi Floor: $259
Dyson DC35 original slim: $199
 All other Dyson products 25% off