What You Should (and Shouldn't) Overlook During an Open House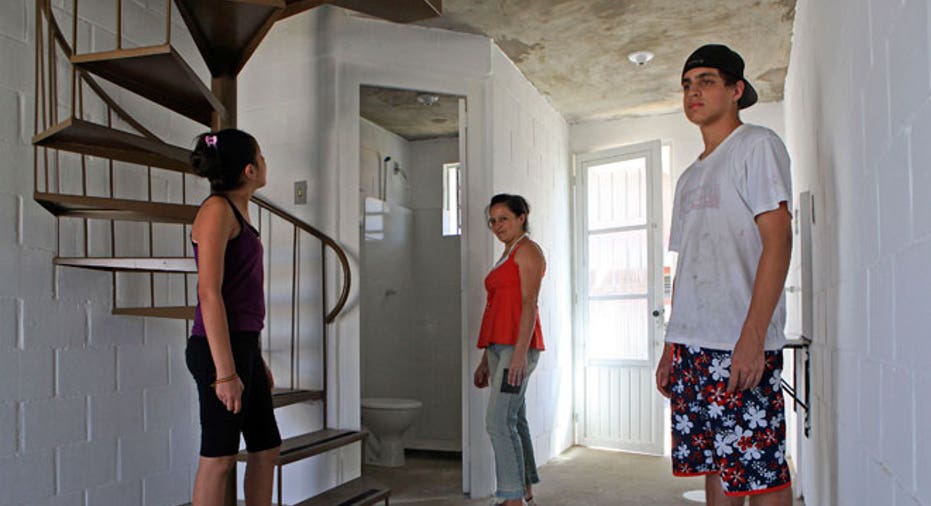 Buyers might have their extensive check list when it comes to finding their dream home, but with low inventory levels plaguing many markets, real estate agents are warning it might be time to ease up on the demands…but not too much.
"You're spending a lot of money and you need to know what repairs you're able to make and when you're getting in over your head," says Cara Ameer, broker associate and realtor at Coldwell Banker Vanguard Realty based in Ponte Vedra Beach, Fla. "You don't want to buy a money pit unless it's a fire sale deal and you intended to do that."
Studies show potential buyers judge a home within minutes of stepping into it, but it's important that they are taking the right factors into consideration. Some qualities can be easily fixed while others should be deal breakers.
Research the amount of work a home needs before walking away. Some issues may be more costly to fix than others and can lead to a price negotiation, while others are deferred maintenance that hide a home's true potential. Instead of getting mired in surface-level cosmetic issues, experts suggest looking for a diamond in the rough — you can dress anything up with different color schemes and new paint, appliances, furniture and light fixtures.
"Home buyers are really impressionable and they tend to react emotionally— you want to try to take your emotions out of it," says Michael Corbett, Trulia's real estate expert.
Although people may have a negative reaction to a home that's not staged properly or isn't clean, that doesn't mean it's not their dream home hiding.
Here's what experts suggest buyers overlook during their house hunt:
Paint and Décor. Everyone's decorating styles differ, but don't let that stop you from buying a home. Color schemes are easily dealt with when someone moves out, says Ameer. Walls can be painted and wallpaper can be steamed off — these are the simplest items to overlook.
Old Carpets. Corbett suggests asking if you can pull back a tiny corner of the carpet to see if hardwood floors hide underneath. "If you can find that and other buyers don't, you have a big advantage," says Corbett, since many homes built prior to the 1970s will likely have hardwood floors underneath.
Popcorn Ceilings. These acoustical foam ceilings are dated, ugly and are usually water stained, but they aren't permanent.
"They give an awful feeling to any home, but these can be fixed and repaired," says Corbett. "It's a messy job, but they can be scraped down."
Clutter. Some people may stuff their homes with collectibles, but a hidden gem might be underneath the seller's possessions.
"You want to overlook the seller's stuff that's all over the home," says Corbett.
The Home's Exterior. A home's front door or exterior color may not be your preference, but don't let this stop you from stepping inside, suggests Ameer. Doors can be changed, and the home can be painted to a color that's more to your liking.
Lack of Landscaping and Privacy. Bare yards and a dearth of foliage may bring a lack of privacy, but planting trees and hedges in strategic places can easily bring more seclusion.
"It may take a little while and doesn't cost a lot, but plant hedges now and in a few years, you'll have a wonderful lush yard," says Corbett. "Privacy is very hard to put a price tag on, but everybody loves it."
Don't Overlook
While buyers should always evaluate a home with an open mind, there are some things that shouldn't be overlooked, experts say:
Layout. Open floor plans are popular right now, and if that's on your list and the home isn't accommodating to this flow, experts recommend thinking twice about a home.
"If it's not an easy fix to create the floor plan you want, move on to other homes," Ameer says. "If the layout is too choppy, it might become too expensive to work with."
The Home's "Systems." "Our lives are very electrical-driven right now, between laptops, appliances, printers, mobile devices and plasma TVs in every room," says Corbett, "and many older homes don't have the capacity [to handle these]."
He suggests asking during the inspection whether old electrical and plumbing systems have been upgraded.
Location. "You can't change the location — the proximity to schools, commutes from the home to work, if it backs up to busy streets or rail lines, air traffic patterns — even if it's your dream home," says Chad Ochsner, broker at RE/MAX Alliance in Denver.
No matter how much you love the home, you can't change the home's location and once you move in, you're not going to be happy.
Major Structural Issues. Major repairs to fix drainage or foundation issues, as well as a bad roof, air conditioning system or water heater are often expensive and should be factored into a home's price.
"Almost everything can be fixed, but you need to investigate the cause and cost to fix the problem before determining how to proceed," says Ameer. These issues aren't deal killers, but can become a question of the purchase price. You may be able to get concessions from the seller so that you have the money to make the repairs yourself.
Home Owner Association's Financials. Before buying a condominium, coop or townhouse, look at the community's financial health.
"You might love the property and the price might be right, but sometimes there's a hidden 'gotcha' about what the buyer is expected to contribute," says Ameer. To prevent spending significant amounts of money because the building's in disrepair, be sure to understand what you're responsible for as you may not be protected from what your neighbor does or doesn't do.
 Outdated Kitchens. "The kitchen's the center of your home and you can't overlook this," says Corbett. Since you'll likely want to renovate an old, outdated kitchen, you have to account for this cost as you determine what you can pay for the home.
"[A new kitchen's] one of the biggest expenses you'll have when renovating your home," he adds.