What We Owe the Extraordinarily Brave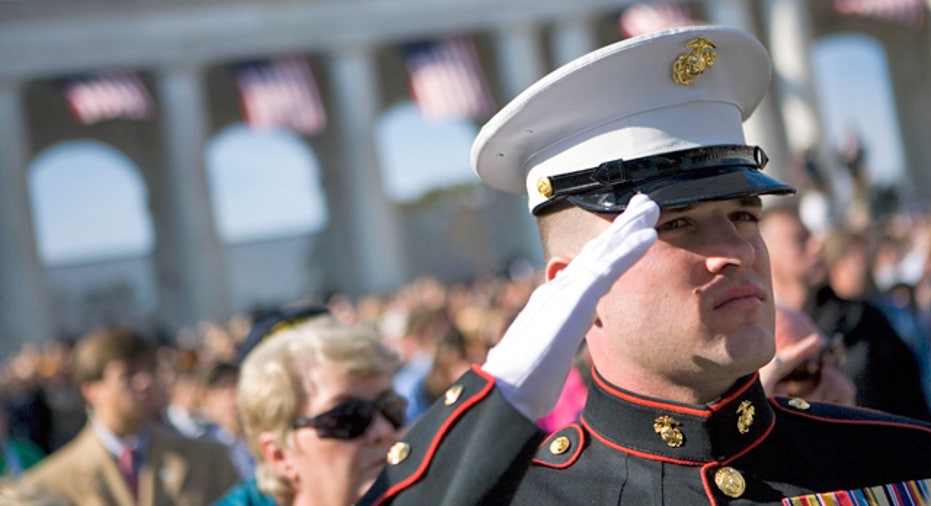 Last Sunday was televisions night, what with the Emmy Awards and all.
And yet as I watched the funny and jubilant, I couldnt stop thinking about the blank, distant expression of Marine Sergeant Dakota Meyer on 60 Minutes less than an hour before. His feeling of failure at not having saved his fellow soldiers -- whod been ambushed by insurgents -- when he repeatedly risked his life to get to them through enemy fire over the course of a six-hour battle in northeastern Afghanistan. How numb he seemed before the camera after being awarded the Medal of Honor two years after that Sept. 8, 2009 day.
Where does one go from that little slice of hell?
This is not a knock on those excited about winning well-deserved Emmys. I love seeing creatives in their art and celebrating it with each other and their fans. The designer labels. The hokey numbers. All of it.
And Im all about moving on from the horrible things we experience.
But watching this sad young Marine talk about what he perceived as his failed mission was a heart-wrenching prelude to all the glammy glitz. This was a man who was suited up and in harms way to help preserve all that we so often take for granted building our careers, honing our gifts, getting a pat on the back from our peers, having a night on the town.
I know theres nothing new about this line of thinking, this idea that seeing real-life stories like Meyers could spark gratitude and renewed energy in us, but can we really be reminded enough?
Today, right now, this is fresh for somebody. And they will sit up straighter, try harder or have someones back because they read it. Its why I coach. Its why I write. For one client, one reader, one person at a time to stop and say, Hmmmm, I can do this or If this guy can go through a gauntlet of 100-150 enemy fighters, I can probably manage to get this report finished and delivered on time.
For goodness sake, when I was Meyers age, I was focused on going to the mall, ladies night and Club Med. I dont need to diminish myself or what Ive done or what I do now by comparing all my choices to what a brave soldier has done, but it can certainly give me a shot of perspective. Those of us who dont have a direct stake in a loved one on the battlefield could at least do that, couldnt we?
This week, maybe lets find one thing we can do with mindfulness and humility to honor this young man. Its people like him who make it possible for us to discuss earth-shattering topics like whether Jill Zarin will be missed on The Real Housewives of New York or which hopeful singer will get a break on American Idol or The Voice. So maybe theres room in there somewhere for a thoughtful deed or something that goes above and beyond what is expected.
On 60 Minutes, CBS News correspondent David Martin asked Meyer if he felt he was brave that day.
No, I just did my job, a somber Meyer said.
As civilians, when are we called upon for bravery? What does that look like? Getting up in front of a room and giving a presentation? Standing up to a boss who is riding us mercilessly? Sitting someone down to tell them something hard? This week, how about mustering up the courage and doing that one brave thing?
Im not a hero, Meyer said to Martin. Im the furthest thing from a hero. [Heroes] are the men and the women still serving. Those are the heroes.
Again, where can we go with the idea of heroes in the daily grind? What is heroic to us in our everyday lives? Do we have a child in our lives who sees us as a hero? Do we feel we deserve to be looked at in that lofty light? Stand in that space this week.
You either get them out alive or you die trying, Meyer said. If you dont die trying, you didnt try hard enough.
Stunning coming from a man Martin referred to as one of the youngest, lowest ranking Marines on the battlefield and whom President Obama called the best of a generation that has served with distinction through a decade of war. You get the feeling a tormented Meyer is spending a great deal of time thinking of what else he could have done besides put his life in jeopardy over and over again.
Asked by Martin if he thought what he did was extraordinary, Meyer said, If Id brought them out alive, that would have been extraordinary.
So often the extraordinary among us dont know that they are. According to an Associated Press story, Meyer is now working for his cousins construction company in Louisville, Ky., a job he has poured himself into so wholeheartedly that he asked whether the president could call during a lunch break to inform him of the award.
Yeah, nothing extraordinary about him.
So, what about me or you? What might make us extraordinary in life? Or extraordinary at life? While Im firing off questions, what are the Dakota Meyers of the world making possible for us? Yes, freedom. But lets get specific. Tucking our children into a warm bed. Sending back the steak thats a little too rare. Going to the movies with our friends. Beeping the horn at the achingly slow driver in front of us. Falling in love. Winning an Emmy.
Yes, all of that.
Thank you.
Nancy Colasurdo is a practicing life coach and freelance writer. Her Web site is www.nancola.com and you can follow her on Twitter @nancola. Please direct all questions/comments to FOXGamePlan@gmail.com.