What UConn Women's Basketball Team's Record Run is Really Worth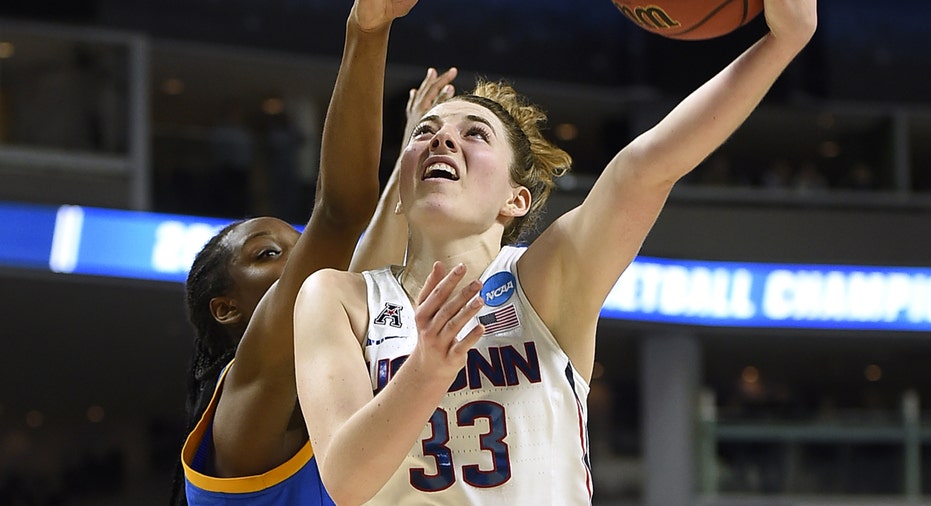 The UConn women's basketball team's record-setting run to this weekend's NCAA Final Four hasn't translated into a financial windfall for the program, but the Huskies' dominance is more valuable to the school than the bottom line suggests.
Despite a historic 111-game winning streak and four consecutive NCAA championships, UConn's women's basketball program turned a modest profit of just $1.3 million during the school's 2016 fiscal year, according to Department of Education data. Prior to that, head coach Geno Auriemma's dominant Huskies operated in the red in both 2014 and 2015.
Compared to other schools, UConn's tidy yield is a major accomplishment – none of the other women's programs in this year's Final Four turned a profit. While the men's "March Madness" basketball tournament generates widespread media coverage and billions of dollars in revenue from television deals and ticket sales, the women's game operates largely under the radar, according to Victor Matheson, a sports economist and professor at the College of the Holy Cross in Massachusetts.
"The women's tournament doesn't have high TV ratings and neither do conferences or individual schools, so there isn't a big TV check to help balance the books," Matheson told FOX Business.
While critics often point to exorbitant coach salaries and gaudy athletic facilities as proof that college sports have lost their way, proponents argue that any net profits or losses are beside the point.
Successful college sports programs are often used as de-facto marketing campaigns for universities. School officials use their sports programs to lure prospective students and attract alumni donations, according to Ellen Staurowsky, a professor of sport management at Drexel University in Pennsylvania.
But a traditional emphasis on male athletics, both in national media and at individual institutions, has left women's programs like UConn's Huskies at a natural disadvantage – regardless of how successful they are on the court, she added.
"The end result is a distribution of wealth that favors men's programs and positions them within a much more secure financial structure that builds on itself. As a more valued commodity, it has more leverage in the marketplace," Staurowsky told FOX Business. "The way this plays out on the ground is men's basketball may command higher ticket prices, have greater celebrity draw, larger donor pools and more political capital."
Still, UConn officials likely view their women's basketball program as a worthwhile investment, regardless of whether it turns a profit in any given year. The school's pool of freshman applicants rose from 22,142 in 2010 to nearly 36,000 in 2016, according to university data. UConn received a record $81 million in donations in 2014 – the same year that both its men's and women's basketball teams won national championships – and has earned at least $77 million in each year since.
"UConn isn't trying to use the [women's basketball team] to make a profit. They are trying to get a ton of free advertising through the success of the women's team," Matheson said. "The team has probably generated more headlines than the rest of the school combined. And if you can guarantee this sort of success, that's a pretty good return on the investment."
Excluding top football programs, the vast majority of college athletic programs fail to turn a profit. An October 2016 study of NCAA athletic data found that just 2% of Division I football teams and men's basketball programs generated positive net revenue in the 2015 fiscal year. Conversely, no women's basketball program turned a profit during that time period, with 122 schools reporting a median loss of $997,000, according to the study.
This story has been updated.