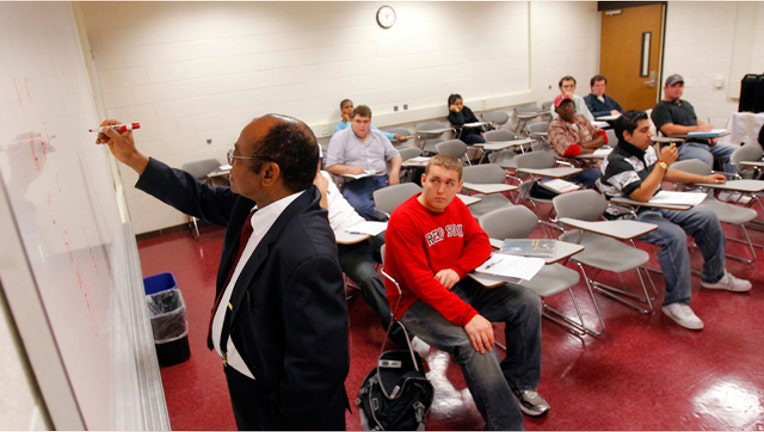 While earning an undergraduate degree is a significant investment, employers are looking for candidates that are current with the latest industry trends, and many grads are keeping their skills and knowledge up-to-date through certificate programs.
"Schools generally teach the technology that is current, but they can't prepare students for the 'next' big thing," says Alison Farmer, vice president of Learning and Development for marketing and creative staffing agency Aquent.
"We saw this in the design industry with the birth of the internet--students coming out of design programs were prepared to design in print, but as the industry shifted to the web, the designers who taught themselves to code were increasingly in demand - and commanded better salaries."
As technological advances continue to evolve each marketplace, it's essential that employees and especially new grads in a tough job market are growing with it and remaining competitive, says Danielle Horras, executive director at Carrington College.
"It's no longer solely about skills or competence--it's about learning how to continuously learn and improve as a professional," she says. "The demand for specialization and certification is growing and job needs are also changing dramatically."
Whether grads are looking to earn a certification for personal fulfillment or for marketability reasons, here's what experts say to consider when seeking out a program, what requirements to expect and how ensure it's a worthwhile investment.
Research Skill Sets of Desired Positions
Before committing to any kind of certification process, grads should always research potential companies and industries to determine what skills are in demand, recommends Horras.
"The more you know about a company and its values, the better you can align yourself as a job candidate--employers expect job seekers to do their homework," she says.
It's critical to figure out a development path by identifying what kind of certification would be the most beneficial and what route to take, says Farmer.
"Is the credential itself critical to success or is being able to demonstrate skills/knowledge more important? What format is going to be most engaging to him/her?"
Grads can access certifications from a variety of sources such as colleges and universities, online learning and professional accredited organizations.
"If the emphasis is on the knowledge rather than the credential, life-long learners can read articles/books, join professional Meetup groups, attend specialized Massive Open Online Courses (MOOCs), join online discussion communities, attend conferences, follow thought leaders on Twitter, etc," says Farmer.
Know Certification Requirements
In order to be successful with a program, grads should have a realistic understanding of the time commitment and work demanded to gain the certificate, says John Bowman, head of the Claritas Investment Certificate program at CFA Institute.
"Are there specific requirements on how soon they need to take the exam? Are there requirements on whether [it's] physical instruction they need to attend or whether it's distance learning that might be a bit more flexible for someone with a very difficult work schedule?"
For students with a full course load or grads gainfully employed and strapped for time, earning a certification online may be the best option.
"MOOCs afford a lot of flexibility to students, allowing them to choose when/how they're going to study, how they're going to interact with classmates, etc," says Farmer. "It may be a better model for working professionals in general."
Compare Programs
Although additional education and updated skills can ultimately correlate with higher pay, it's important to compare costs between programs and ask questions concerning accreditation, recommends Horras.
"Are scholarships available? Does the student's employer provide tuition assistance? Many employers want their employees to improve their skills and return on investment is an important consideration," she says.
As some programs require continued education requirements, it's vital that grads inquire about any post-certificate responsibilities and the financial aspect of additional certificates, recommends Bowman.
"When they think about coming out of school potentially carrying some debt and entering their first income-producing job, these are questions that are maybe even more acute to them than they would be to someone way further in their career," he says.
As job-related certification courses become increasingly popular, Farmer explains that students and grads have a wide array of options to choose from to find a program that is the best fit for them.
"There are an increasing number of low-cost and no-cost development opportunities that students should clarify their personal goals and do a bit of research on their options before cutting a check."