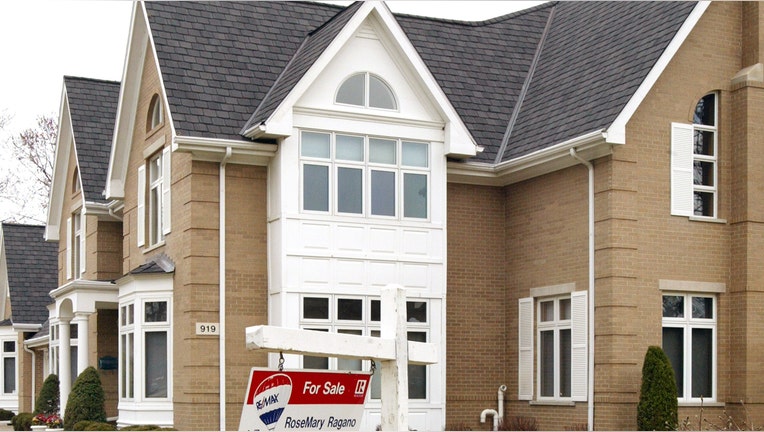 As the holidays approach, homes sales aren't spreading a lot of good cheer. For the second month in a row, sales of existing homes fell.
On Wednesday, the National Association of Realtors (NAR) reported that sales of previously-owned homes dropped 3.2% to a seasonally-adjusted rate of 5.12 million units from 5.29 million units in September.
With the housing market seen as one of the leading drivers of the economic recovery, this could be worrisome. But Paul Diggle, a property economist at Capital Economics, said the good news is the dip is only temporary.
"The further decline is the result of an earlier increase in mortgage rates between May and late August," said Diggle. "It was widely thought that the Fed would taper in September which damaged housing market activity."
Affordability is a big concern in the housing market. While mortgage rates are still at historic lows, the rise in the 30-year interest rates in the four months leading up to September, along with existing-home prices rising double digits for the 11th consecutive month, has eroded buying power, said NAR chief economist Lawrence Yun.
"Home values rising related to buyers' income has been a big factor in the dampened sales," said Yun. "And even those who can afford a home with slightly higher mortgage rates, they face a lack of inventory right now."
According to Wednesday's report, total housing inventory at the end of October declined 1.8% to 2.13 million existing homes available for sale. Last month, the median time a house was on the market was 54 days, well below the average 71 day time period a house sat on the market a year ago.
"If things stay stable in the overall economy, the housing sector is going to be poised for a very big Spring,"
"We need smaller builders to build more new houses," said Yun. "But because of regulations put in place under Dodd Frank, construction loans are hard to get because local lenders are very hesitant to have someone look through their books, and the loans are viewed as very risky because they're not government guaranteed."
Yet, while lending is very tight, he said the need for more home construction is undeniable.
Jerry Howard, the CEO of the National Association of Home Builders, told FOX Business on Monday that government stability is crucial to the strength of the long-term housing recovery.
"There is another debt crisis looming in January or February so please, to the members of Congress and the administration, get this thing solved before we go off a cliff or even come close because it keeps the whole economy waiting with bated breath," said Howard "[But] if things stay stable in the overall economy, the housing sector is going to be poised for a very big Spring."
Jed Kolko, chief economist at real estate website Trulia, pointed out that the NAR's housing inventory number is not seasonally adjusted -- and that the number actually saw a slight boost.
"The seasonally-adjusted number shows a month-over-month increase slightly above 0.4 of a percent," he said. "That is not much, and home buyers may not notice [the increase] right away but there is a little more inventory and that it is good news."
Even with a modest improvement, the demand in new listings is voracious. Diggle said getting more previously-owned homes on the market is key.
"It certainly would be good to have more houses built since it's at a historical low, said Diggle. "But I think getting more of the existing homes on the market would be even better. The issue with that is how many willing sellers are out there saying this is right price to sell."
According to Kolko, the rise in home prices will slowdown in 2014. He said that is a good thing for the housing market -- and the flattening in prices may just be the push homeowners need to put their houses on the market.
"We have seen [home prices] rising at unsustainable levels…. It was a good thing because it lifted many homeowners back above water and it renewed confidence in the housing market," said Kolko. "But a slower price rise next year, the better the chances are at avoiding another bubble."
Overall, the consensus on the October numbers was similar: the report was mixed but not overly negative.
"This is a short-term drop," said Diggle. "We are very positive on housing. We think home sales will pick up, housing starts will pick up and that the rate of house price gains will slow moderately."