What Super Bowl 50 Means For Host City's Bottom Line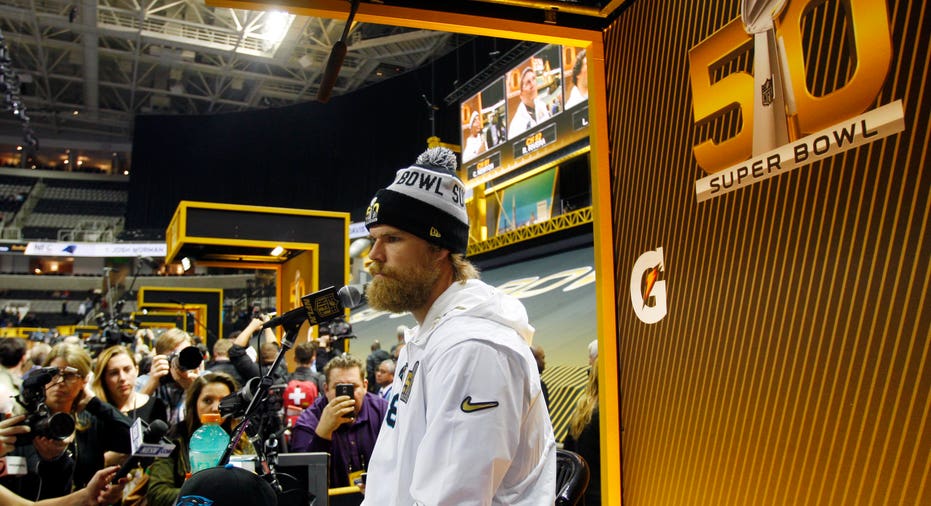 The San Francisco Bay area is in for a big payday this week as tens of thousands of tourists descend on the region ahead of Super Bowl 50 at Levi's Stadium in Santa Clara. But experts are divided on exactly how much of a benefit the Big Game really provides for a local economy.
Conventional wisdom suggests the consumers who flood host cities during Super Bowl week pack hotels, bars and restaurants, providing a boost of hundreds of millions of dollars to the local bottom line. Many sports economists are convinced that the perceived Super Bowl windfall is real, but far less valuable than officials claim.
High-end projections often fail to accurately subtract the amount of spending that would have occurred in the host city under normal conditions from extra spending directly related to the Super Bowl, according to Victor Matheson, a noted sports economist who specializes in analyzing the impact of major sporting events.
"When one looks back at the actual data, we don't find bumps of hundreds of millions of dollars," Matheson told FOXBusiness.com. "When economists do look back, we find increases in economic activity of $30 million to $120 million."
But that hasn't stopped firms and Super Bowl host committees from annually churning out massive estimates for what the event will bring to the local economy. Rockport Analytics, a firm which has analyzed the Super Bowl's economic impact on behalf of several host committees, estimates Super Bowl 50 will generate about $350 million in revenue for the greater San Francisco Bay area, including more than $68 million from business travel alone.
"What the Super Bowl does is turbo charge an entire geographic area," said Kenneth McGill, chief economist at the Global Business Travel Association, which partnered with Rockport Analytics on the study. "Suddenly hotels that may have been partially full are sold out months in advance. Every activity gets ratcheted up – from restaurant bookings, car services, catering and event locations."
In a separate study, PricewaterhouseCoopers projects total direct spending would exceed $220 million, as the NFL and visiting media, businesses and tourists open their wallets for Super Bowl events, food and beverages, hotel accommodations and transportation.
"The Bay Area, like New York/New Jersey which hosted Super Bowl XLVIII in 2014, is home to a high concentration of businesses that activate events and activities around the Super Bowl," Adam Jones, director of PwC U.S.'s sports and tourism sector, said in a press release. "With the game in the Bay Area, the local economy will retain dollars that would otherwise be exported to other cities, resulting in what is projected to be the event's highest direct spend level, on a nominal basis, and the second largest inflation-adjusted output next to Super Bowl XLI in South Florida in 2007."
Aggressive Estimates
Super Bowl host committees are notoriously optimistic about the event's financial benefits. A committee-commissioned June 2015 study by business experts at Arizona State University found the game produced an economic impact of roughly $719 million for the greater Phoenix area. Local officials claimed Super Bowl XLVIII generated $600 million for the greater New York City area in 2014, while the New Orleans host committee touted $480 million in spending for Super Bowl XLVII in 2013.
The prospect of hosting a Super Bowl has long been used as a bargaining chip in stadium negotiations between the NFL, its franchises and public officials in their home markets. Cities are often awarded hosting rights shortly after they agree to build new football stadiums, as was the case in 2014 for the new MetLife Stadium, home to the New York Jets and New York Giants.
The Super Bowl 50 committee has yet to release a financial projection for this year's event, but officials argue the Bay area is already seeing benefits.
"We are not going to make any predictions, but past Super Bowl host cities have seen economic boosts that range from over $200 million to over $700 million. On top of that, $13 million has been raised for Bay Area youth-serving charities and millions have already gone directly to diverse Bay Area businesses through the Host Committee's Business Connect program," the committee said in a statement.
The NFL does not commission studies to determine the exact financial impact of the Super Bowl. However, league officials are confident the game generates a discernible economic windfall for host cities.
"Local host committees often commission studies, we do not," NFL spokesman Brian McCarthy said. "There is no doubt that the Super Bowl provides direct and indirect benefits to local communities from the influx of visitors to the area to the dozens of charitable and legacy events that have impact long after the game is done."
Overrated Impact?
In 2003, Matheson and fellow sports economist Robert Baade of Lake Forest University in Illinois published an analysis of the economic impact of every Super Bowl from 1970 to 2001. They found the game generates an average influx of $92 million – an obvious benefit, but far below estimates that generally exceed $300 million.
"You can probably come up with those numbers if you count all the people that were there [in the host city], and all the money they spent, and if you assume that everyone who was going to be there anyway was still there and had no problem finding a hotel room and if the multipliers stayed the same and there isn't money being sent back to corporate headquarters," Matheson said. "But all those things are fairly ridiculous."
Several factors can mitigate the Super Bowl's positive impact. Faced with an influx of thousands of football fans, packed public spaces and skyrocketing hotel prices, local inhabitants and other tourists often cancel their plans rather than deal with the crowds.
Money spent at hotel chains benefit the companies' overall bottom line and that of its corporate shareholders, but not necessarily that of the local economy. In some cases, tourist spending is simply reshuffled, meaning that money is spent on the Super Bowl instead of other local attractions.
"Cities would be wise to view with caution Super Bowl economic impact estimates provided by the NFL," Baade and Matheson wrote in the 2003 study. "It would appear that padding is an essential element of the game both on and off the field."