What Nike's Golf Pivot Means For Tiger Woods' Return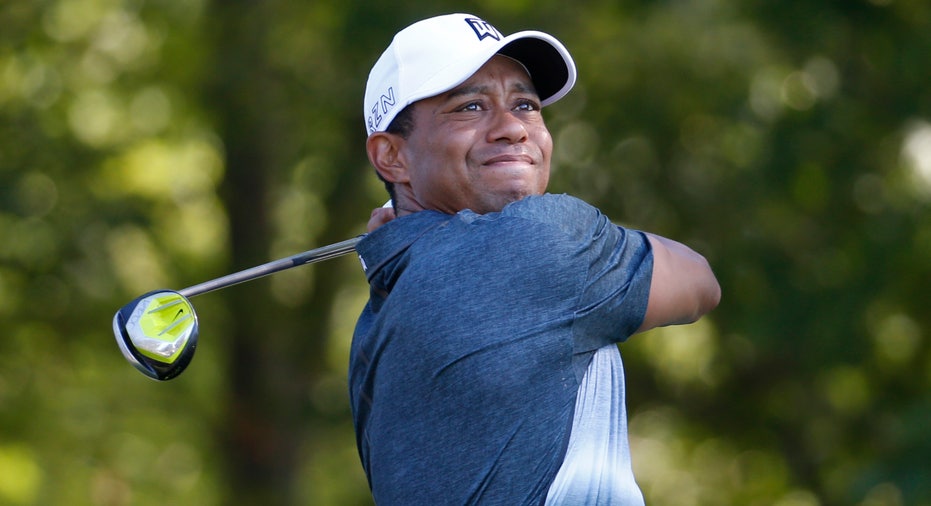 If Tiger Woods' return to competitive golf occurs in October as planned, the 40-year-old could use clubs that weren't manufactured by Nike (NYSE:NKE) for the first time in more than a decade. With a downsizing of Nike's golf business already underway, the company confirmed Wednesday that Woods will be allowed to use equipment from other brands during play – despite his longtime association with the swoosh.
"As a Nike athlete, Tiger will continue to sport the Nike swoosh head to toe," a company spokeswoman told FOXBusiness.com. "In terms of his equipment, we will continue to provide excellent service and innovative product to Tiger and all Nike athletes through this transition."
When asked to clarify Woods' equipment selection, the spokeswoman said Nike "will work with each of our athletes to manage the appropriate equipment transition," adding that Woods is permitted to use another brand's clubs at events while wearing Nike golf apparel.
Nike executives announced plans last month to scale back its golf division amid sagging revenues and an industry-wide sales slowdown in the sport. The Oregon-based company is discontinuing its branded clubs, balls and golf bags, but it will continue to sell golf footwear and apparel. It's unclear how quickly the transition will occur.
Woods has endorsed Nike since he entered the pro ranks in 1996 and used the brand's clubs since at least 2002, when he switched from Titleist brand equipment. He has yet to publicly comment on which golf clubs he'll use when he returns to competition next month.
"We are in the process of working through that," Mark Steinberg, Woods' longtime agent, told FOXBusiness.com, adding that there is "no timetable" for when his client will come to a decision on which brand of clubs to use.
A representative from Adidas-owned TaylorMade Golf declined to comment on whether the brand has reached out to Woods about using its clubs. Representatives from fellow competitors Callaway Golf and Titleist did not respond to FOXBusiness.com's request for comment.
On Wednesday, Woods announced his attention to return to competitive golf on October 13 for the Safeway Open in Napa, California. At present, he also plans to play the Turkish Airlines Open from Nov. 3 to Nov. 6, as well the Tigers Woods Foundation's Hero World Challenge in early December.
"My rehabilitation is to the point where I'm comfortable making plans, but I still have work to do," Woods said in a statement posted to his website. "Whether I can play depends on my continued progress and recovery. My hope is to have my game ready to go."
A series of injuries have derailed Woods' career since 2013, when he won five events and was named PGA Player of the Year. The 40-year-old hasn't played in a PGA Tour event in more than a year.
Nike addressed its longtime endorser's bid to return to competition in a statement Wednesday afternoon.
"Tiger has been a part of the Nike family for 20 years and is one of the most iconic athletes in sport. With his rehabilitation and game progressing, we are excited to see his return to competition," the company said.