What Needs to be in Your Car Emergency Kit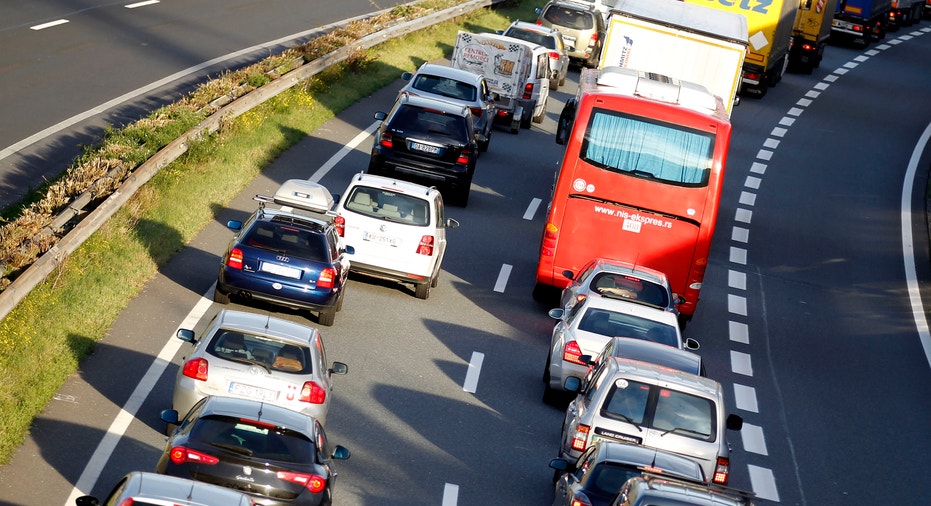 Toss out the junk in your trunk -- including that gorilla suit and the frayed wedding dress -- and replace it with stuff that can protect you in a roadside emergency.
That's the advice from State Farm, which surveyed 1,000 people across the country and found that motorists aren't prepared enough, especially during the winter when highways can be more challenging than the breezy days of spring and summer. The warning seems timely when the polar vortex recently smashed temperatures through much of the country, causing unusual driving dangers in many communities, especially in the Midwest.
After peering into our trunks, State Farm and KRC Research discovered that:
Only 5% of respondents said they carried all the recommended emergency equipment, including jumper cables, spare tire, road flares, first aid kit and non-perishable food, among other items. On the plus side, 96% said they had at least one emergency item in their vehicle, such as a spare tire or jumper cables.
What took up room in the trunk? Sixty-seven% confessed to "junk," which ranged from shoes to toys to used food and drink containers. Among the more idiosyncratic items were a blow-up sheep, a gorilla costume and an old wedding dress.
Amusing, sure, but not good, says John Nepomuceno, State Farm's safety research administrator. "Even on a relatively short trip, you can find yourself stranded for several hours," he points out. "Whether it's because of a flat tire, an empty fuel tank or treacherous conditions like ice or fog, it's important to be prepared."
Other report findings include:
Men are more likely than women to have packed at least one of the necessary supplies. Jumper cables (64% of men vs. 53% of women had them in their trunks); flashlight (62% of men vs. 48% of women); and a first aid kit (47% of men vs. 40% of women). Men are also more likely (81% to 53% of women) to routinely check their vehicle's emergency items.
Parents (77%), younger (79%) and middle aged (73%) drivers were more likely to be carrying non-essential junk than non-parents (62%) and older drivers (58%), respectively.
Thirty-eight% of motorists with preparedness supplies in their trunks said they check to see if they're working properly at least twice a year or more, which is recommended. Thirty-one% said they only check once a year. But 32% admitted they never test equipment.
"Drivers are putting themselves at risk by failing to regularly check their equipment," says Nepomuceno. "The only thing worse than getting a flat tire is finding out that your spare is also flat."
How junky is your trunky?
Take a look and consider replacing stuff with all these items, as recommended by highway safety experts:
Hazard triangle (with reflectors) or road flares
First aid kit
Jumper cables
Windshield scraper and brush
Spare tire
Blankets and extra warm clothing
Cell phone and charger
High-calorie, non-perishable food
Road salt or cat litter to help with tire traction
Brightly colored distress sign or "Help" or "Call Police" flag
Candle/matches, lighter and/or flashlight
Tarp for sitting or kneeling in the snow for working outside, like changing a tire
Stranded? Start by staying calm
Here are steps to take if you're stuck by the side of the road during a winter storm:
If possible, turn on your hazard lights. Light flares and hang a distress flag from an antenna or window.
Call 911 if you have a phone and describe your location as precisely as possible.
Remain in your vehicle; let help find you.
Run your vehicle's engine and heater about 10 minutes each hour to keep warm. Open a downwind window slightly for ventilation and clear snow from the exhaust pipe to prevent carbon monoxide poisoning.
Exercise a little to maintain body heat, but avoid overexertion and sweating.
Avoid dehydration by drinking fluids.
Conserve your vehicle's battery by sparingly using lights, heat and the radio.
At night, turn on an inside light when you run the engine so help can see you.
Sharpen motoring skills
Driving carefully is also an obvious way to lower risks when it's bad outside. To that end, you might consider taking a state-approved defensive driving course. Although the emphasis is improving skills during normal conditions, these classes usually go into motoring techniques when it's more dangerous.
You may also qualify for a car insurance discount of as much as 2 to 15% after earning a course certificate. But check with your insurer since the premium benefits are often only available to mature drivers, usually 55 and older.
The original article can be found at Insurance.com:Emergency car supplies: Road flares, yes. Inflatable sheep, no