What LeBron's Title Win Means For Nike Basketball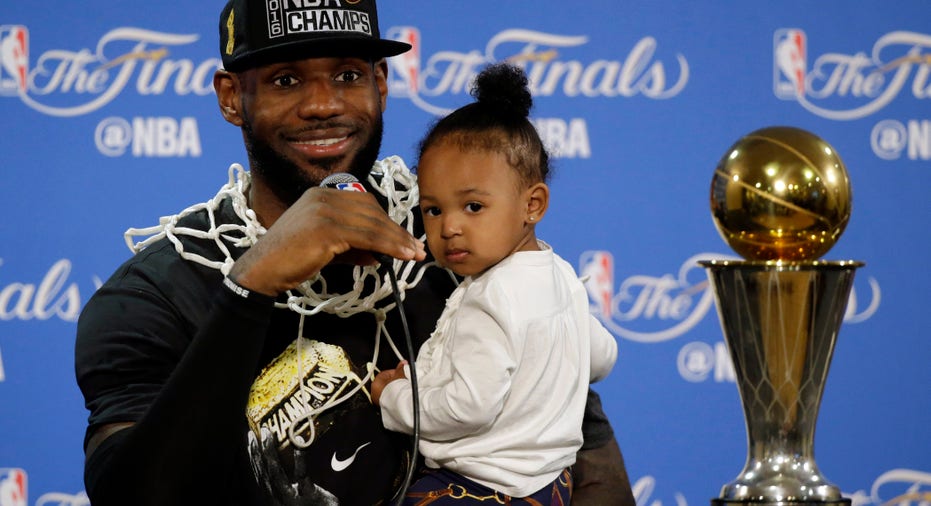 LeBron James dispelled any remaining doubt about his basketball credentials on Sunday after leading the Cleveland Cavaliers to a stunning comeback victory in the NBA Finals, but analysts and executives are divided on whether the win will provide more than a short-term boost to Nike's (NYSE:NKE) struggling basketball business.
The head of Nike's basketball division suddenly resigned earlier this month, just weeks after Foot Locker (NYSE:FL) officials noted struggling sales for Nike's LeBron James and Kevin Durant product lines. At the same time, upstart brand Under Armour (NYSE:UA) is carving out an ever-larger foothold in the basketball space, thanks to the success of Golden State Warriors star Stephen Curry and his sneaker line, while Adidas' increased dedication to American consumers has helped the once-fading German brand re-establish a foothold in the United States.
At the very least, the Cavaliers' historic victory should provide a short-term lift to Nike's LeBron sneaker sales. But a series of obstacles -- increased competition from other brands, continuing weakness in the retail space and the prohibitive cost of performance basketball sneakers – could lead Nike to adjust its long-term basketball strategy, even if James' dominant performance lifts his sneaker line in the short term.
"You would think that would help boost LeBron sales a little bit, but longer term, that's not really going to drive much," Edward Jones analyst Brian Yarbrough told FOXBusiness.com.
Nike has held a dominant position in the global basketball sneaker marketplace for decades. The company's basketball division accounted for $3.7 billion in revenue during its 2015 fiscal year, more than any other category except running. But the company's stock has struggled in recent weeks amid an overall slowdown in the retail space.
The company's stock price has fallen steadily amid the collapse of key retailer Sports Authority and Foot Locker's lukewarm earnings results in its first quarter of 2016. Foot Locker said sales sagged in Nike's premium product lines even as competitors Under Armour and Adidas showed improvement.
"The primary losses came in LeBron and KD products, a challenge which we've been addressing with our partners at Nike," Foot Locker CEO Richard Johnson said during a May conference call.
Part of Nike's struggles can be attributed to shifting tastes among consumers. A growing number of consumers are opting for retro basketball sneakers, such as those sold through Nike's Jordan brand, instead of performance basketball sneakers, according to NPD Group analyst Matt Powell, a noted sneaker industry expert.
"Weakness in performance basketball has been cited by several retailers over the last few quarters. Performance basketball was one of the few categories that saw a decline in average selling price for the year so far (declines in average selling price often accompany a soft business)," Powell wrote in a June 6 note. "Of the major brands, only Under Armour has shown growth here."
Slashed prices may be a necessary concession as Nike looks for ways to jumpstart its basketball business. LeBron performance basketball sneakers routinely retail for $199.99 and beyond, while Under Armour's new Curry 2.0 sneaker sells for $119.99. Powell and other analysts have noted that LeBron is still outselling Curry, if only because of the sheer amount of Nike product in the marketplace. But Under Armour is gaining momentum and its products are often the more affordable option.
Under Armour's sneaker sales jumped 64% to $264 million in its most recent fiscal quarter – a fraction of Nike's revenue, but clear evidence that the upstart is a real competitor.
"For years, there was no competition. So Nike could just take price points higher and higher and higher and higher. At some point, you run into a ceiling," Yarbrough said. "You wonder: how much are people willing to pay for a pair of athletic shoes?"
Nike and its partners have already acknowledged the price disparity. Johnson, the Foot Locker CEO, said in May that Nike had begun "resetting the price value relationship of many of its shoes" amid its sales slowdown.
It's difficult to say exactly how much Nike's LeBron line – and its basketball category as a whole – will benefit from the Cavaliers' title run. Johnson was noncommittal in May when asked if a particular athlete's strong showing in the NBA playoffs or this summer's Olympics would directly translate into sneaker sales.
"I don't know that there is a direct correlation to them winning the championship and us selling more sneakers other than it creates great momentum and great energy around whatever the sneaker is that's selling next," Johnson said.
Concerns about the health of Nike's business are relative. The company earned $30 billion in revenue in its most recent fiscal year and remains a darling on Wall Street. Of the analysts polled by Thomson Reuters, 24 currently maintain a "buy" or "outperform" rating for Nike's stock, compared to eight "hold" ratings and no sell ratings.
But Cleveland's win, and the dominant form James showcased throughout the team's unlikely run, certainly can't hurt. Nike's James-branded product remains a lynchpin of its business.
"LeBron's win will definitely help sneaker sales for Nike," FBR analyst Susan Anderson said in an email. "LeBron already has a good sales base which we estimate is about $340 million annually, but this is still not close to Jordan over $1 billion, so [there is] still room for growth."