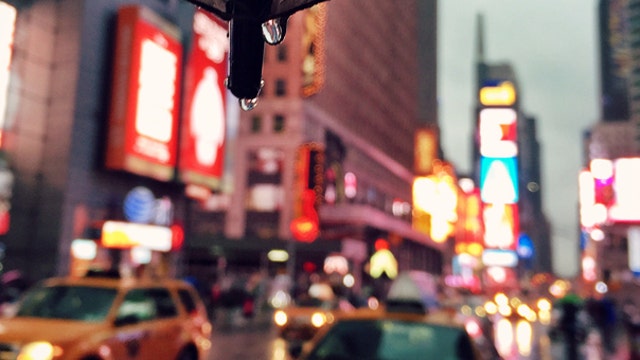 Two years ago, Kevin Lu was sitting at a desk, working as a biomechanical engineer.
He quit that job to take a two-month tour of the country, road tripping with a guy he hardly knew.
And three days ago, he found out an image he shot on Malibu Beach in December will be featured across the world in magazines and advertisements for Apple (NASDAQ:AAPL).
Of his sudden whirlwind of a life, Lu said he wouldn't change a thing.
Career of Choice: Social Influencer
As more Millenials come to the labor market, Lu is helping to shape a new tine in the fork of traditional career options. He's part of a new wave of workers making their own careers from scratch utilizing the social platforms they know best. It's called social influencing.
So how did he get here? Like his profession, in a very non-traditional way.
"Kids used to play with rocks and sticks, but as we grow older, society pushes that back and says, 'You have to work, you can't make things for fun anymore.' So when I found photography, it's fun again. "
"When I was young, I wanted to be an artist. I loved doodling, drawing. I wanted to go to art school. But my parents wouldn't allow me to do anything but be a doctor or lawyer," Lu said. "So I aspired to engineering. But I've always been creative."
Determined to please his parents, who immigrated with him to the United States from Taiwan more than two decades ago, Lu went to college, got his Master's degree, and became an engineer.  He worked day to day at Maxx Orthopedics in Pennsylvania, designing artificial knees and hips, sitting at a desk, in front of his computer screen. But he longed for the opportunity to take his work outside. He knew if that was his goal, he'd have to change careers.
That's when he decided to pick up marathon running. Shortly after, he started blogging about his runs. But he noticed something was missing: A visual element. And that's when his obsession with visual storytelling began.
"With photography, I see the world differently," he said. "I'm always on my feet looking for stuff to do and see."
After some time playing around with a new-at-the-time app called Instagram, now owned by Facebook (NASDAQ:FB), Lu started to get work doing sponsored posts, and became hooked on the idea of doing it more often.
When Joe, a friend and fellow Instagrammer he met on group photo walks, said he was going on a road trip around the country, Lu seized the opportunity to take the leap of a lifetime.
"We put our savings together, ours stuff in the car, and started driving," Lu said. "We had a shoestring budget, bumming around the country."
And he loved it.
Along the way, the pair worked with various sponsors including PayPal, and once after Lu's bicycle was stolen, a company gave the duo new bikes in exchange for a promise to do a sponsor series. That meant posting a certain number of photos, tagging the company in the work, and using a specific hashtag.
Once Lu got back from his two-week road trip, he went straight to work hammering out a way to make this new idea a full time gig. He now works off of pitches and freelance work from various companies looking to partner up with him, and also through agencies looking to connect companies with social influencers and content creators. Lu has worked through Niche, which was just acquired by Twitter (NYSE:TWTR) for a reported $30 million, and he just signed with another agency, Digital Brand Architect in New York.
The concept is simple if you think about it this way: Through a kind of partnership, brands hope to expand their reach by leveraging these 'social influencers' and the high number of followers they acquire on their various social media accounts.
With a New Hobby Comes a New Career
You'd think a guy who lives his days taking photographs of his adventures would have set himself up for such a drastic career transition. But…you'd be wrong.
"I hated photography! I had no interest," he said.
But through networking events like photo walks, trips, and social conversations on his Instagram feed, Lu said he grew to more than love photography as a hobby. In a sense, he said it was like teaching himself how to go back to his core and remember what it was like to love being creative.
"Kids used to play with rocks and sticks, but as we grow older, society pushes that back and says, 'You have to work, you can't make things for fun anymore.' So when I found photography, it's fun again. I can express myself, and make things that are mine. It brought back my childhood," he said.
It's not just a way to go on trips he never thought he'd take, but a way to meet people he never thought he'd meet.
Two weeks ago Lu was backstage at New York Fashion Week creating photos for Vogue magazine as its new media photographer, meeting superstar models including Kendall Jenner and Karlie Kloss.
He called the experience a roller coaster ride all of its own. Lu said he shot several hundred photos for the magazine, but what Vogue was most interested in was the most social piece of it all: A combination slow-motion and hyper-lapse video he captured on his iPhone of a runway model.
If that wasn't enough, in January, General Motors (NYSE:GM) invited Lu out to help publicize its unveiling of the new Chevy Volt. For that project, Lu was required to post two photos to his own Instagram feed mentioning the new car. Once he arrived, though, he wanted to capture the energy and excitement of the launch event, so he ended up with one image of the power train factory, and one video of the brand new vehicle.
"GM treated me like a VIP. We went to the unveiling of the Chevy Volt, the press event, the International Auto Show. They took us to their factory to see how the cars are made," Lu said. "So we had a bunch of opportunities to take pictures of things people don't get to see."
As he enjoys, Lu's job has already whisked him away from the snow globe that is New York in the winter. He's landed in New Orleans where he'll be working with Le Meridian on a social campaign to showcase the area's culture, food, and the hotel property.
And next week takes Lu to California where he hopes to get a glimpse of  the highly buzzed-about Apple Watch. But perhaps the part of working with the world's biggest tech company that has him most excited is the news that the tech titan will feature his work in its brand new Shot on iPhone 6 global campaign, which brings the work of 77 photographers to 70 cities in 24 countries in a push to showcase the device's camera quality from everyday shots.
Lu's said his photo will be featured on the back of women's lifestyle magazines including Self, which hits stands on March 31 in the U.S.
"It's kind of wild," he said of the achievement. "I was very excited that I happened to be chosen. I'm honored…I'm a big fan of Apple, so being able to showcase their device, and have a photo that speaks well for me and them, that's something very unexpected."