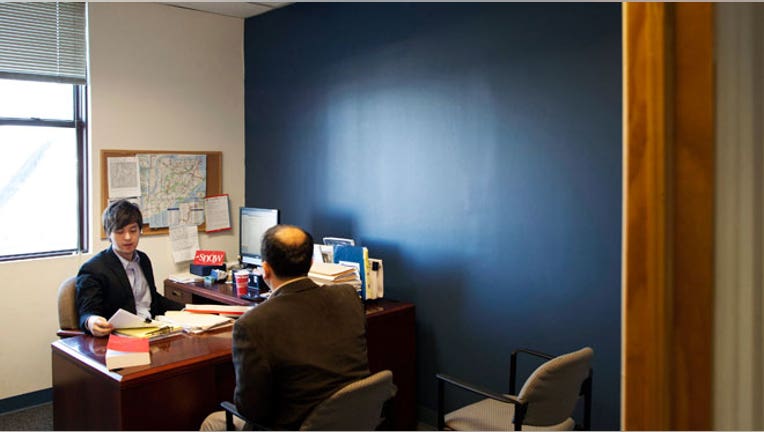 For today's graduates on the job hunt, the amount of numbers on a paycheck is becoming more important than benefits such as medical insurance and retirement plans when deciding to take a job offer.
Earning an adequate salary to make ends meet should always take priority, but experts caution against overlooking the offerings in a benefits package.
According to a new study by the National Association of Colleges and Employers (NACE), annual salary increases are the most preferred benefit among job-seeking new college graduates.  Historically, graduating seniors taking part in NACE's annual student survey have placed medical insurance at the top of their needs' list.
"We've basically asked the same question since 2007 and far and away, employer paid medical insurance was the number one benefit that they were seeking," says Edwin Koc, director of strategic and foundation research at NACE. "[Now] they want to be assured that their starting salary is not going to be what they have for the next five years, but that they can actually move up a little bit."
Experts cite the stipulation in the Patient Protection and Affordable Care Act (PPACA) that allows children to stay on their parent's insurance coverage until age 26 as the reason for the shift.
"Additionally, many of the recent college graduates may have short-term thinking when it comes to health care and other benefit coverage, meaning that they think they will remain healthy and won't really use health insurance, making it less important to them than making more money," says Tracy McCarthy, chief human resource officer at SilkRoad.
After witnessing years of a recovering economy and tough job market, recent grads are more aware of the importance of financial responsibility, says Dan Black, director of campus recruiting at Ernst & Young LLP.
"They are very realistic about wanting to build up savings to be able to weather any potential future economic downturns because they've frankly had front row seats to this really soft economy and slow turn around," he says. "They're being very wise to think about salary as a key consideration in employment."
While some benefits may carry greater significance than others, it's important for recent grads to fully understand the details of their benefits package. Here are examples of questions the experts recommend grads ask about four major benefits.
Health Insurance Plans
When evaluating health-care plans, experts strongly suggest asking specific details regarding plans such as monthly premium and deductible amounts, restrictions and limitations of the plans, and the exact date coverage begins.
"Health insurance options typically have out-of-pocket cost, waiting periods and limitations and exclusions that you need to be aware of in order to fully understand your potential out-of-pocket exposure and risk," says Nancy Thompson, senior vice president at CBIZ Benefits & Insurance Services.
"Unfortunately, many people do not even know they have limitations on their policy until they need to use their insurance for an illness or injury."
Retirement Plan Options
To get a jump start on planning for retirement, grads should find out what kind of investment vehicle is offered through the company (such as a 401(k) or IRA), when they are able to start contributing and if there is an employer match and at what amount.
"A salary deferral plan will allow graduates to enjoy a tax break, have 'free money' available through an employer matching, and the convenience of payroll deductions 'out of sight, out of mind,'" says Thompson.
Although they are not offered as much anymore, grads can also ask about the availability of pension plans in addition to a defined employer contribution plan, says Koc.
Vacation Time/Time Off
Because vacation and sick leave are not mandated benefits, employers' terms vary.
Thompson says graduates should understand when they are eligible for time off, what is the accrual criteria (daily, weekly basis), when earned and unused vacation time is paid, if vacation and sick leave is combined, if unused paid time off is paid, if sick and vacation time is accrued during holidays, and what documents are required for leave.
"By understanding the answers to these questions, grads will avoid any unauthorized absences by following the proper procedure for request and appropriate documentation necessary to validate the leave," Thompson says. "In addition, it is important to understand how these benefits tie into unpaid leave situations and the federal Family and Medical Leave Act (FMLA)."
Tuition Reimbursement Options
Particularly for grads planning to return to school to update their skills or earn a higher degree, it's especially important to inquire about any tuition reimbursement options available and the company's conditions before enrolling in a program, says Koc.
"If they do contribute to it, is it somehow tied to actually achieving the degree? Are there grade requirements associated with the funding? Sometimes employers require you to at least retain a B in your coursework," he says.
If a company doesn't offer a certain benefit right off the bat, grads should not be afraid to ask if it might be considered for the future, says McCarthy.
"I appreciate when employees ask this and I take it as an opportunity to help less seasoned employee's understand business financial concepts and how benefits play into the equation," she says. "Most employees expect and appreciate transparency."