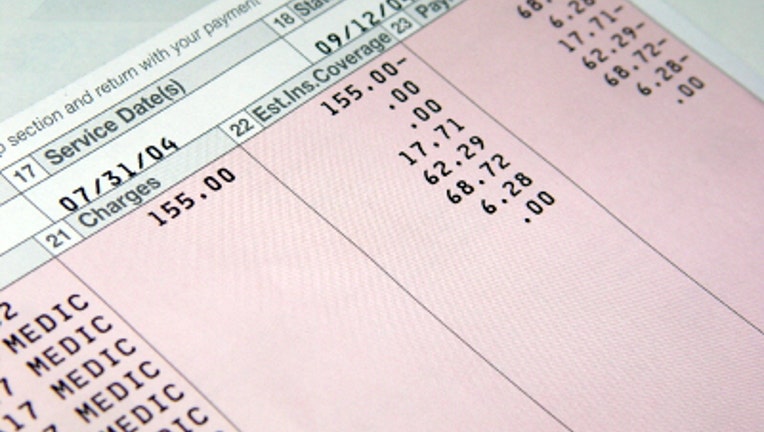 It can happen to anyone.
You are driving (or walking) down the street and an oncoming car drifts out of its lane and hits you head-on. The other driver may be drunk, distracted or simply not paying attention, and you are severely injured and not at fault. If the offender is not insured and your policy doesn't include uninsured driver coverage, you could find yourself with a huge stack of medical bills and no money to pay them.
Even with health insurance coverage, you could soon find yourself deep in debt.
Serious car accidents bring expenses that extend well beyond the hospital bills. You could be out of work for quite awhile, it might be necessary to hire a housekeeper or even make your house handicap-accessible. These expenses can be significant, and in most cases insurance won't cover them.
"Health insurance policies do not cover expenses such as lost wages, housekeeping expenses, loss of financial support or burial costs," says Susan L. Combs, president of Combs & Co.
Certain types of auto insurance may help, out but only if you are carrying the proper coverage, says Penny Gusner, consumer analyst with CarInsurance.com. Personal injury protection (PIP) may offer some coverage that goes beyond medical bills, but there are limits. "PIP usually offers coverage for loss of essential services, loss of income, funeral expenses and survivor's loss," says Gusner, "but these payments are all subject to policy limits."
As these bills add up, there may be another resource you can turn to:  victim funds, the payer of last resort.
What is a victim fund?
Basically, a victim fund provides a method of compensation for victims of crimes who have no other means of recovery. Funds reimburse a wide variety of expenses that are related to a criminal injury. They cover not only medical costs, but also expenses for counseling, housekeeping, funerals and even crime scene cleanup, and they will kick in for lost wages.
The majority of these funds are set up and administrated on a state level, but all benefit from the resources of the Federal Crime Victims Fund. Funding comes from fines and penalties that are levied against criminals or traffic offenders.
The list of covered crimes is extensive. Victims of rape, child molestation, drunken driving and hit-and-run accidents all qualify for funds, as do family members of those murdered. A few funds cover any car accident where damages are not covered by any other means. Others, such as Montana's program, specifically exclude "traffic accidents not related to drunk driving or illegal drug use."
Am I eligible for compensation from victim funds?
There are a number of requirements that must be met before you can file a claim. These vary by state, but there are some common elements.
You must be the victim of a violent crime, or the family or dependent of a deceased victim, in the state you are filing for victims compensation. Most states require a victim to report the crime within 72 hours, and the claimant must fully comply with the police and prosecutors. Victims are required to file a claim within a certain amount of time; a one-year time limit is common.
If eligible, the application process is fairly straightforward. Applications are available online or can be printed and mailed in to the proper department. The claim will then be investigated and if further information is required the claim investigator will contact you.
Victim funds have many restrictions
Victim funds are absolutely a payer of last resort. This means that you must exhaust all other avenues of compensation before you can make a claim. Sources that must be tapped first include, but are not limited to:
Health insurance
Auto insurance
Disability insurance
Medicaid
Workers' comp
Other restrictions also apply: Funds refuse to compensate victims for damaged or stolen property, and there is no recourse for pain and suffering. Maximum claim amounts are also limited. Here are just a few examples:
Montana - $25,000 is the top payout. Mental health counseling is capped at $2,000 or one year, whichever comes first.
North Carolina - $30,000 is the maximum payout except in the event of a death. In that case an additional $5,000 may be paid to survivors for funeral costs.
Texas - The Lone Star State takes it up a notch and will approve benefits totaling $50,000. Victims who suffer a permanent disability may be eligible to receive an additional $75,000 in benefits that  can be used for very specific and limited expenses such as lost wages, rehabilitation, prosthetics or making a home more handicap accessible.
Expenses covered by victim funds
A victims fund may kick in once health or PIP policy limits are reached, and in some cases offer coverage not available through any of your insurance options. Covered expenses include:
Loss of wages
Crime scene cleanup
Loss of household support
Loss of future income
Lost wages and travel expenses for family members of deceased victim to attend court proceedings
Funds require proof before a payment is made, so be sure to hang on to all receipts and paperwork. If an insurer has made a payment related to the incident you will need to show proof that policy limits have been reached.
When applying for lost income, claimants must prove that they were employed at the time of the incident. Most funds will also consider all loss of work payments that have been made by a health or car insurance policy, Medicaid, Medicare or workers' comp.
The process varies by state but usually the application and documentation is forwarded to a crime victims compensation board that will decide on the amount to be awarded for the various expenses. An application can also be denied. Most states have an appeal process.
Unsatisfied judgment funds
Unsatisfied judgment funds are far less common, with only a few states establishing one. They offer payments for uncompensated bodily injury expenses related to motor vehicle accidents. Simply put, if you were injured by an uninsured driver and have won a judgment in court but been unable to collect, you can make a claim against the fund.
These funds only cover bodily injury damages, and recovery limits are lower than victim funds. North Dakota limits payments to $10,000 for injuries or death of one person in an accident or $20,000 for two or more persons.
The fund will pursue repayment from the offender, going so far as to suspend his or her driver's license if payment is not made.
The Washington D.C. Uninsured Motorist Fund limits benefits to passengers and pedestrians only. Drivers are excluded. Thomas J. Simeone, an attorney at Simeone & Miller, explains, "The fund excludes those who are uninsured but could and should have purchased insurance to protect against an uninsured motorist."
Possibly because many drivers don't know these funds exist, many of them see very few claims. Andrea Fonkert, public information officer with the North Dakota Insurance Department, says, "The last time the Fund paid a claim was in 2006; five claims were paid that year. Two claims were paid in 2003 and one in 2001."
The original article can be found at Insurance.com:Injured by an uninsured driver? Victim funds may help