What Durant's Warriors Deal Means For Nike, Under Armour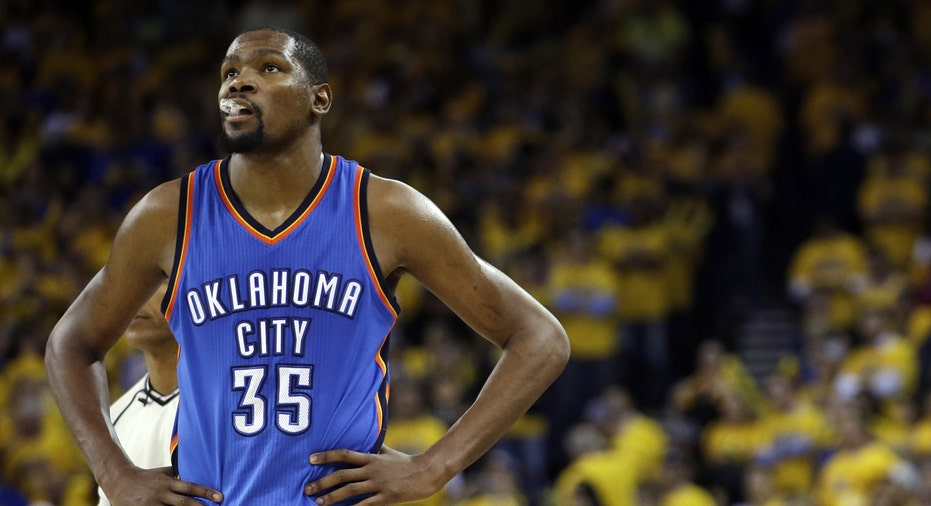 Two key figures on opposite sides of the sports apparel war will play in the same lineup next season, as Nike (NYSE:NKE) endorser and former Oklahoma City Thunder star Kevin Durant joins forces with Under Armour (NYSE:UA) endorser Stephen Curry as cornerstones on a historically-formidable Golden State Warriors roster.
Durant, whose line of Nike basketball apparel has struggled in recent quarters, will enter a bigger media market to play for one of the NBA's most popular teams. Curry, whose brand of Under Armour basketball sneakers have sold extremely well over the last two years, will have to share the spotlight from any future on-court success with Durant, a key Nike athlete. Yahoo Sports reporter Adrian Wojnarowski called Durant's decision a "coup" for Nike in its bid to "slow Under Armour's momentum," adding that Durant's arrival "promises to impact Curry's star."
But success for one player's brand doesn't have to come at the expense of the other, according to industry experts. Sales of Nike' "KD" basketball sneakers and apparel could marginally improve if Durant leads the Warriors to a championship, but it wouldn't erase the strides Curry has made for his brand – and for Under Armour as a whole. And Nike still has to contend with the shifting consumer trends, pricing issues and overall competition that derailed its basketball business in the first place.
"For a global, $30 billion company like Nike, I don't think the movement of one player will have an appreciable impact on their business, but I could see how the KD line could benefit from being in a larger market and a potential title down the road," said Jonathan Jensen, an expert on sports sponsorships and Assistant Professor in the Sport Administration program at the University of North Carolina at Chapel Hill.
Nike Basketball, the company's largest division other than running, saw its total wholesale revenue fall 1% in 2016 compared to the previous fiscal year – a rare sign of weakness in a category Nike has consistently dominated. Executives at Foot Locker, one of Nike's chief retail partners, said in May that sales of Durant gear have slowed in recent months.  The head of Nike's basketball division resigned in June as the company attempts to re-establish its dominance in the sector.
Wall Street analysts have repeatedly pointed to increased competition from Adidas and Under Armour as a key element of Nike's recent struggles. Curry's rapid ascent to NBA superstardom has fueled sales of his sneakers, while Adidas' emphasis on classic and retro styles has resonated with buyers.
While Durant is a major star in the league by any measure, Curry's place at the top of the NBA is unquestioned. Named the NBA's Most Valuable Player for the last two seasons, Curry led the Warriors to a record 73 wins during the 2015-16 season, only to lose to LeBron James and the Cleveland Cavaliers in the NBA Finals.
Any additional accolades would only serve to boost Curry's public profile, even if they come with Durant at his side, Jensen said.
"In terms of Curry, I would think that any move that helps him win multiple titles (despite a major Nike endorser like Durant joining the team) would end up being a net positive for his own brand and also for Under Armour," Jensen said.
Shifting consumer tastes could also pose a problem for Durant's Nike line, regardless of which uniform he wears. "KD" sneakers are high-end products that routinely sell for $199.99, even as customers shift away from performance basketball sneakers in favor of retro and classic designs. Under Armour was the only major brand to show growth in the performance basketball category, NPD Group analyst Matt Powell wrote in a June 6 note.
"I do not see KD to [the Warriors] as having a negative impact on Curry sales, nor do I think KD sales will get a lot better," Powell wrote on Twitter. "Marquee basketball [is] soft right now."