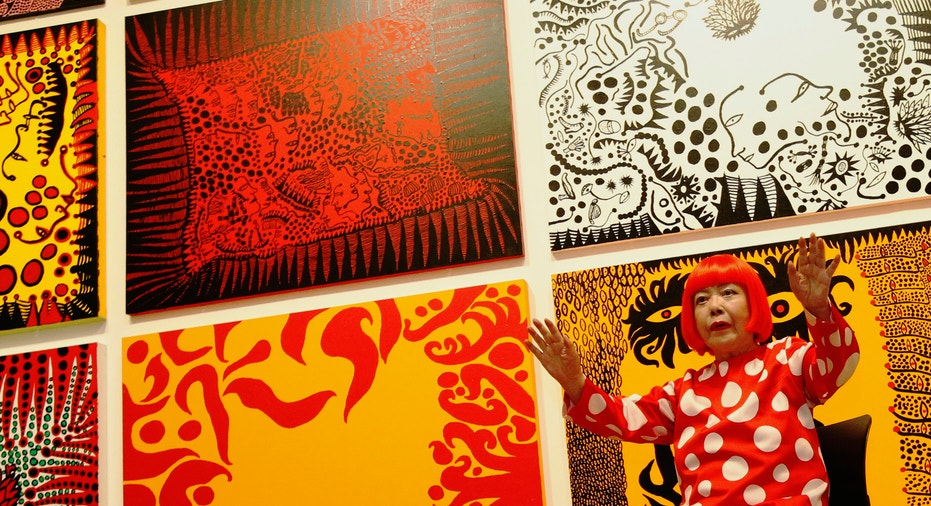 Last week I had the pleasure of viewing the Yayoi Kusama exhibit at the Whitney Museum in New York. Those vaguely familiar with her work think of polka dots, items covered in cloth phallic-shaped pieces, and her participation in the hippie culture back in 1960s New York. She unabashedly pushed the envelope of what had been done and what was considered decent, called by Carl Swanson in a recent New York magazine article an "avant-garde hippie shaman and tabloid fixture."
Funny thing is, the magazine piece is called "The Art of the Flame-Out" and at first I took it at face value that this is a show featuring the work of a washed up artist. But the layers of the headline became more obvious as I read the article and saw the show with an artist friend at the Whitney.
What, I asked my friend aloud as we went from room to room, would be the takeaway from this? As a life coach, what might I extract from the story of a woman who in fact left New York in the 70s and voluntarily entered a home for the mentally ill in her native Japan?
The answer, it turned out, came in the final room of the show. Four walls of large, vibrant, pulsating paintings grouped together for impact. Mission accomplished. It was only upon reading the names of the works well into viewing them that I noticed the dates – 2009 and 2010. Kusama, now age 83, had done these in her 80s. Wide-eyed wow. That's all I had as I looked around and exclaimed to my friend that "My Self-Portrait in the Early Afternoon Makes My Heart Tremble with Happinesss" was magnificent and my favorite.
Does a path need to be what we consider ideal to be inspiring? I think not.
" … Kusama, who'd spent the war sewing parachutes, decided she needed to flee Japan to avoid the fate her mother imagined for her – to marry a man of her family's choosing," Swanson writes of her decision to come to New York via Seattle. "In the immediate postwar period, it was rare enough for a young Japanese woman to travel to the U.S., much less with the intention of becoming an art star."
Through aggressive networking and the refusal to deny the art that longed to pour from her, she put herself on the map in what many consider the hardest city in the world to do so. Not even the kind urging of Georgia O'Keeffe along those lines dissuaded Kusama.
Now, using a studio she's built at the Tokyo mental hospital, the art is bursting from her. She has a prominent exhibition at the Whitney. How do these things square with a definition of success? It begs so many more questions.
A while back a friend wrote to disagree on the premise of a Game Plan column I'd written about author Joyce Carol Oates jarringly reading the last chapter of her new book at a literary event in New York. I had declared in the piece:
"It was a nice little comeuppance for me and it got me thinking about when it's OK to break the rules. I came up with this – when you've earned it. When you're so darned storied or respected or distinguished or good that you can get away with doing something otherwise unthinkable or seemingly batty."
My response to him was that I didn't see that column, or any column really, as advocating a hard and fast rule in life. Surely we can point to young, unheard-of people who broke the rules and are now thought of as genius. Further, I'd hate to think that piece discouraged anyone from, as I lauded in a column last week, bucking the status quo when in fact it is his or her calling to do so.
As I approach the 500 milestone with Game Plan, I realize it has more and more become about making sense of life as it happens, of course through a life coach lens. Whether a global event or a local one, a bit of conversation or someone else's creative work, a feeling, a birth, a death, the questions are -- Where does it fit in? What do we do with it? This way of being has evolved into my own Game Plan for living – figuring it out as we go along.
Isn't that why a particular quote will resonate with us in this moment while something wholly different might speak to us in six months? We're figuring it all out, what lights us up, what triggers us, what we're meant to do and be. At least I hope we are. That's the stuff of life for me.
When I first saw Kusama's work in 1998, I interpreted it very narrowly. Now, not so much. It evokes big questions. This one lingers -- What defines success?
If you're meant to do art and you're paying attention to that instead of squashing it, what else matters? To most, plenty. There's responsibility to heed. Material things to collect and pay for. Children to raise. The Man says jump, we say "How high?" Don't most of us have to in some way? How do we relate, then, to a Kusama?
"As I slightly feel death is approaching, I risk my life for creation and try not to waste my time," Kusama told Swanson.
Yes. I think there's something in that for all of us.
Nancy Colasurdo is a practicing life coach and freelance writer. Her Web site is www.nancola.com and you can follow her on Twitter @nancola. Please direct all questions/comments to FOXGamePlan@gmail.com.