What Curry's Olympic Absence Means For Under Armour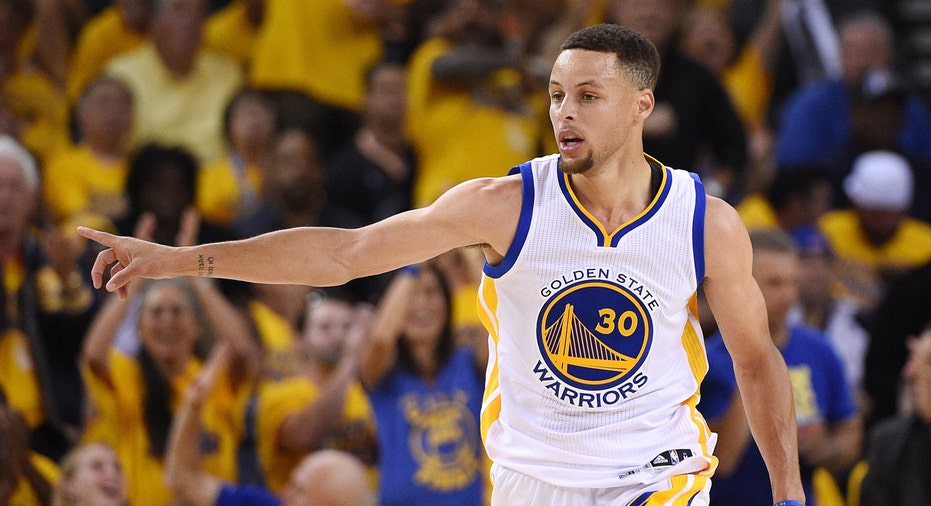 Under Armour Inc. (NYSE:UA) will make its marketing push on the Olympic stage without NBA star Stephen Curry, who announced this week that he's decided to rest his ailing legs this summer rather than play with Team USA in Rio de Janeiro, Brazil. But Curry's absence shouldn't have much of an effect on the company's business, thanks to the restrictive nature of Olympic sponsorship deals.
Curry, whose Golden State Warriors are two games away from securing their second consecutive NBA title, is a key driver for Under Armour's explosive growth in recent quarters. The Maryland-based company's footwear sales jumped 64% to $264.2 million in its first fiscal quarter of 2016, due in large part to the success of the "Curry 2.0" basketball sneaker line.
Overall, Under Armour is the only major apparel company that has shown growth in performance basketball category this year amid a slowdown in the retail sector, NPD Group reported. Last March, Morgan Stanley analysts (NYSE:MS) generated intense debate when they released a note that said Curry could be worth $14 billion to Under Armour if he continues his ascent to superstardom.
But even if Curry chose to participate in the 2016 Olympics, his ability to promote the Under Armour brand during USA Basketball events would be severely restricted. Under Armour's chief rival, Nike Inc. (NYSE:NKE), is the exclusive apparel and footwear supplier for USA Basketball. Any player selected to the team must wear nothing but Nike-branded apparel, even if they have an endorsement deal with one of the company's competitors, like Under Armour or Adidas.
"With Nike as the sponsor of Team USA in Rio, and logos highly policed during the Games, it's questionable as to how much brand exposure Under Armour would get from Curry in these Olympics anyway. They'll also have [gold medalist swimmer] Michael Phelps, sure to be a major story in Rio, to pick up the slack," said Bob Dorfman, an expert on sports sponsorship deals and executive creative director at Baker Street Advertising in San Francisco.
Nike has aggressively challenged efforts by its competitors to elbow their way onto the Olympic stage. The apparel giant is currently suing American distance runner Boris Berian for allegedly violating the terms of his endorsement deal by signing with rival New Balance. Previously, USA Track & Field clashed with star runner Nick Symmonds after he refused to wear Nike apparel at team functions, despite Nike's status as the team's key sponsor.
Curry, who missed a chunk of this year's NBA playoffs with a sprained knee ligament, chalked up his decision to skip the Rio games to a desire to rest his legs.
"My previous experiences with USA Basketball have been incredibly rewarding, educational and enjoyable, which made this an extremely difficult decision for me and my family," Curry said in a statement. "However, due to several factors -- including recent ankle and knee injuries -- I believe this is the best decision for me at this stage of my career."
Ultimately, Dorfman says Curry's absence may be a blessing in disguise for Under Armour, even though it weakens their stable of athletes in Rio. With back-to-back NBA Most Valuable Player nods and a possible second straight league title on the way, Curry's long-term health is more important to the brand than a two-month marketing push.
"For companies seeking global marketing success, the Olympics are a golden opportunity, given their huge international audience, broad demographic, inspiring purpose and prime time opportunity for product placement," Dorfman said. "Under Armour is most definitely one of those companies, and losing Steph Curry, their hottest endorser, in what's sure to be one of the most highly followed events in the Rio Games, is definitely a blow. But even worse would be Steph Curry with a blown-out knee, missing an NBA season or two."