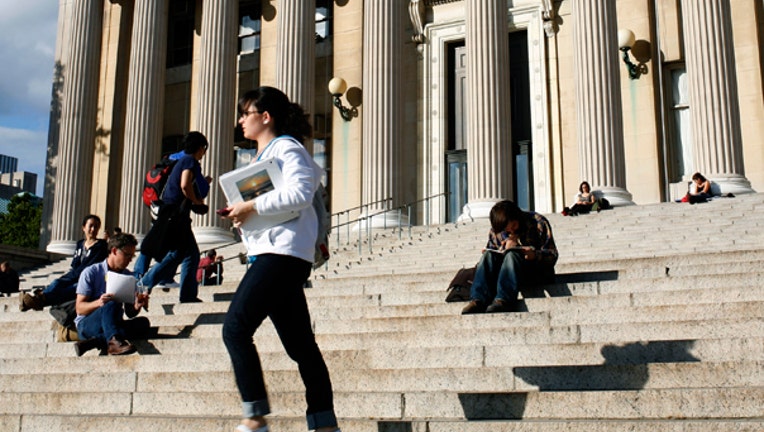 Growing up is tough enough without the worries of your financial future, so Money101  is here for you. E-mail us your questions and let us take off some of the pressure.
With the semester in full swing, students may be contemplating if they made the right choice in their choice of college.
According to a 2010 special report by the National Association for College Admission Counseling, one third of students who start at either a two year or four year institution are affected by the transfer admission process.
The weak economy also has more students opting to go to a local community college for the first year or two to get core credits out of the way on the cheap, and then later transfer for major-specific classes.
Whether students are lacking something at the school they chose or had intentions to transfer all along, we talked to college experts about what they should consider before making the switch to a new college.
Questions to Ask 
There are many reasons that may make students feel that their school choice isnt working out, but Shannon Duff, college advisor and founder of Collegiate Compass, says that it's important to isolate the variables to find exactly what is missing or wrong at the school.
"Is it classes or your intended major, the size of the school, the size of classes, your living situation, a sense of community that you feel?" says Duff.
Experts also advise dubious students to stick it out at a school for at least a year.
"Sometimes when you get the first semester in terms of the course life, the dorm life and the social life, it isn't really representative and you need time to settle in," says Jeremy Hyman, co-author of The Secrets of College Success. "I think the kind of student, who after six or eight weeks thinks that this college isn't for me, might try to give it a chance a little more."
Committing to Transferring
Once a student has decided to transfer and has a list of new possible schools, he or she should visit each one and put a price tag on the cost of transferring.
"Ask to sit in on a class, talk to other students, get the real story," recommends Steven Bird, program manager of Institutional Partnerships at Peirce College. "Will they offer you enough financial aid? What scholarships are available?"
It's also a good idea to find out what type of programs a school offers for acclimate transfer students.
"Are transfer students welcomed or are they an afterthought?  What percentage of new students each year are transfer students, and when/during what year do most students transfer in to the new schools I am considering?" says Jill Greenbaum, college coach and author of the blog MajorInYou.
 Preparing in Advance
Students with an inkling that they might want to transfer someday, should plan accordingly regarding their course load and GPA, say the experts.
Greenbaum explains that there are federal requirements for transfer students, including "completion of one year of post-secondary studies, and at least a 2.0 GPA at an accredited institution. Many schools have more rigorous requirements and may also limit how any credits can be received for courses completed from your first school."
Transferring students should also be prepared to provide transcripts of all of the schools you have attended, including high school.
Schools have different standards for transfer students, so contact the university to get all of the details.
"You really have to dig into the admission statistics of that particular school--some may be easier to get in to get into for a transfer student and some may be way harder," says Duff.
Course/Credit Transfer
Greenbaum says it's important to research which courses will be accepted and to get in touch with the admissions office of the new school to sort out qualified credits and set up a course load.
Bird recommends students get a credit evaluation done in writing, ensuring they get credit where credit is due and potentially saving thousands of dollars in tuition from taking repeat or overlapping classes.
"Make sure you ask specifically how many additional credits you will be required to complete to earn your bachelors degree," says Bird. "Many colleges shade the truth, and while they may accept 90 credits from your previous coursework, they won't tell you that 40 of those don't meet certain requirements and you still have 80 left to be eligible for your degree."
Community College to a Four Year University
Some states have articulation agreements between four year universities and community colleges and students can check online to see courses that automatically transfer.
More specifically, some community colleges have a dual admissions agreement with four year institutions, where qualified students can be simultaneously accepted to both schools and become automatically enrolled in the four year school after they complete their Associate degree.
Other Considerations
Experts say transferring schools can actually save students money in the long run, especially by completing some courses at a lower-cost community college and then switching to a four year school.
But for students who aren't prepared or don't do their due diligence, transferring can set them back on time and money.
"More time may need to be devoted to completing a bachelor's degree if a student is not permitted to transfer all credits taken or if some courses need to be taken again at the new school," says Greenbaum.
Students who are changing schools to experience a different social and learning environment should make sure to complete all of the research and considerations before making a decision.
"Make a considerate and empirical judgment—don't just do it on the reputation of the school or the campus," says Hyman. "Really look at the ground level facts about what it's going to be like for you."