What California's Budget Struggles Mean for College Students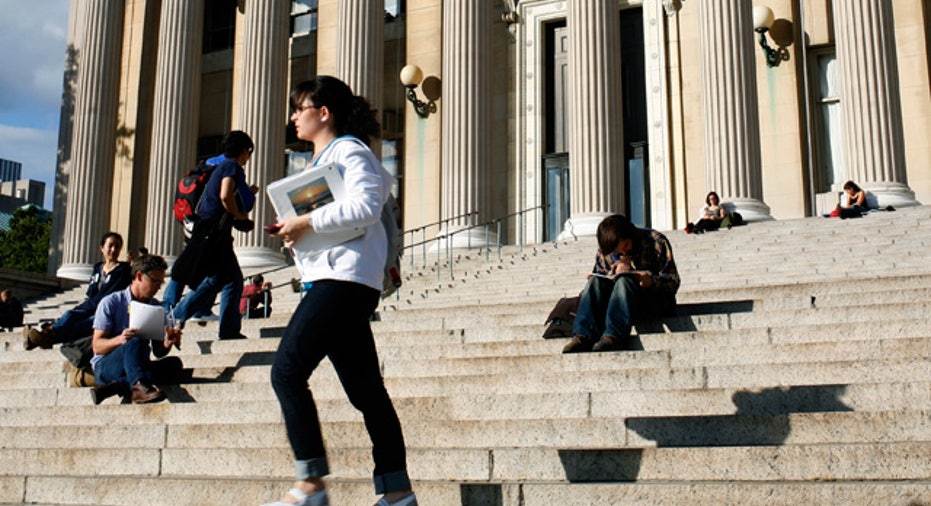 Growing up is tough enough without the worries of your financial future, so Money101  is here for you. E-mail us your questions and let us take off some of the pressure.
In an effort to close its $10 billion budget gap (down from $26 billion in the beginning of 2011), Californias famous two-tier public university system is taking a big hit.
The state has opted to cut 20%, or $650 million, of funding each from both of the University of California and the California State University systems. For the first time this fall, the University of California school system will take in more revenue from students tuitions than from state funding.
According to Nathan Brostrom, executive vice president for business operations at the University of California, tuition has increased 18.3% since November 2010 to cover the states cuts and an additional $350 million in mandatory costs--more than half of which are from employee pension and retirement contributions. An increase in tuition makes up approximately a quarter of the billion-dollar shortfall.
Theres a short-term crisis and a serious long-term problem that the institutions will face, says Terry Hartle, senior vice president of the division of government and public affairs of the American Council on Education. The budget cuts were seeing in California are bad news for students, theyre bad news for the state and theyre a terrible blow to the institutions.
What it Means for California Students
Up until a couple years ago, Californias school systems predominantly accepted in-state students, a practice that many other state schools do as well. Now, state schools throughout the country are increasing their percentages of non-residential students for academic and fiscal diversity (schools charge higher tuition rates for out-of-state students).
It was much harder to get into one of the top tier UCs from out of state--it didnt matter where you were, says Jon Reider, director of college counseling at San Francisco University High School and former admissions officer at Stanford University. One of the things theyve been doing for at least two years and what they will continue to do this year is to favor out of state students.
Students at Californias state schools could be gearing up for some major frustrations: higher tuition, larger classes, fewer classes offered and reduced support services, warn the experts.
It might take them another semester to get into the classes that they want, says Hartle. It will cost them more to get a degree, it will probably take them longer to get their degrees and they will have less help if they need it from the institutions.
One area that Brostrom says the systems are determined to sustain is their ability to give students need-based aid.
Weve maintained a robust commitment to financial aid by providing one third of the tuition towards financial aid and 50% of graduate [school] tuition towards financial aid, says Brostrom. This has helped us meet and actually expand our commitment to low income students.
Unfortunately, the group who will take the brunt of the hit with the tuition increase is the middle-income kids who dont qualify for Pell grants or federal grants--but are still facing tough times, says Brostrom.
As for student loans, more tuition hikes mean that students will have to dig deeper to foot the bill for school, especially considering federal support for student aid is likely to decrease for the 2012-2013 school year, says Hartle.
I think what we will find is that students are paying more for their education, many of them will be borrowing more money for their education than would otherwise have been the case, and they will be probably borrowing from private sector lenders, who will not offer the same good term set conditions that you get with federal student loans, says Hartle.
What it Means for Schools
Taking more money out of students pockets will help cover some of the operating costs, but the University of California and California State University campuses will have to trim down some of their resources to stay afloat, according to the experts.
There still is an awful lot that has to be done through cuts on the campuses that we hope are temporary and are not [compromising] quality; higher class sizes, replacing faculty with more non-tenured lecturers, deferred maintenance on our buildings, says Brostrom. There are a number of things that we have bridged over with temporary measures that we need restored.
Hartle points out that the dynamics of the faculty may change, with more part-time faculty members than full-time.
You will have fewer faculty members and administrators at campuses in both systems, says Hartle. You might see a fair number of the most senior, the most internationally-respected faculty leaving for greener pastures .
Despite the financial difficulties, Brostrom stresses that the quality or the accessibility of the schools will not be sacrificed.
That is something that we will not relinquish, but it imposes some real challenges on us financially, says Brostrom. We have to come up with a sustainable and solid financial plan.
Although the University of California system may be risking its reputation as one of the best public university school systems in the world, Hartle says that the challenges both systems face may be worse for the California State University system.
California State University campuses typically do not have the international reputation of the University of California campuses, says Hartle. They often serve a student body that has a lower income than the University of California campuses, and few of those institutions have had the time to develop the significant alumni network and charitable contribution giving patterns that we see at some of the universities in the University of California system.
What it Means for California
Budget cuts at both the University of California and California State University schools could lead to even more monetary problems down the line for the Golden State.
A lot of Californias economic growth over the last two generations has come from the states enormous commitment to making high-quality, affordable, public higher education available to all of its residents, says Hartle.
Despite the hardships the state has faced, Brostrom remains optimistic about the potential growth that the University of California system provides.
We really do fuel not only sustaining the current industries, but also respond to the new industries that will hopefully restore the California economy to what it once was, Brostrom says.
California isnt alone in its struggle to fund public university systems. The Chronicle of Higher Education reports that nearly half of states surveyed reported cut need-based aid due to money troubles.
I think were seeing similar pressures on public higher education in many other states, says Hartle. But the fact is that nowhere are the pressures more severe and acute than in California.