What Boomers Can Be Thankful for This Year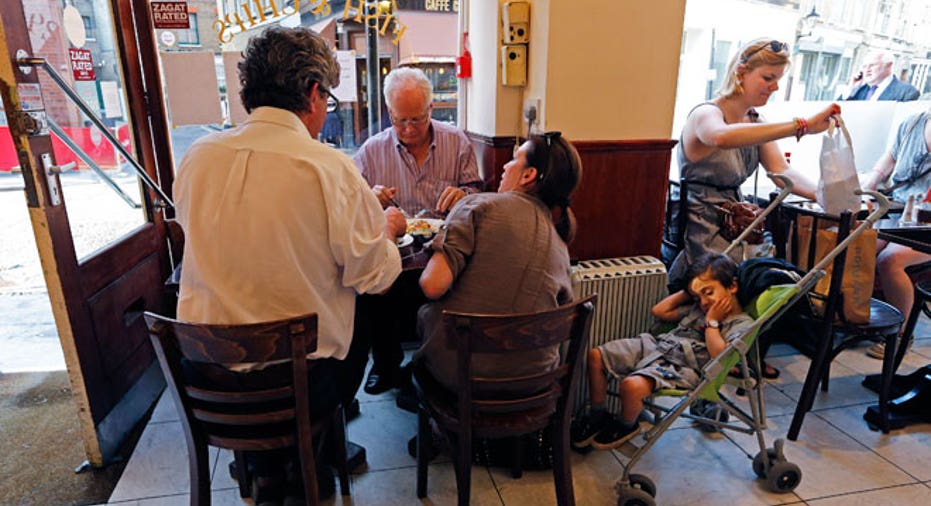 Thanksgiving Day is traditionally a time of reflection and feasting. It's when families and friends come together to dine on turkey, stuffing and all sorts of pies, and remember what we are thankful for. And boomers have a lot to be thankful for this year.
I am thankful for my grandson: For the smile on his face, for the feel of his arms holding me tightly and for the peace I see in his face when he sleeps.
The ability to spend time with family is the most important thing to be thankful for not just this time of year, but all year round.
As a generation, we have brought about major changes to society, the workplace and our economy, but the importance of family has always remained at our core. We are even changing the  retirement game: Some of us are settling into retirement, some are gearing up for it and others have no plans to leave the workforce.
So, what should baby boomers be thankful for in 2013?
Cal Brown, financial advisor and the market manager at Savant Capital Management, McLean, Va. offered his view on some positive economic news for the boomer generation that came out this year. He identified energy, technology, low inflation and low interest rates, housing rebound and corporate earnings as economic bright spots for boomers.
Here is what Brown had to say on each topic:
Energy: In the 1970s, it was the general consensus that we would run out of oil sometime in the next century and OPEC would have the developed nations at its mercy, forcing prices higher and higher. Now, early in this new century, new discoveries and new technology have created the very real possibility of American energy independence. Prices have been coming down, and that bodes well for boomers who have already retired and are on a fixed income as well as those still working and saving for retirement. Less spending on gasoline and other energy items means more cash available for savings and investments. In addition, lower oil prices bode well for the manufacturing renaissance America is enjoying
Technology: The innovations in technology continue to amaze us and add to our quality of life. Boomers can Skype and Facebook with their kids and grandchildren, no matter where they are located in the world. And the cost of staying in touch is minimal compared to what long-distance telephone rates used to cost us. We are quite familiar with smartphones and tablets to help better communicate and stay up to date with the latest news and trends.
And of these technological advancements have no only increased boomers' quality of life, they also bring more jobs and more investment possibilities.
Low Inflation and Interest Rates: The silent and deadly killer of retirement living is inflation. We experienced amazingly high inflation in the late 70s early 80s, and it is a longevity risk that can deplete one's life savings and destroy an investment portfolio. Low inflation means more boomers have less risk of running out of money before they run out of life. While many decry the low interest rates banks and money market funds are paying on savings accounts, they should keep in mind that the interest rate on cash equivalents has always been low! That is, when interest rates are high, inflation is also high; when those rates are adjusted for inflation, historically that rate has been in the range of 1%. The Feds actions have essentially forced investors into higher- risk financial assets, which is one reason the stock markets have been doing so well for the last four-and-a-half years. And that of course helps 401(k) balances.
Also, low interest rates help borrowers, and that helps with housing.
Housing Rebound: House prices are recovering around the country (some areas better than other) but still better than five years ago. This makes it easier for boomers to downsize if they want to and be able to sell their home at a higher price. And, depending on where their new house is located, they could benefit from a bit of arbitrage if the prices in their new location have not increased as rapidly. But even if there is no arbitrage possibility, the psychic benefit of selling at a higher price than a few years ago is a positive.
Corporate Earnings: Fundamentally, a company's stock price is a function of future expected profits. Corporate earnings continue to meet or beat expectations and that is the other reason (beside the Fed) that the stock market has continued to climb to record levels. Dividends and earnings provide a realistic "floor" to any stock's price; it makes the stock price realistic. The well-known Price/Earnings (P/E) ratio is fairly valued, according to historical averages. As stock prices (the numerator) have been increasing, company earnings (the denominator) have also been rising. Thus, the P/E ratio has remained realistic and not "frothy." If prices had been rising without earnings also climbing, then the market would be over-valued.
Pensions are rapidly becoming a dinosaur (unless you work for the government, a union, or a very large corporation) and now 401(k)s and IRAs have become more important than ever. Boomers, unlike their parents' generation, must self-fund their retirement, in addition to Social Security. That puts a tremendous responsibility on boomers, but it also has a significant benefit if they do it well. That is, a pension dies when the pensioner dies; however, an IRA or 401(k) can be inherited by the next generation….and they're going to need it.