What a Super Expensive Super Bowl Weekend Looks Like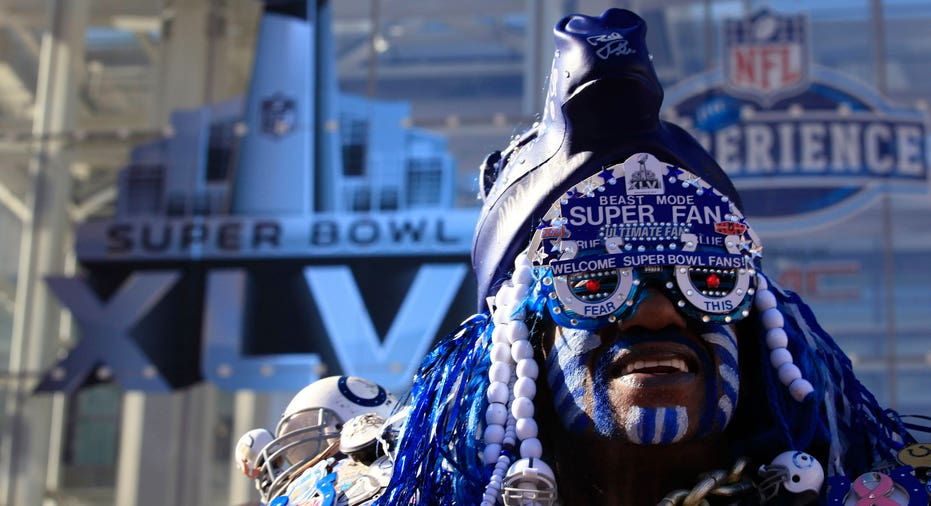 While the rest of us gorge ourselves on hot wings and $2 beers, football fans with fat wallets may choose to indulge in the finer things this Super Bowl weekend.
From pricey hotel packages to celebrity-studded soirees, here's a look at some expensive ways people will be celebrating ahead of the New York Giants' victory over the New England Patriots. (Yes, it will happen.)
Partying it up
As the site of this year's big game, the city of Indianapolis will transform itself into party central this weekend – and the cover won't be cheap.
One of the priciest parties is Maxim's Super Bowl bash on Saturday night, an elaborate affair that the magazine has hosted for the last six years. Last year's event was designed to mimic a state fair and boasted bumper cars, a ferris wheel and celebrity attendees such as Adrian Grenier, Reggie Bush and the cast of Glee. Tickets to the event range anywhere from $1,100 to $2,000, according to secondary ticket marketplace VividSeats.com. Maxim will also throw a  "Salute to Heroes" tailgate party across the street from the stadium four hours before the game on Sunday. Tickets are $700 per person.
Another big party is the "Leather & Laces" event that Axxis Sports & Entertainment has thrown for the last nine years. This year's festivities will take place on Friday night and Saturday and will be hosted by former Playboy models Jenny McCarthy and Carmen Electra as well as JWoww from Jersey Shore. The two ticket options available to the public include a $450 option and an $800 option, both of which include an open bar and varying degrees of "delectable treats."
The other mega-pricey party in Indianapolis this weekend is Rolling Stone's Bacardi Bash on Saturday night, which boasts live performances from L.M.F.A.O. and Lupe Fiasco and costs $1,070 for general admission or $25,000 for a cabana of 10.
Watching the game from the front lines
Those lucky enough to attend the Super Bowl will do so at a hefty price. According to Ticket Exchange, TicketMaster's resale site, ticket prices range anywhere from $2,200 to $14,093 a piece. (If you're curious, the $14,093 ticket is on the 50-yard line and as close to the field as you can get.) Think that's bad? On popular ticket marketplace StubHub.com, someone is selling a full field-level suite for the oh-so-reasonable price of $445,000.
Parking in the area around Lucas Oil Stadium is also no cheap endeavor. ParkWhiz, a service that allows people to reserve parking spaces in lots near stadiums, theatres and airports, is showing a few $49 spots available from 10 a.m. on Sunday to 5 a.m. on Monday – but they're almost a mile away from the stadium. The most expensive option is a $999 spot two-tenths of a mile away from the stadium. It's available from 6 a.m. on Thursday until 9 a.m. on Monday and is in an area that permits tailgating. Also, it has restrooms nearby.
Sleeping it off   
After a day of partying and watching the game, Super Bowl revelers will pay mightily to rest their heads. Those who didn't book early, or didn't take advantage of some of the trip packages that include both Super Bowl tickets and hotel accommodations – like this 3-night deal from Benchwarmersports.com that costs $4,795 per person – will pay big bucks for even the most basic hotels. At the Super 8 Indianapolis, one of the few hotels that still has availability, nightly rates range anywhere from $260 to $350 this weekend.