Wedding Plans Kaput? How to Recoup the Costs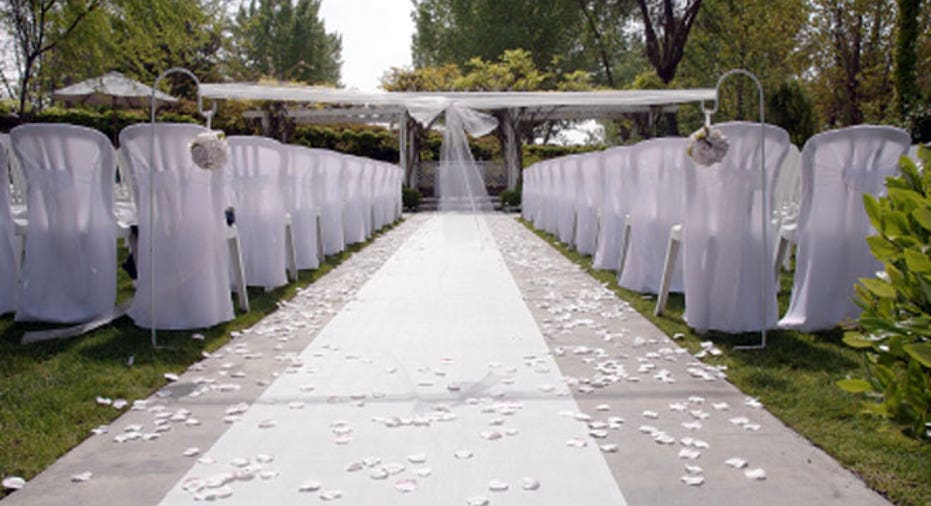 It's a few months before the wedding and you and your fiancé have a fight. The fight is so big that it ends your engagement. Now comes the dreaded, embarrassment laden task of telling friends, family, and co-workers that the wedding is off. Parents of the bride and groom might say something like "But we spent all of that money on the wedding already!" Fortunately, there is a way to recoup some or all of the costs.
Founded in 2012, Canceled Weddings is an international marketplace that helps couples bundle and sell their wedding package to another hopefully happy couple. The CEO of Canceled Weddings, Peter Ulrich (who is also the founder of Yacht Wedding, an international wedding agency) says that the idea came to him when clients of his wedding planning business would have an unfortunate cancellation. It made sense to develop another division within the company to help clients ease the financial burden of a cancelled wedding.
And given that the average cost of a wedding is $31,213, according to statistics from wedding planning website The Knot, recouping some of the costs is more important than ever for budget conscious couples.
When a couple decides that they need to cancel their wedding for whatever reason, they can submit their wedding to Canceled Weddings for no charge. The couple can choose if they want to sell the entire package, or only parts of it. For instance, a bride might want to keep her dress for the future, but sell her floral arrangements and venue, or a couple would be willing to sell their honeymoon independent of the wedding. Sellers are advised to discount the price of their package to attract more buyers. Canceled Weddings then finds prospective buyers, protecting the privacy of both the buyer and seller in the process. Prospective buyers set up profiles through Canceled Weddings specifying their preferences and are matched against available weddings. When a buyer is found and the transaction is complete, the selling couple recoups some or all of the cost, Canceled Weddings receives a fee from the buyers, and the buying couple now has their dream wedding at a discount.
If a wedding package is attractive to multiple buyers, the buyers bid to the selling couple and the highest price wins.
And called off weddings aren't just a financial burden to the couple, but also to parents, bridesmaids and groomsmen. Couples can include bridesmaid dresses, bachelor and bachelorette parties and tuxedos in their selling package and then distribute the recouped funds to family members and friends.
Canceled Weddings works with all prices and sizes, so the service is not limited to couples that are highly budget conscious or those with no budget. Ulrich said in an emailed statement that 70% of their buyers have a wedding budget of $7,000 to $14,000.
When a couple eventually decides that buying a cancelled wedding might be the best option for their budget, in most cases the couple can personalize the wedding to their style. Buyers can change a variety of details including floral arrangements, guest count and color schemes. According to Canceled Weddings, the most expensive wedding they've brokered was worth $400,000. Couples can sell their weddings during any point of the planning process, so selling a wedding closer to the big day is more expensive than one that is in the early planning stages, when usually only the venue has been reserved. In one case, Ulrich brokered a fully paid wedding worth $40,000 that sold for only $2,000 given time constraints. "For the seller, it's better to recoup at least something than nothing" said Ulrich.
Being an international firm has helped Canceled Weddings offer prospective buyers with combinations of cancelled weddings. For example, a couple could purchase a honeymoon in the Maldives from one seller and a wedding in the United Kingdom from another seller. In the U.S. specifically, buyers can achieve savings of 60% or higher on a discounted wedding as vendor cancellation penalties can be extremely high, says Ulrich.
According to The Knot's 2014 wedding survey, the second most popular month to get married is in October. So if you're looking to plan your wedding for the fall, now might be the best time to look for a canceled wedding that might become your dream wedding.