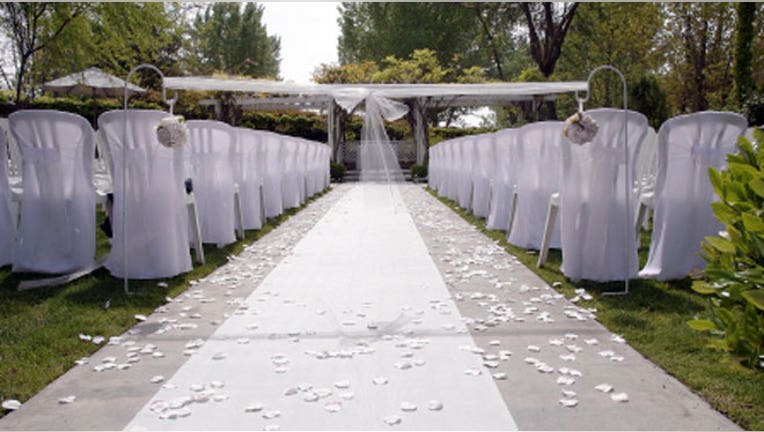 With all the planning and spending that goes into planning a wedding, everyone hopes the big day goes off without a hitch, but that doesn't always happen.
Horror stories about canceled venues, no-show photographers and missing caterers are all too common, especially in this economy and many brides are opting for wedding insurance to protect their investment.
"When it comes to wedding insurance whether to purchase it should be on a case by case basis," says Andrea Woroch, a consumer savings expert. "If you're planning a small-scale wedding it may not be worth the added costs but if you are having a large multi thousands of dollars wedding that's a huge investment." According to experts, most wedding insurance costs less than $200.
An analysis of 2012 wedding claims by Travelers, identified vendor issues as the top issue of wedding day mishaps and represented 24% of all claims. Illness and injury came in second accounting for 19% of all claims while weather was to blame for 14% of the claims.
"A lot of things go wrong with weddings, but one of the biggest things we've seen is vendor issues," says Chantal Cyr, vice president of product management at Travelers. "It can be anything from a venue going out of business to the photographer not showing up." The data showed 58% of all wedding claims related to vendor issues involved issues with the photographer, which can be costly since U.S. couples spend around $4,000 on their photography and videography.
Caterers also shoulder part of the blame for wedding day disasters with 21% of vendor-related issues involving a caterer going out of business, while 11% of claims were over a DJ not showing up and 5% were problems with the wedding planner.
To give couples a piece of mind, insurers over different levels of coverage to meet their budgets. For instance, Travelers offers the Wedding Protector Plan which covers cancellation or postponement of the event, lost deposits, issues with the photographs and video, event gifts,  the wedding dress and tuxedo and wedding jewelry for $160.
How much you'll pay for the insurance varies on coverage. To get $7,500 of coverage, a plan typically costs around $160 while $175,000 of coverage will cost $1,025. According to Cyr, many couples purchase $25,000 to $35,000 worth of coverage for $225 and $300 respectively.
Liability insurance, which protects from property damage costs $155 for $25,000 of coverage. "We are seeing more venues asking the brides and grooms to purchase at least liability coverage," says Cyr.
Traveler's wedding insurance doesn't come with a deductible but other companies do have this option. It's a good idea to shop around before purchasing any insurance to compare costs and what is covered.
Couples that purchase coverage should get a regular contact that can assist them if something does happen. "You don't want to have to jump through hoops to report a claim," Woroch says.
To lessen their chances of getting burned by a vendor, couples should evaluate every vendor before hiring them through the Better Business Bureau, referrals and online reviews.