Website Sells Out of Ugly Christmas Suits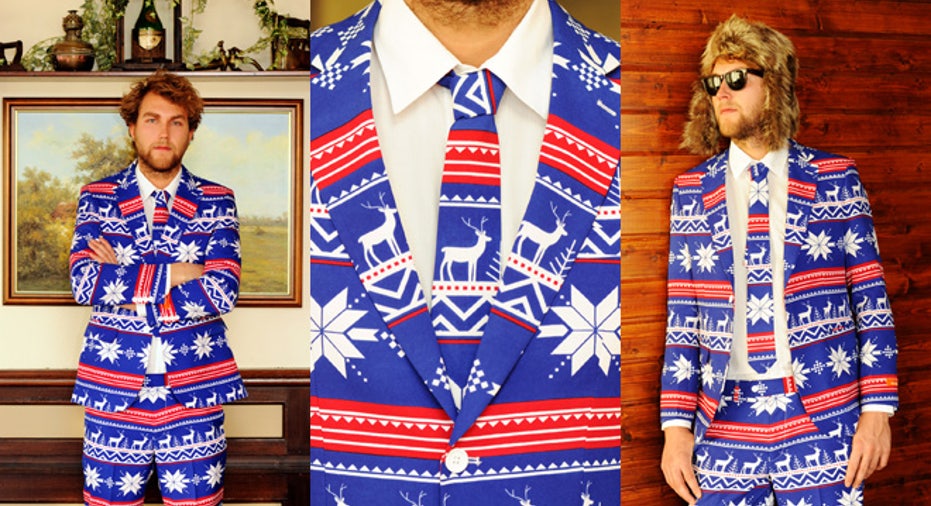 The jury is still out on how retailers will fare this holiday shopping season. But one Colorado startup has sold out of ugly Christmas suits, and is already taking preorders for next year.
Shinesty.com, the seller of what co-founder Jens Nicolaysen calls "irreverent" clothing, says the holiday-themed favorite quickly sold out.
"Demand has been explosive, particularly for the Ugly Sweater Christmas suit," says Nicolaysen. "We sold out of the entire North American inventory by 3:00 p.m. on Cyber Monday."
But not everything sold out: you can still get your orders in for The Bahamian New Year's Celebration Suit, the Highly Seductive Christmas Leopard Suit and the Holiday Dapper New Year's Eve Suit.
Started a year-ago by co-founders Nicolaysen and Chris White, the idea was to create a Website that caters to people who prefer to wear "outrageously, ridiculously bold, bright and awesome clothing," says Nicolaysen.  "When we first started we promoted it for theme parties and events around the holidays like Fourth of July, but more and more we see people wearing this stuff more than one or two times."
The Website has a host of other what-may-be-called tacky clothes, depending on your style. There's the ugly Hanukkah Party Sweater, the Naughty Elf Mistress Sweater Dress and the Xmas Sangria Sweater to name a few. Sorry cat lovers, the Crazy Cat Lady Ugly Christmas Sweater is sold out.
For people who like to dress up in what some would call silly and others would call tacky attire, Nicolaysen says there are limited resources, which prompted the launch of Shinesty.com. You can scour eBay for vintage clothes or hit the thrift shops, but it won't guarantee you'll find the right size, he says.  Shinesty.com works with clothing manufactures to find the right pieces and is even working on its own line of clothes. Think bright, bold, neon related – and, yes, outrageous.
"People should keep an eye out for the Valentine's Day Suit and the St. Patrick Day's suit," says Nicolaysen. "Ultimately we are out to rid the world of boring clothes."