WebMD Soars 25% on Bullish Outlook, Revenue Beat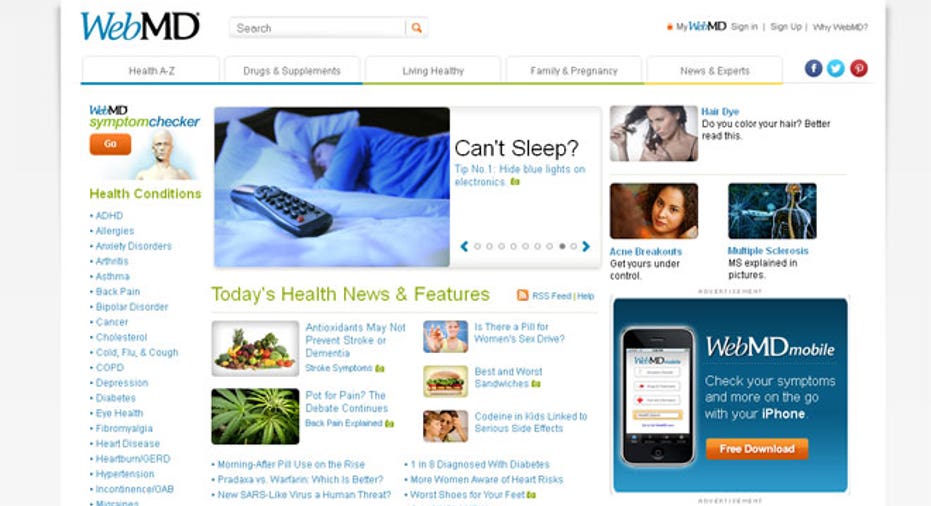 Shares of WebMD (NASDAQ:WBMD) surged nearly 30% Friday morning as Wall Street hopes the online health information site's optimistic outlook and stronger-than-expected revenue results signal it has turned a corner on the advertising front.
The bullish developments prompted analysts at Stifel Nicolaus to slap a "buy" rating on the New York-based company, citing new ad pricing changes and improved mobile efforts.
Reporting late Thursday, WebMD relieved shareholders by revealing a revenue decrease of 12% to $132.7 million, beating forecasts for a sharper tumble to $124 million.
The markets mostly overlooked the company's non-GAAP loss of 8 cents a share, which trailed estimates from analysts for a loss of 4 cents.
Instead, Wall Street was impressed by WebMD's guidance for 2013 and the first quarter.
Management projected 2013 revenue of $430 million to $455 million, which would easily beat the Street's view of just $422.1 million. The company sees a loss 13 cents to 45 cents, but that compares favorably with consensus calls for a loss of 44 cents.
For the current quarter, WebMD forecast revenue of at least $105 million, which would surpass estimates on Wall Street for $93.6 million.
"We enter 2013 as a more nimble organization that is well positioned to meet the needs of our users and clients in a dynamic and demanding marketplace," CEO Cavan Redmond said in a statement.
In response to the upbeat outlook and revenue beat, Stifel upgraded WebMD to "buy" from "hold" and established a 12-month price target of $26.00.
"We believe that advertising rate card changes and unbundled pricing, providing transparency and choice, affords advertisers a compelling advertising value proposition," Stifel analyst George Askew wrote in a note. "While industry trends remain weak and revenue visibility remains low, the pricing changes enacted in 4Q12 suggest the worst may be over for WebMD."
Wall Street bid WebMD's stock up 26.6% to $20.35 in early trading, putting them on track to significantly extend their 2013 rally of almost 14%. Despite the recent gains, WebMD has still lost more than 40% of its market cap over the past 12 months.