WebMD Brightens Outlook As Sales Improve; Shares Spike 20%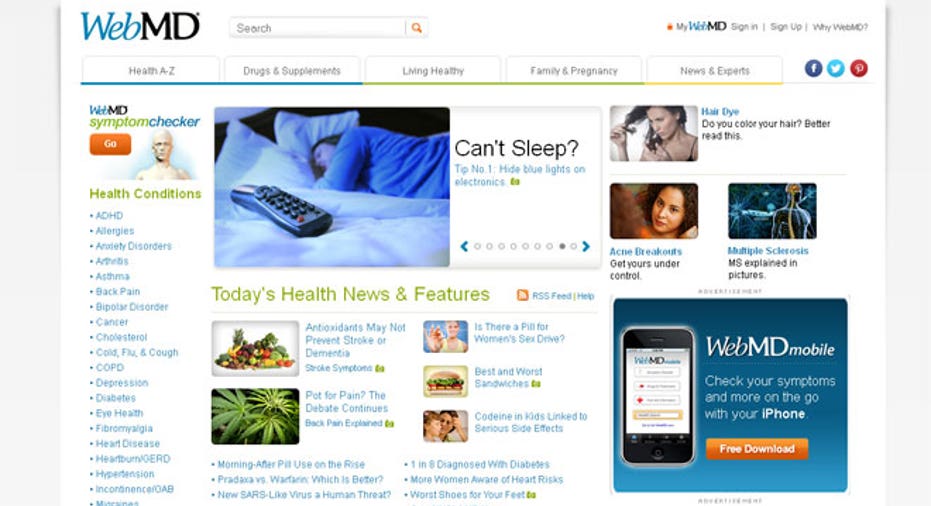 WebMD Health (NASDAQ:WBMD) boosted its first-quarter and full-year financial guidance on Monday as the health information provider enjoys stronger sales activity.
The rosier outlook drove shares of New York-based WebMD 20% higher.
WebMD said it expects first-quarter revenue to be at the high end of the previously-provided range of $130 million to $133 million. Analysts on Wall Street had been projecting first-quarter sales of about $132.5 million.
Earnings before interest, taxes, non-cash and other items, or adjusted Ebitda, is expected to be "slightly" above the top end of its prior range of $28.5 million to $30.5 million. Consensus calls among analysts are for adjusted Ebitda of $29.7 million.
At the same time, WebMD said it expects to be in the top half of the ranges previously provided for 2014 revenue, adjusted Ebitda and net income. The company previously called for full-year revenue of $545 million to $575 million, adjusted Ebitda of $140 million to $155 million and net income of about $27 million to $39 million.
In a statement, WebMD CEO David Schlanger said the revised guidance "reflects recent improvements in our sales activity compared to our experience in the early weeks of 2014."
WebMD also said that in the first quarter its health network enjoyed a 32% increase in monthly unique users to 174 million and a 26% bump in monthly page views to 3.5 billion.
"We are having very positive dialogue with our customers about how WebMD can help address their evolving business needs and we are continuing our investments in new product and service offerings to better serve those needs and realize future growth opportunities," Schlanger said.
Following the bullish news, RBC Capital Markets (NYSE:RY) reiterated its "top pick" rating and $70 price target on WebMD.
"We believe that today's news will not only provide a relief rally for WBMD, but even more importantly, it will serve to shift the conversation from the short-term issues hanging over the stock to the long-term opportunities ahead for the company," RBC analyst David Francis wrote in a note to clients on Monday.
WebMD said it had $18 million remaining under its share buyback program as of the close of business on April 11.
Wall Street applauded WebMD's latest guidance, fueling a 19.46% spike in the company's shares Monday to $45.00. WebMD is up 90% over the past 12 months, and almost 14% so far this year.